Is swimming with whale sharks on your bucket list? Come to Saleh bay in Sumbawa and you can tick that off your list!
David and I have been trying to see whale sharks for so many times, in the Philippines, in Mexico and in Australia, but we never got the chance to and when someone told us we could actually snorkel with them all year round at Saleh bay at Northern Sumbawa we knew where we were going next!
It was hard gathering informations about the whale sharks at Saleh bay. We heard that snorkeling with the whale shark here is something new. Normally the local were killing these beautiful fishes for money, but now instead they are keeping these animal alive for money! Basically, pay us or we kill them…..

The whale sharks at Saleh bay can be seen all year round because they get feed by the fishermen with shrimp. I really hope Saleh bay will not become like Oslob in the Philippines where they feed the whale sharks all year round for tourists. This is not good in many ways. Please take your time and read the excellent and well written Feetdotravel 's blog post about the problems with the whale shark industry, especially in the Philippines.
BEFORE COMING
Ethical Swim with whale sharks: Please before you come, read and learn about the do and don't. When our "guide" wanted to take some photos of me with the whale shark I got carried away when he showed movements for me to get closer to the whale shark. I shouldn't have. If we have done some research before I should have known to respect the 4 meter distances. When I approached the whale shark, another whale shark came right behind me and pushed me away, I think he was trying to protect his buddy. After his heroic act, this whale shark got probably more scared than I and swam deep down the ocean and didn't come back.
Full moon : Normally the whale sharks at Saleh bay are present all year round but around a week before and a week after the full moon the fishermen normally have a rest during these time which make it harder to meet the whale sharks.

Jelly fish: Before we came, some agent also told us that there is jellyfish season from November - January. When we were here in earliy November there were jellyfish floating around and we felt stings and burnt from something. If you are afraid you could wear pants or wetsuits as we saw some other snorkelers were wearing.
Food : When we were here in November 2020 there weren't many places to eat. There were some small local warungs but if you are ok with that then you won't go hungry.
Boat : The local boats here don't always have roof so don't forget to bring hat!
HOW TO GET HERE
The easiest is to fly to the main airport in Sumbawa Besar. From there hire a car/scooter and drive about 100 km to Labuan Jambu. If you don't want to drive, I know that there are agents who organize driver and car.
If you need to stay in Sumbawa Besar, we heard that Transit Besar suppose to be good. However, for 200K/night with breakfast we stayed at Home stay bukit Saran. It was basic but new and clean. For this price we were happy.
WHERE TO STAY
There aren't much accommodation choices right now around Jambu village but we can imagine how many there will be in few years when more people hear about the whale sharks at Saleh bay in Sumbawa.
We had a quick look at Tarano Jaya hotel, 150K / night with AC but it was very old.
Finally we stayed at Transit hotel. It's very basic, but clean. The decor and colors in the rooms are typically local, and there is only squat toilet. We were ok for 200K/ night without breakfast.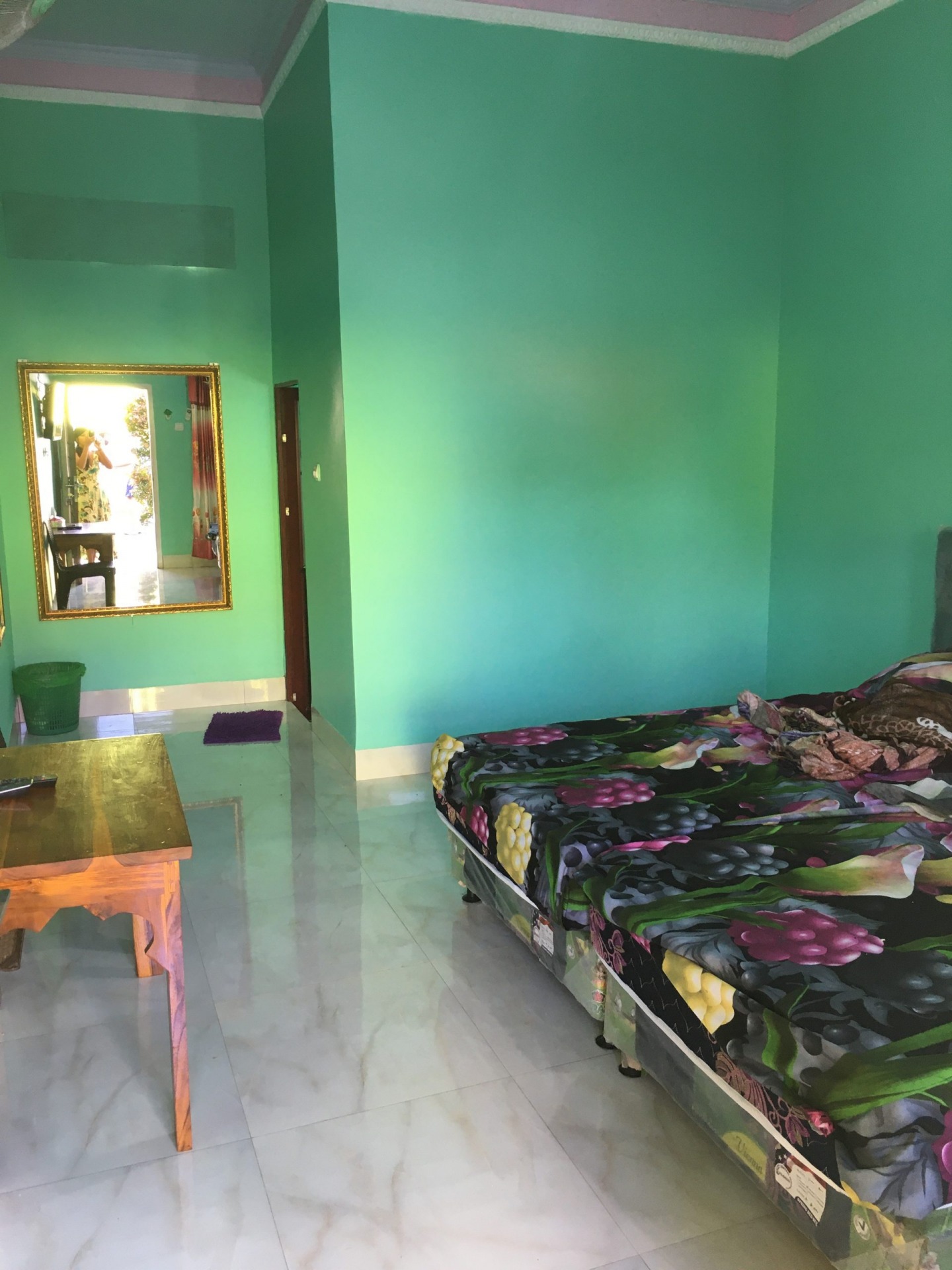 ORGANIZING THE TRIP
It was by chance that we learnt about the whale sharks at Saleh bay in Sumbawa and there weren't much information about it. By asking around I got some numbers to different travel agents and I chatted with all of them. There was a particular agent who suppose to be someone from the village who is protecting the whale sharks. For this reason, we ended up going with him, but now afterwards we are not sure if he and his "crew" was really interested to protect or knew anything about the whale sharks at Saleh bay. We were happy that we saw the whale sharks but we were somehow not happy that we were doing it with them for many reasons.
Below is the price list he send to me.
We paid 3 M rupiah, which is a fair price if the money goes to the right places. They said most of the money will go to protect the whale sharks, the village, paying the boat ect. I can't tell why, but we really doubt about that. We were interested to know more about the situation of the whale sharks at Saleh bay but it was hard to communicate as they didn't speak any english which is of course understandable but something just didn't feel right.
However, I got in contact with another travel agent, Rio, who quoted a price that sounded more correcte, 750K/per person with max 4 people . He speaks enough english and is very easy to communicate with. Unfortunately he was not available to organize a tour for us during these dates, but he was so kind enough to drive all the way to our hotel in Sumbawa Besar and lending me his underwater camera…for free! So thank you again Rio for your kindness, without your camera we wouldn' t have any photos of these whale sharks!

You can have a look at his Instagram account @rio_sumbawa and you will see that he is serious and documenting well his trips.
DIY
Another option is to come a few days earlier and go to Jambu village and negotiate directly with fishermen there. We heard from people who talk with other people who got a boat for 300K. Worth a try if you are not in a hurry and is on a low budget.
The whale sharks
The day started very early in the morning at 4 am by Jambu village. When we left the harbour in a local fishing boat it was dark and the stars were bright. They said the ride should take about 2 hours so we laid down comfortably on the boat floor looking up at the stars. Mirabelle fell asleep.
A fishing station at Saleh bay where we snorkeled with whale sharks.
About 1 hour later we stop at the first fishing station looking if there were any whale sharks. We didn't see any whale sharks but we saw a pod of dolphins jumping right next to our boat!

Our crew communicated with other fishing stations and thats how they know where the whale sharks are. We cruised another 30 min to the second station and there we saw some snorkelers already in the water. We jumped right it and right away a whale shark was swimming below us! The visibility was not very good but when you have the biggest fish in the ocean infront of you you can't miss it!
This beauty was swimming right under me when I jumped off the boat. They estimated that this whale shark below is about 6 meter long, what do you think?
Look how big this whale shark is next to a human, at Saleh Bay in Sumbawa.
Can you hear Mirabelle scream?
There were two whale sharks at Saleh bay in Sumbawa that day but an agent have send me a video when he once saw 6 whale sharks on the same fishing station!
Please have a look at the video I posted on Instagram Here where a whale shark suprised me from behind. It's a funny story to tell the grandchildren of how their grandma got knocked by a whale shark once in her life!
I feel bad that I have touched the whale shark by accident because not only is it dangerous for us human as the animal can transfer disease to us but we also can do that to them.
This animal was probably more scared of me because it swam right down to deep sea and didn't come up again.
Our agent told us that we would have until 10 am to snorkel with the whale sharks. With that in mind after 30 minutes we went to have a coffee break. We shouldn't have done that because shortly after the fishermen ran out of shrimp and the whale sharks were gone. We asked the agent about it and he was explaining that this was the low season etc. Well, he could have inform us better so we would have stayed until the end. I was kind of sad that it was over so quickly so by around 7 am we were already done.
The crew took us to a snorkeling spot right by a mangrove infront of Jambu village. Unfortunately the visibility was really bad so we decided to end our day.
The local boat that transported us to see the whale sharks at Saleh bay.
So there you go, our family day out swimming with whale sharks at Saleh bay in Sumbawa. I hope this blog post was helpful and if you see any misinformations or want us to add something in this article please let us know!
      Help us by pinning and sharing this post!