Are you bored with an ordinary Swiss mountain hike and would like to experience something a little bit different? How about walking on a suspension bridge that is 170 meter long and 100 meter hight. Plus, the bridge is surrounded by beautiful mountains, waterfalls, a river, a lake and a glacier!  Sounds awesome? Let's go!
The Trift bridge is located near Gadmen in Berner Oberland. The easiest way to reach the bridge is to take the small cable car up to the upper station, it's about 10 minutes ride up, where the hike begins.
Or, you can walk all the way up from the station….a long walk.
Only 8 person at the time can fit in one cable car and there is one going up and one going down every 12 minutes. It is recommended to book in advance. We didn't but as we were there on a friday morning to catch the first one going up at 8am we were lucky! We were only four person riding up. It's a little bit frustrating but before going up you will need to book with the cashier a time for the ride down with the cable car.
We calculated large 1.5 hours up + 1.5 hours down + 2 hours by the bridge= 5 hours. So we booked 1pm down.
What is very important for you to know that this is a very popular hike and the lift can be filled quickly. To make sure you got a spot book it in advance here!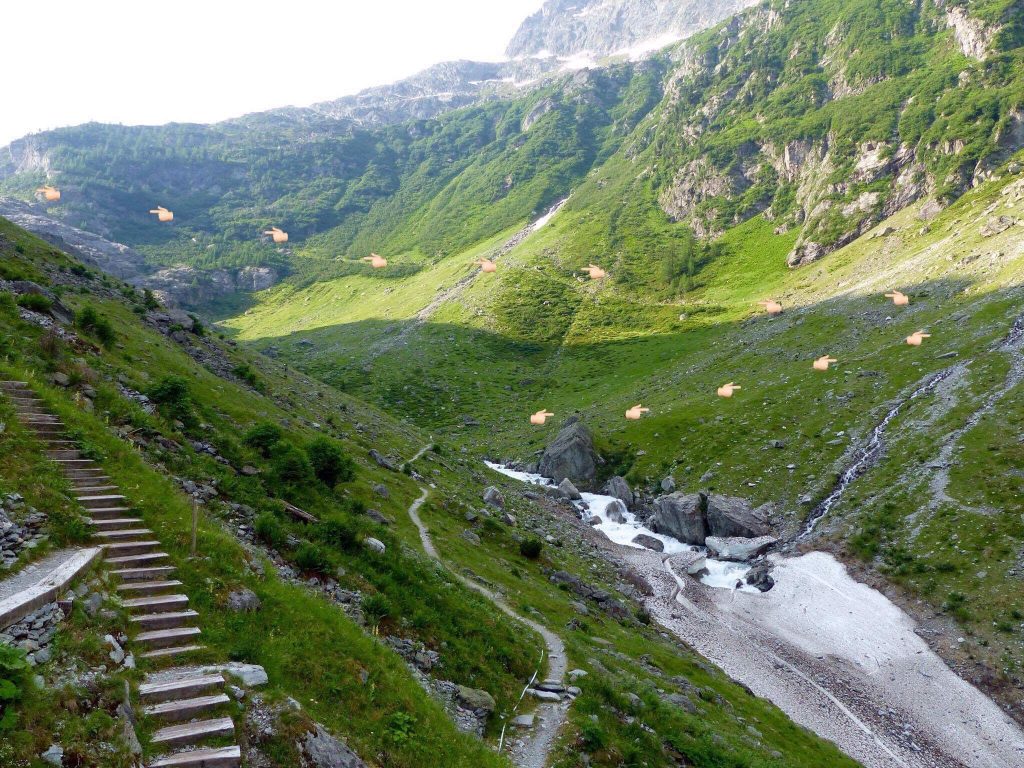 I have read some family blogs with young kids walking up and I must say I am very impressed! First of all it is about 400m climbing up for about 3 km in 1.5 hours and secondly the path itself can be quite challenging for a kid. But have other families done it so can yours! And on the way down we saw families with young kids walking up! If you want to read some family stories please click here and here.
It was not an easy walk but we managed to reach the bridge in an hour. But not without a small pause for a photo pose!
I was so exited to finally see the bridge!
But walking on the bridge was the highlight of the day!
It was wobbly and I felt like I was walking on a plank without any fence and that I could fall into the river anytime. Scary but fun!
It's sad to see that within 70 years how much of the glacier has melt away! Go there before it is too late!