After many rainy winter days in Switzerland the sun was finally shining on a weekend so we could finally enjoy some sun in the snow. But where to go?
Living in Switzerland there are thousand of ski stations near Bern but not being a skier we were craving really bad for a hike to a summit with an incredible views. At the same time we wanted to combine a hike to a summit of a mountain and do some sledging with our two years old daughter. Not knowing many winter hikes to a top of a mountain, we remembered this popular Niederhorn above the lake Thun in the canton of Bern.
Niederhorn is a very popular mountain station both during summer and winter. Wherever you walk you will almost always have a beautiful views over the Lake Thun and the mountains of the Bernese Oberland.
To get there
By car: To put on GPS, Beatenbuch. There is a car park available for 5chf/day. It get full quite easily and we have seen people parking by the side of the road. More about it Here.
Or, you can drive all the way up to Beatenberg and take a cable car from there to Neiderhorn.
By public transportation: From Thun or Interlaken Ost train station you can easily reach Beatenbuch by STI-bus with line 21. More about it Here.
OR you can do something a little bit different, hop on a boat from Thun to Beatenbuch! More about it Here.
Once you reach Beatenbuch you can take the funicular to Beatenberg where you then have to change to a cable car to Niederhorn, passing the middle station Vorssas.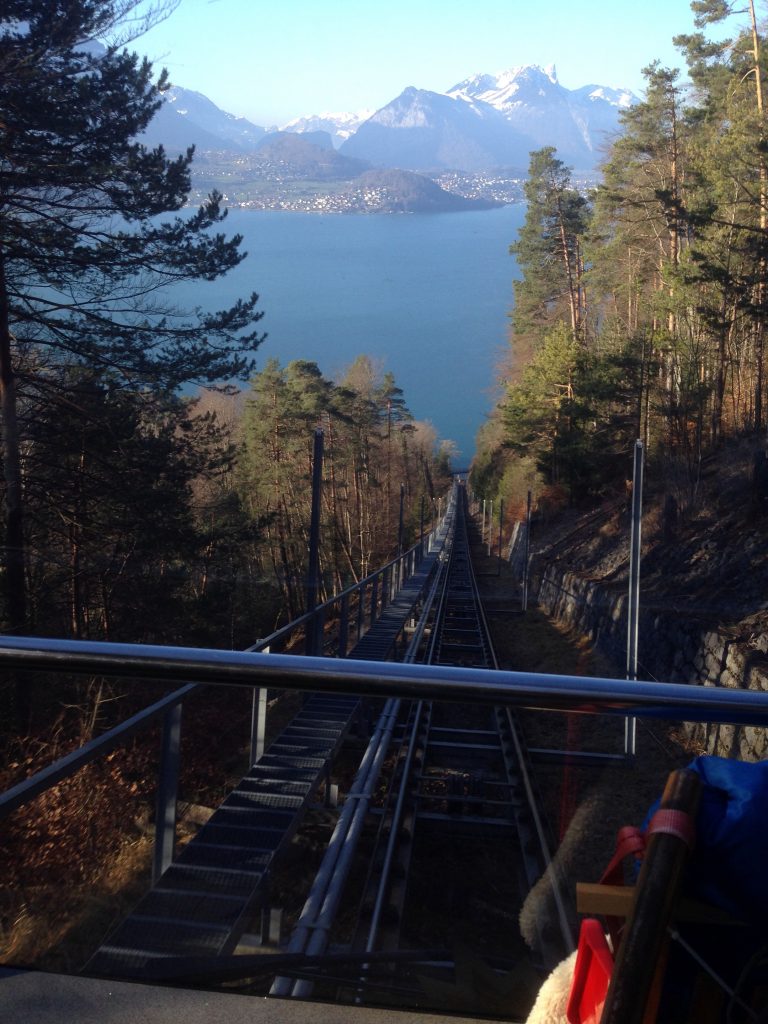 What to do at Niederhorn?
For those who prefer to ski, there are three different slopes to Vorsass or, depending on the snow, even to Beatenberg. The day we were at Niederhorn, we saw more people on a sledge than on a pair of ski. More about skiing on the Niederhorn Here.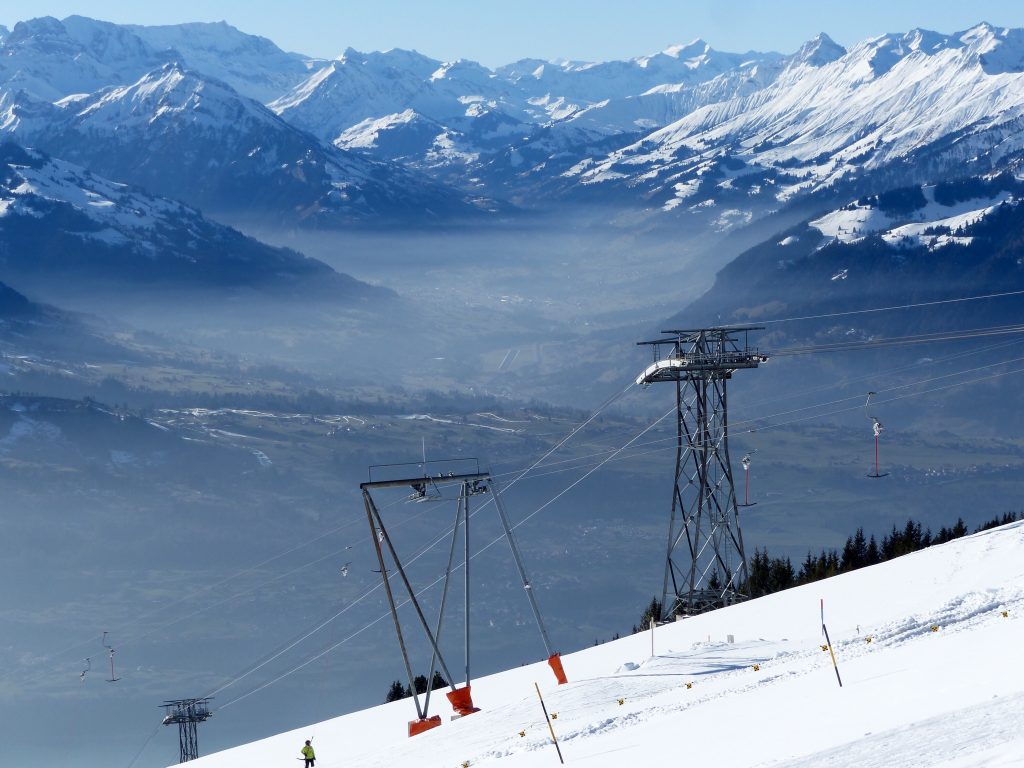 The empty ski-lift at Niederhorn.
For those who wants to sledge, the sledge slope from Niederhorn down to Vorssas is 3 km long and takes about 30 min. How about a Starlit sledging? On Friday and Saturday nights the cable car runs every 10 minutes from Vorsass to the Niederhorn. The sled run is marked with lanterns all the way to Vorsass. More about sledging on the Niederhorn Here.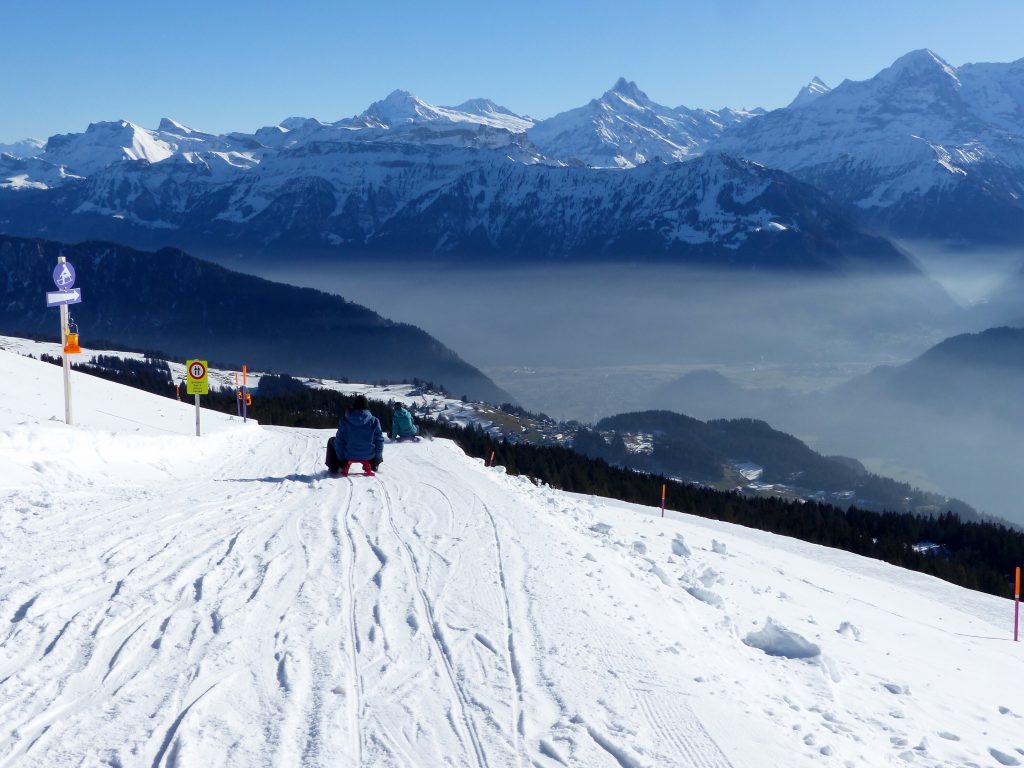 The 3km long sledging slope with a post-card worthy setting.
How about Paragliding? Another popular thing to do in Niederhorn is to jump of the slope on a hang-gliding or paragliding! While we were soaking up the winter sun, it was fun to watch those who dared jumping of the slope. More about paragliding on the Niederhorn Here.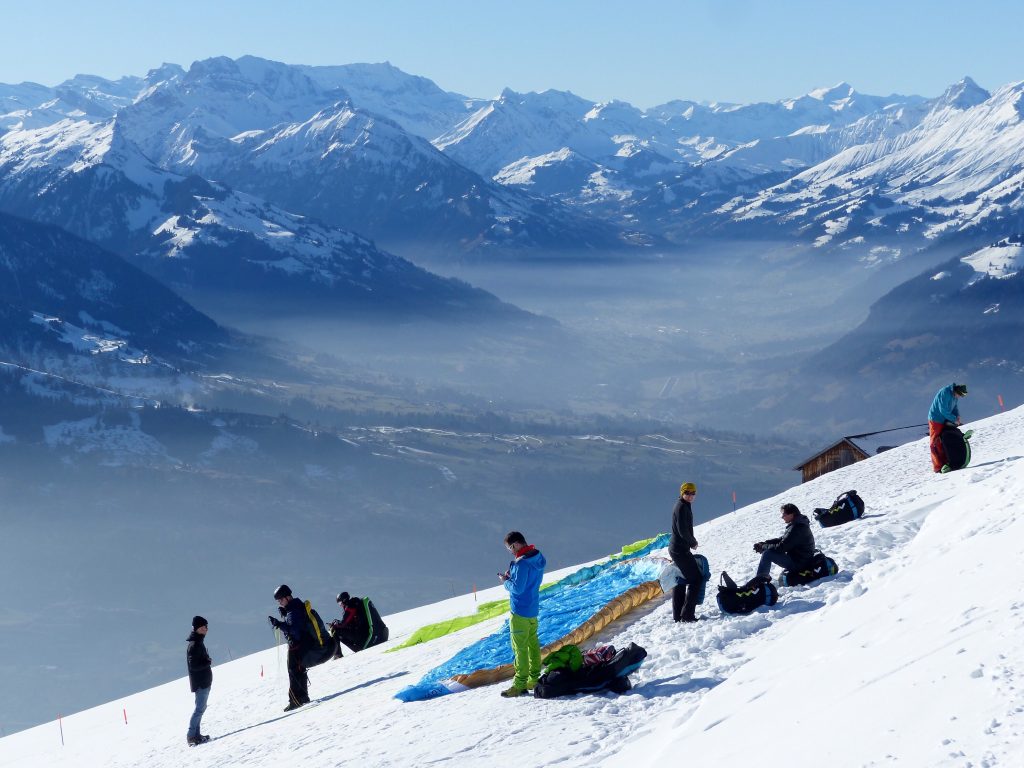 Niederhorn is a  perfect place from where you can go paragliding and feel free like a bird.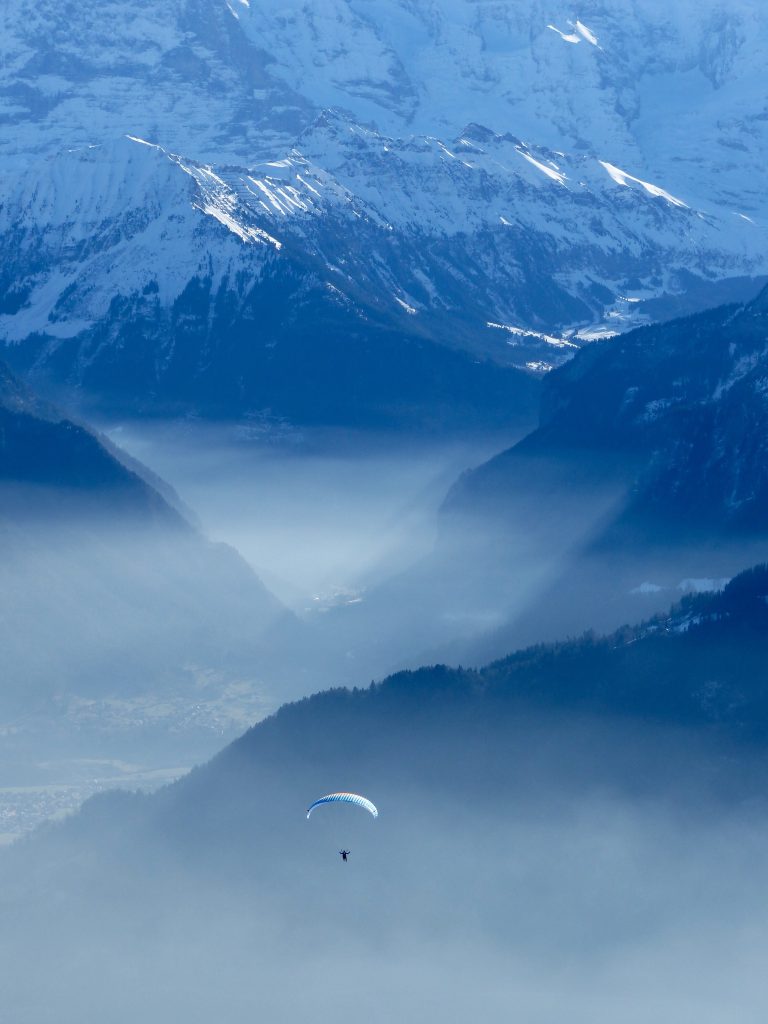 But today, we came to Niederhorn to have a walk. If you don't to walk to Burgerfeldstand, you can choose between several perfectly prepared winter hiking trails with hiking times between 1 and 3 hours. More about winter walks on the Niederhorn Here.
Or the snowshoe-trails on the Niederhorn Here.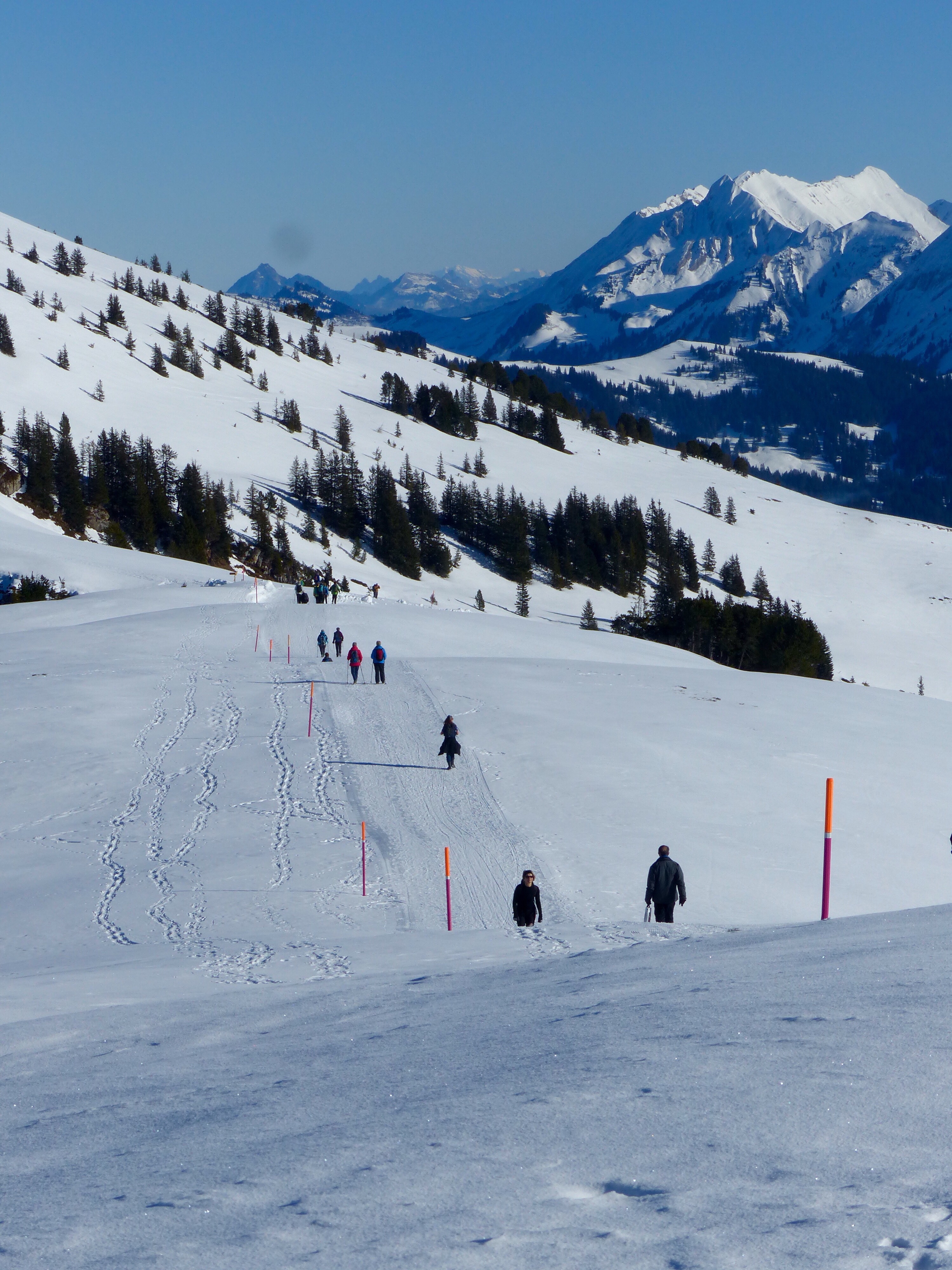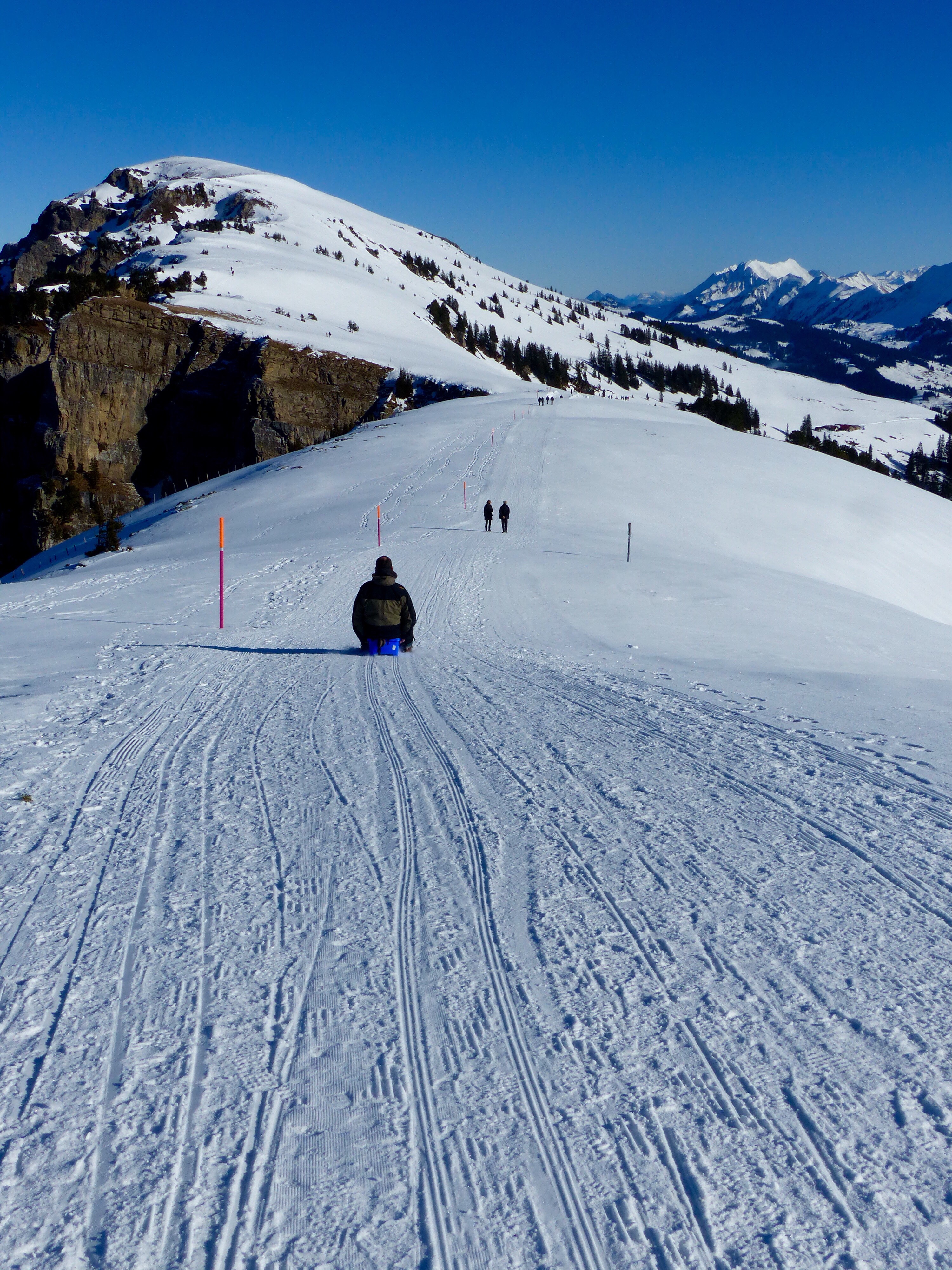 And off they go father and daughter.
On our way to Burgerfeldstand there were much people but it never felt crowded. After about 20min of walk from Niederhorn you will have to turn left and out of the groomed winter walking trail. From now on, it's about 30 hike up with about 200 m of elevation gain.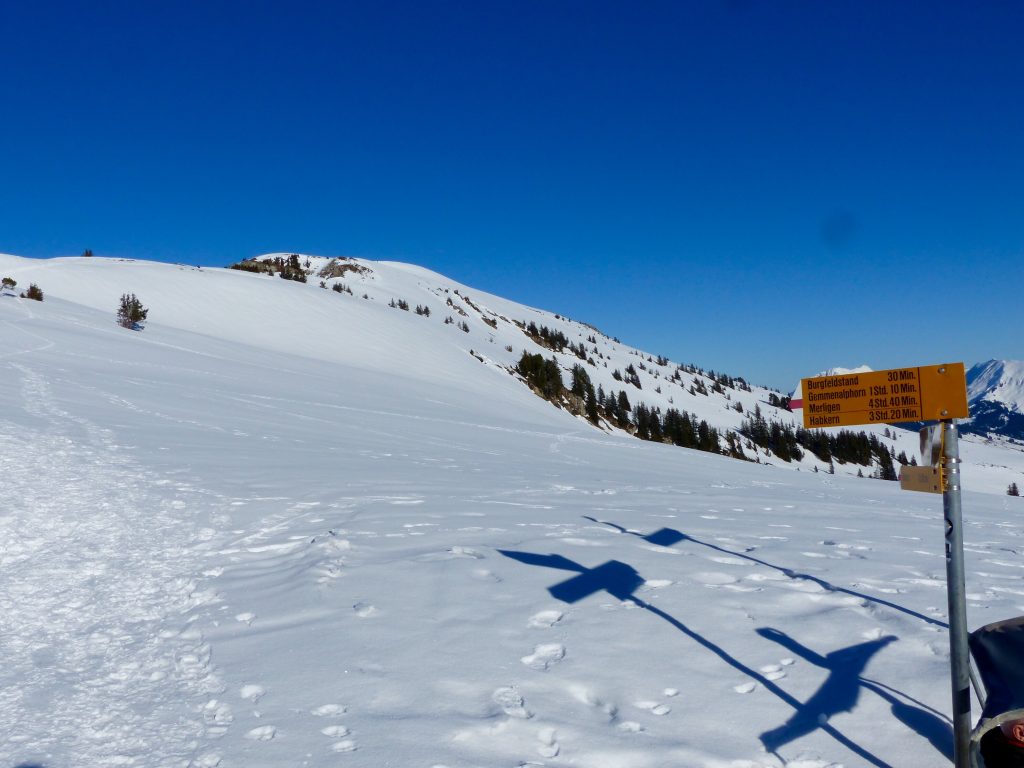 Before we hiked up to Burgerfeldstand we had a picnic on the snow and then when it was time for a nap for Mirabelle we left our sledge behind a tree and slipped Mirabelle in a baby-carrier.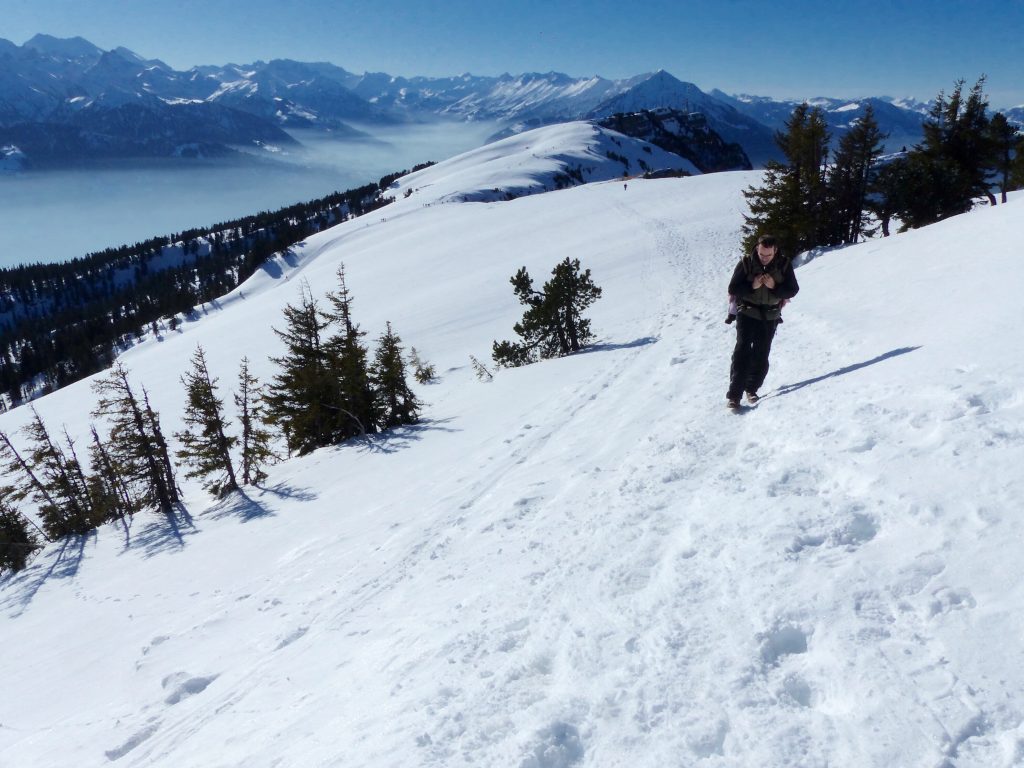 From here on, there is no other than us and the beautiful view!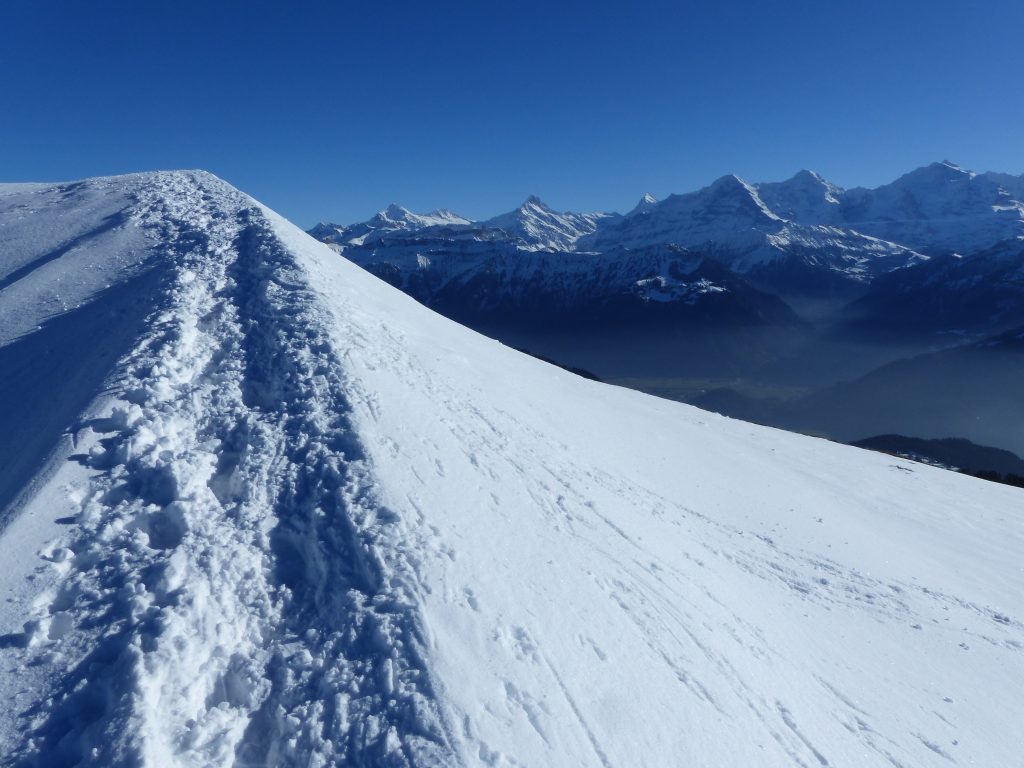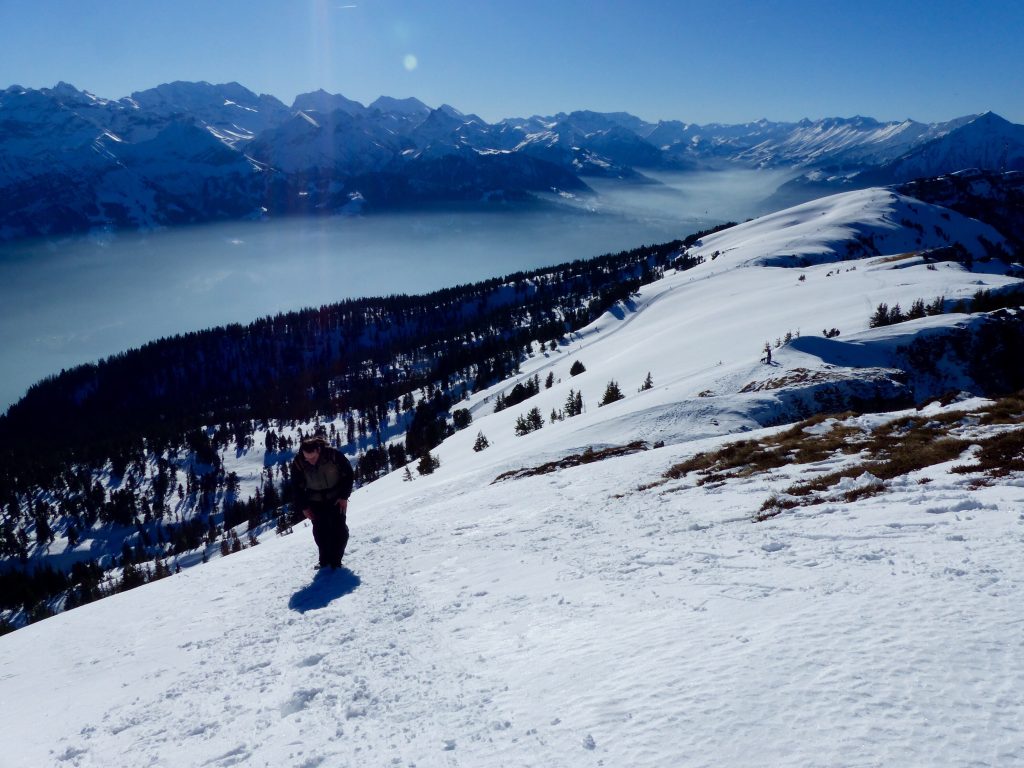 The walk was easy but there was a small part of the hike that was quite steep that might scare some people away. Don't because once you get above that point, it's beautiful!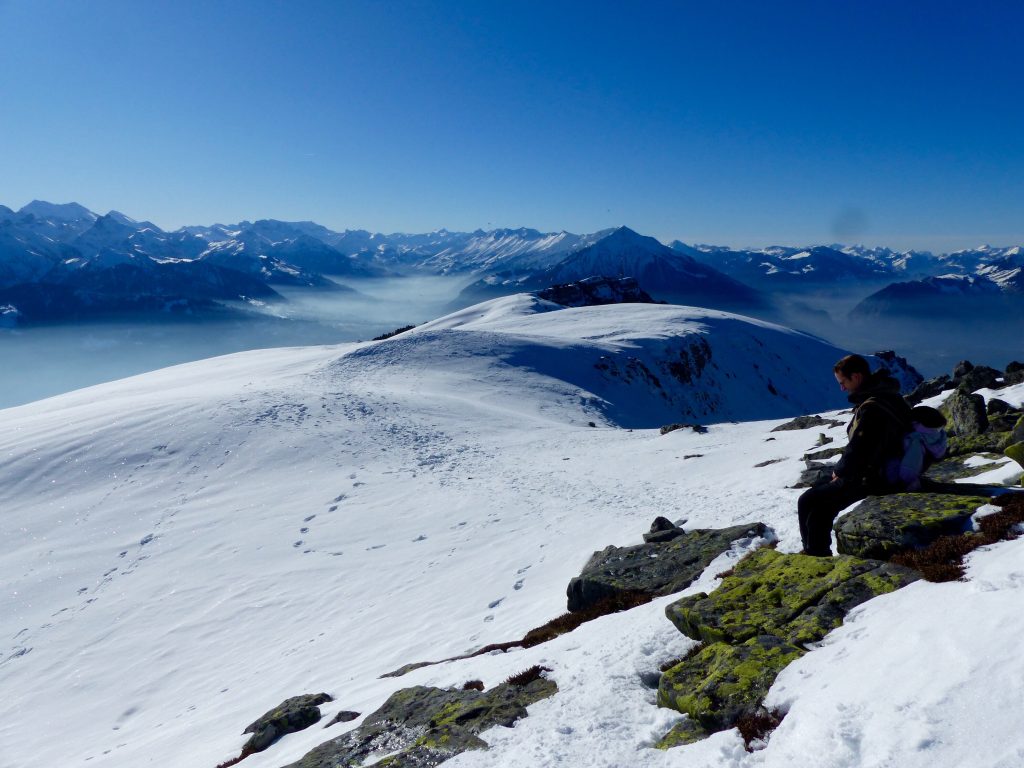 Damn spot on my camera lense!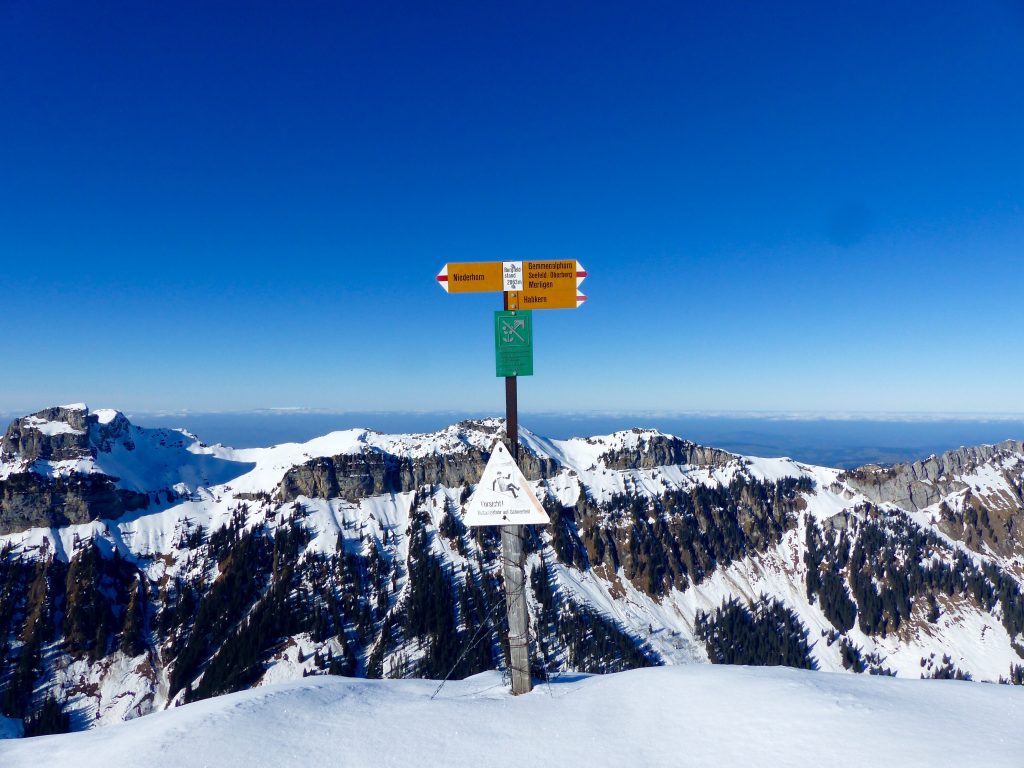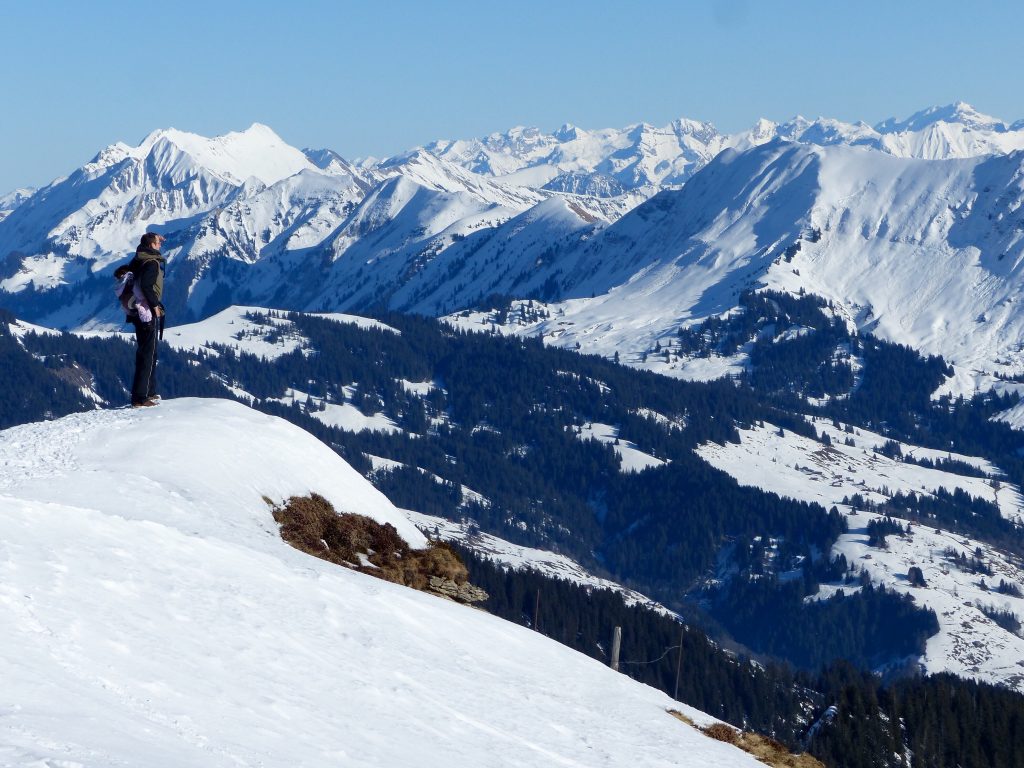 End of the road.
During summer you can walk as far as your eyes can reach but in winter Burgerfeldstand is the end of the road…for some! We saw two people walking further. Although it must have been beautiful and amazing I am not sure if I would dare.
From Burgerfeldstand we walked the same way back.
First time using Airbnb? Let's help each other! Register Here and get 40 chf for your first Airbnb accomodation and I am getting 20 chf!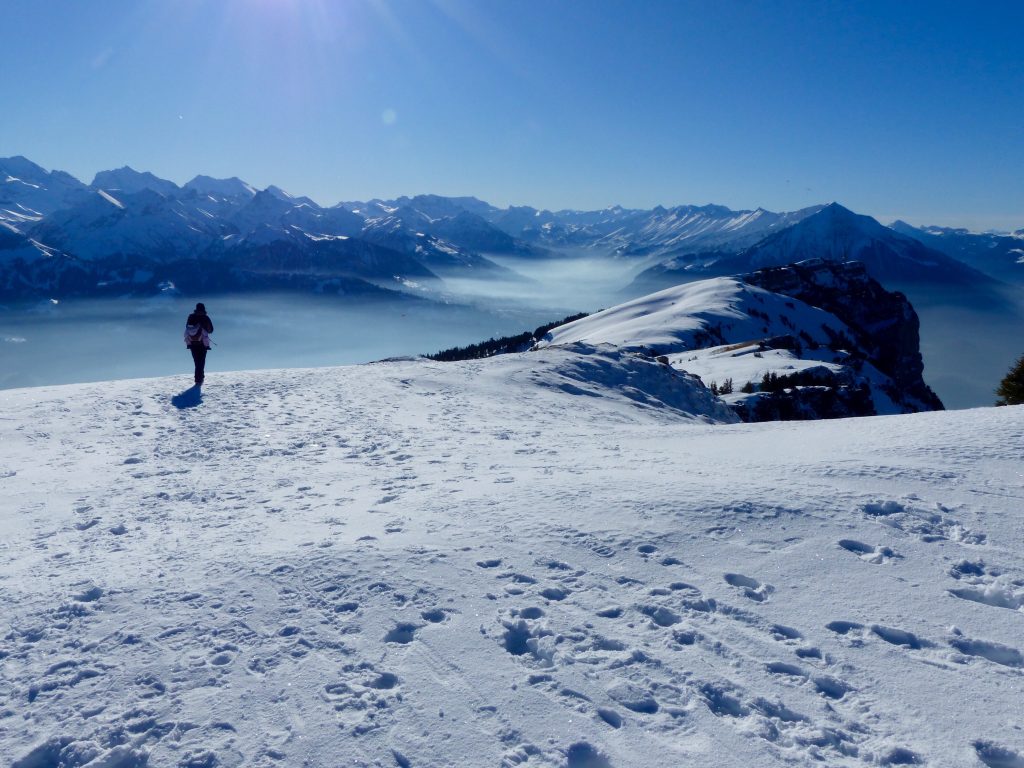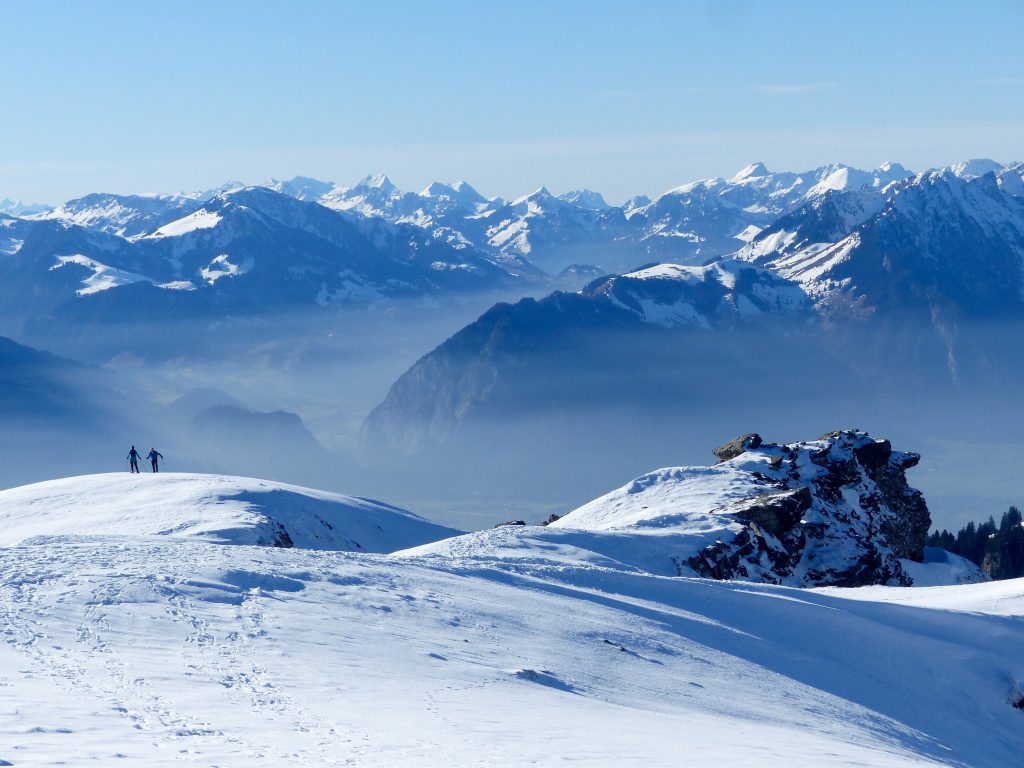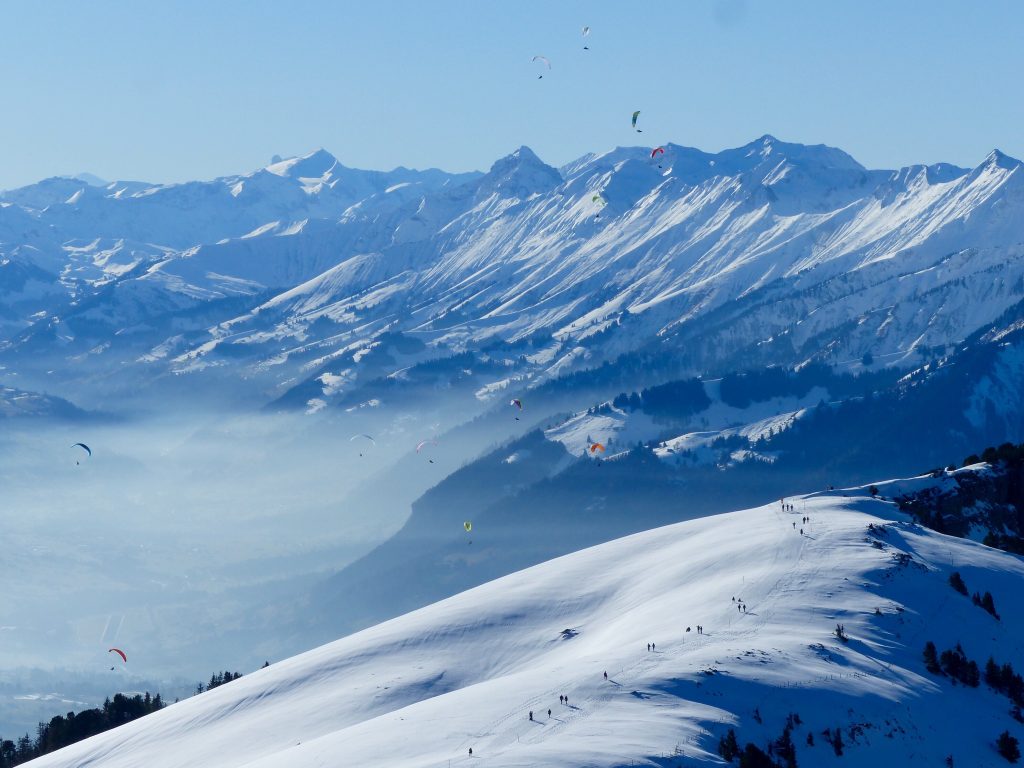 We have been to Niederhorn many times before but only once during winter and I really recommend Niederhorn in winter. But I must say, it is not cheap coming up to Niederhorn unless you walk up! Even with the Swiss half-fare travelcard. For prices please click Here.
If you come in summer, instead of sledging you can go Trotti-biking down the road. More about Trotti-biking at the Niederhorn Here.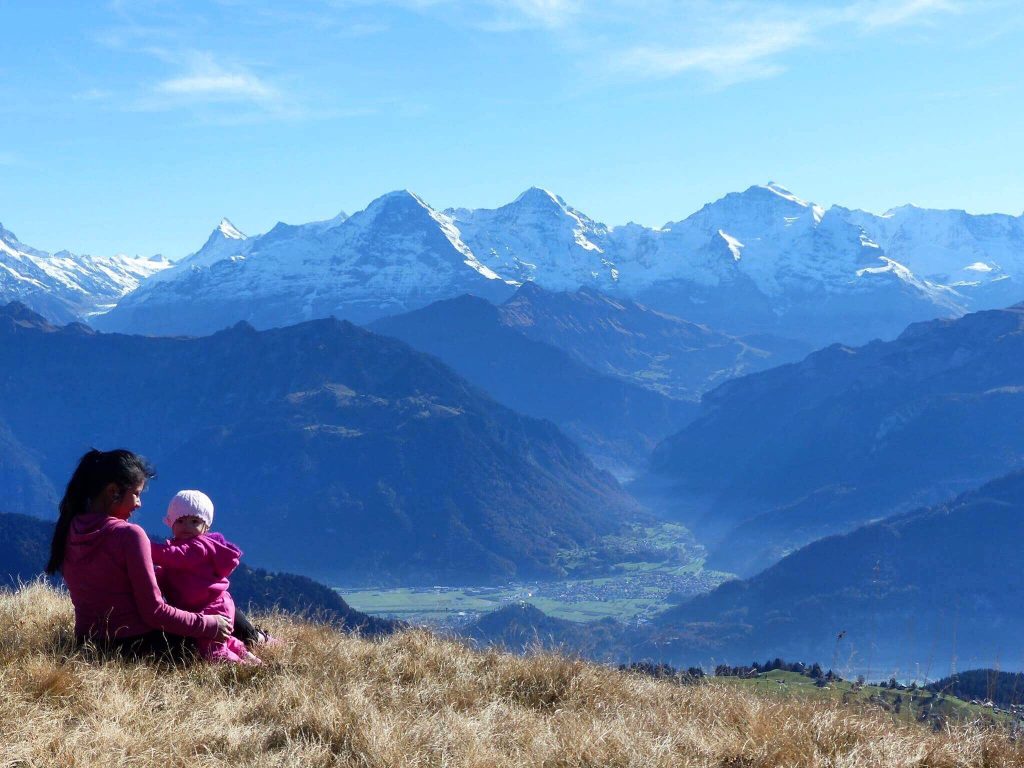 Niederhorn on the summer with Eiger, Mönch and Jungfrau in front of us!
Here is an awesome summer hike not faraway from Interlaken. Hiking to the Augstmatthorn. Click Here for more detail.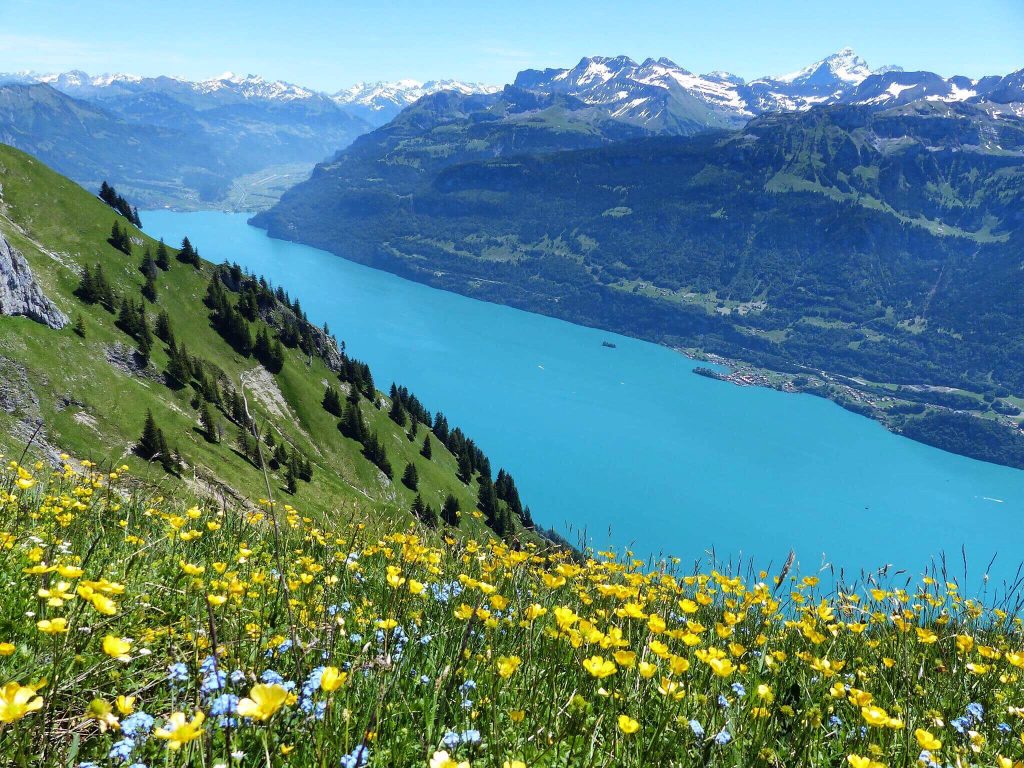 A beautiful walk on the ridge to Augstmatthorn.