What is more wonderful than to view the first spring flowers appear after the long winter months ! The white landscape is now gently turning green, dotted with colorful spring flowers announcing that the summer is on the way! Yay!
Over the years we have done some great hikes in Switzerland but some of our favorites are the spring hikes as there is something very special to be walking on hills covered with spring flowers! But on our lazy days we can simply have a picnic under cherry blossoms trees on our nearby park after cold months! Basically, wherever you go in Switzerland between April-June you can find yellow fields of colza, sunflowers and dandelions as far as the eyes can see!
Down below you can find a list of our favorite spots to view spring flower blossoms in Switzerland! Some few spots are still on our to-do-list but if you ever get to do them, please let us know if it was worth it!

Cherry blossoms
1. Frick, canton of Aargau

I remember on a winter day I was dreaming back to the cherry blossom festival in Japan and I was so happy when I found out about this beautiful and child-friendly chriesiwäg, a cherry trail in Frick.
When to go: Between April and May, depend ofnthe weather. You can call and ask here, the contact number is at the end of the page.
For further details of our day at the cherry trail in Frick ⇒ Cherry blossom trail in Frick, Switzerland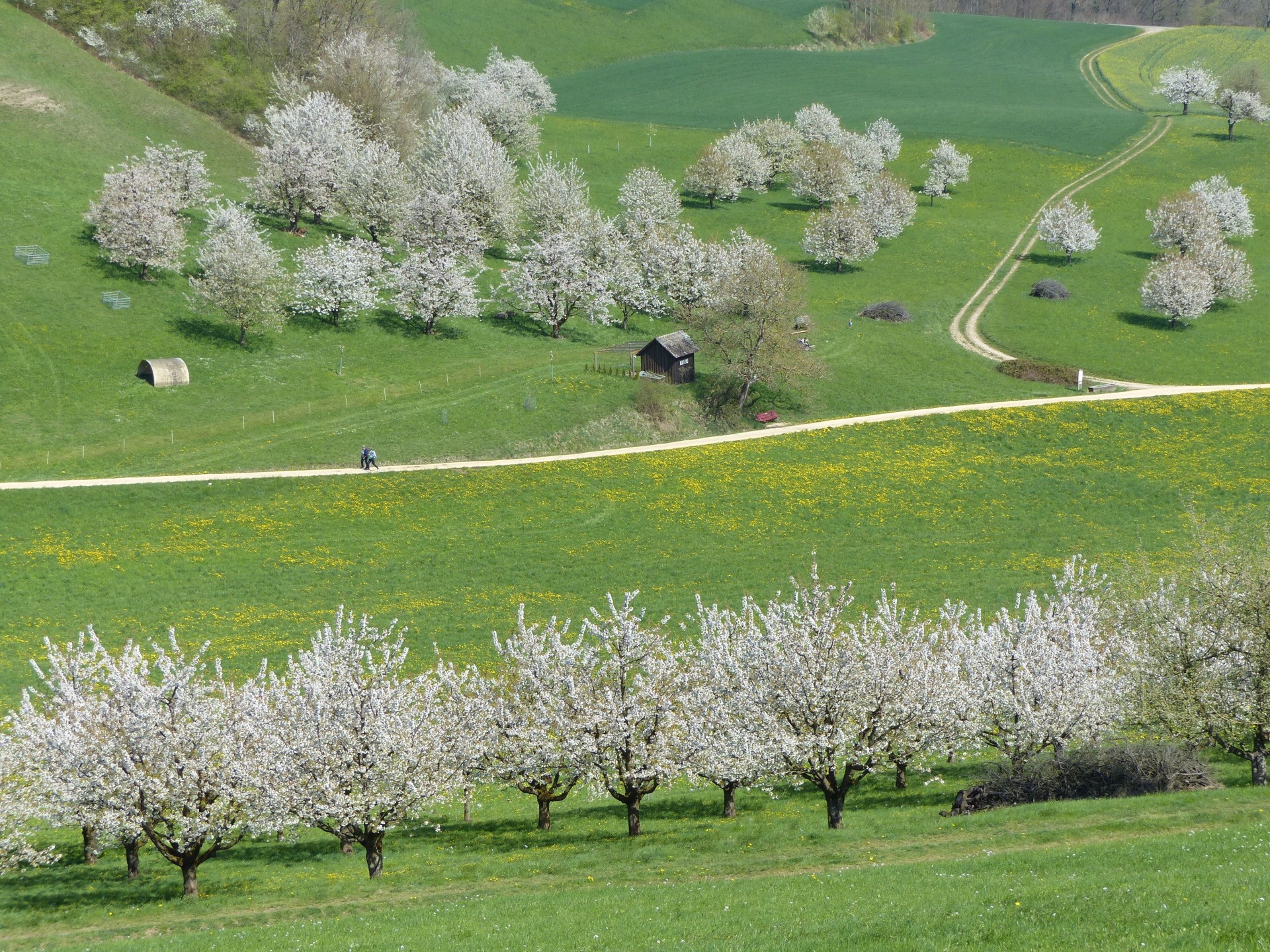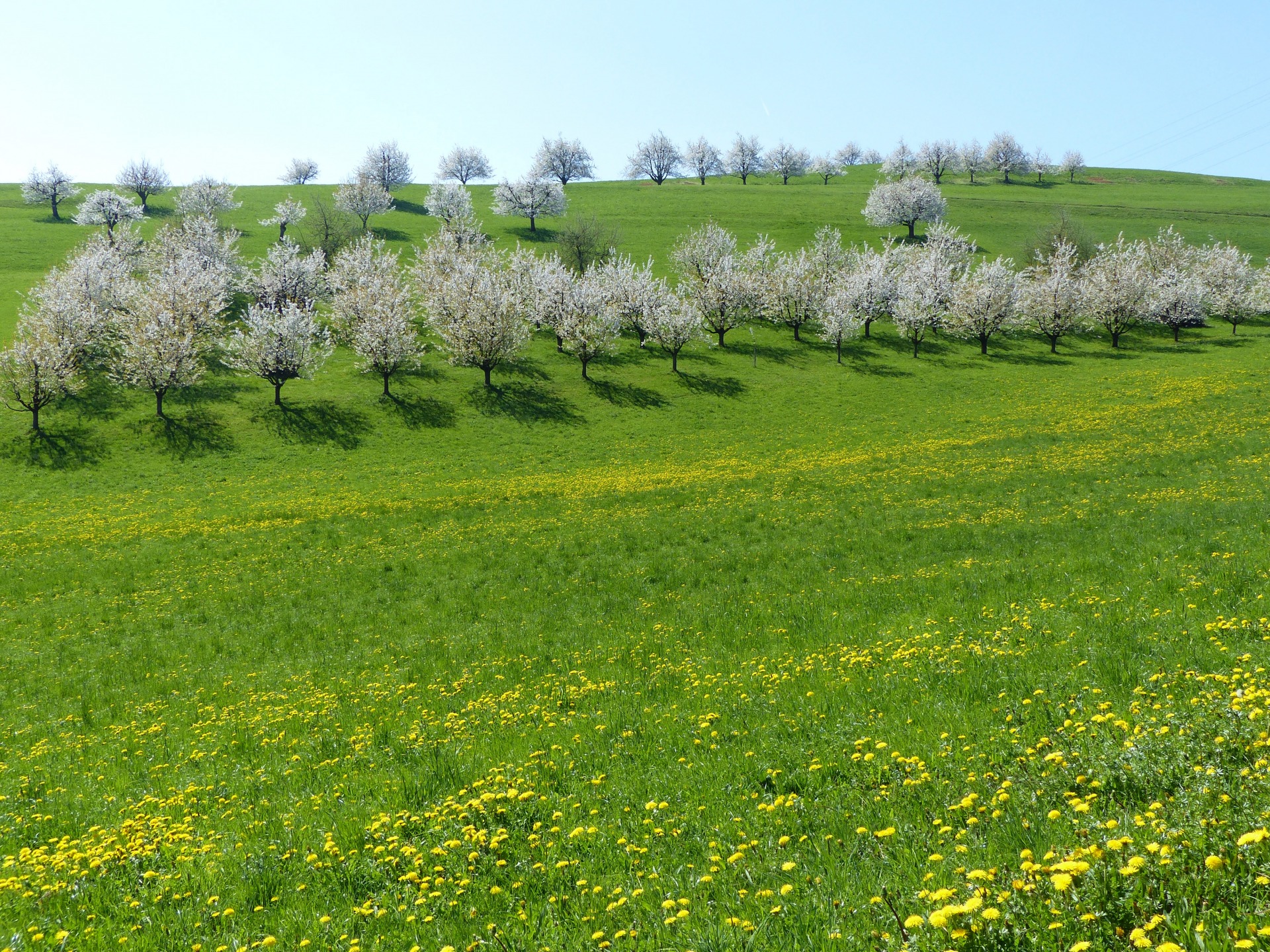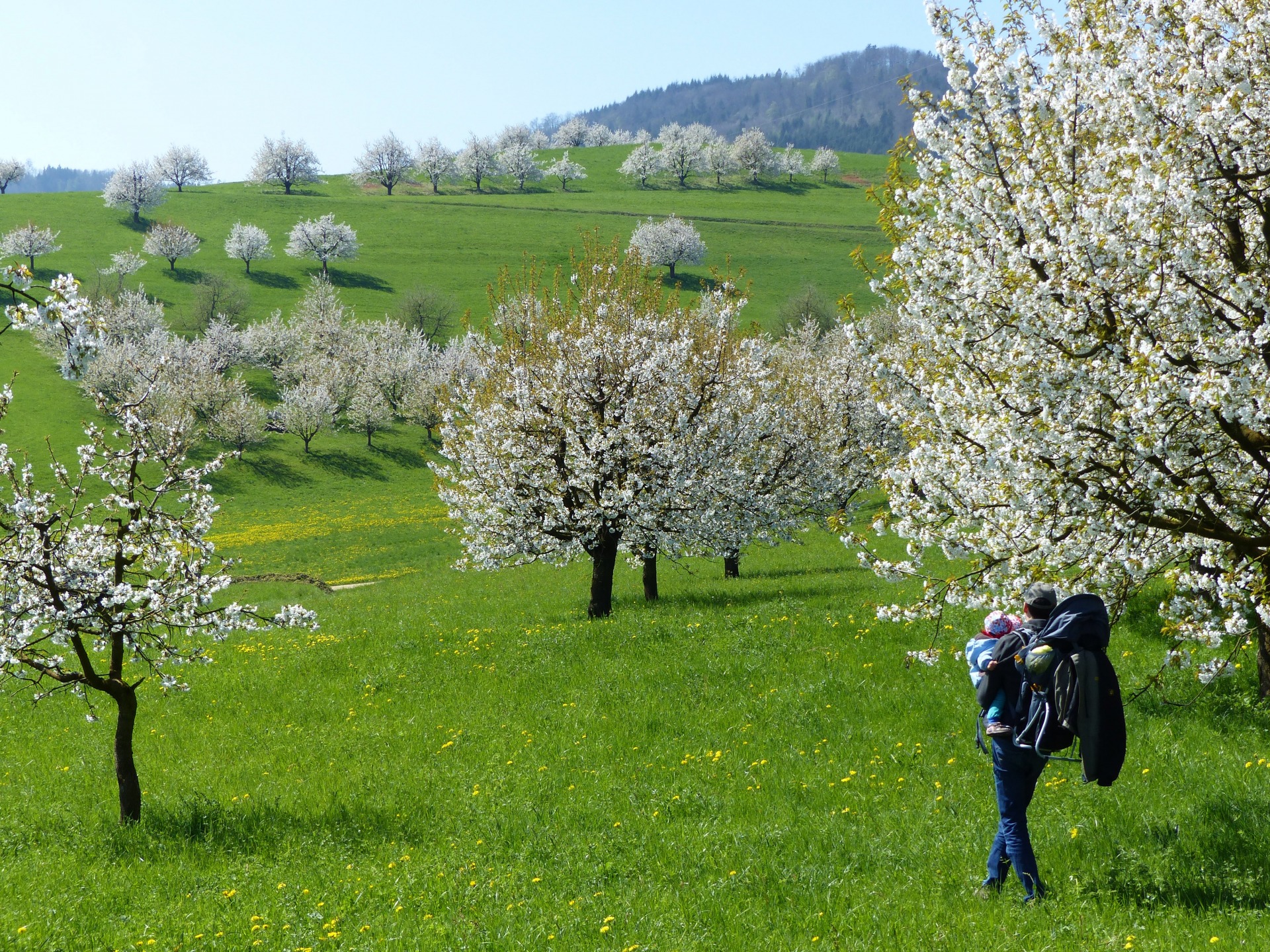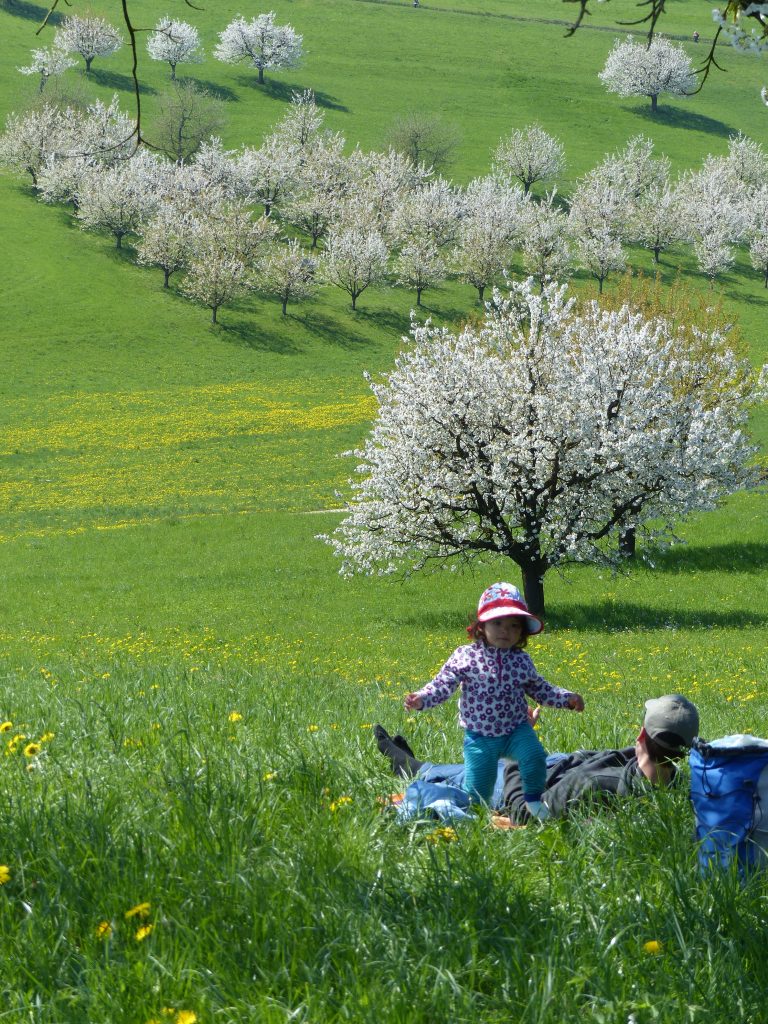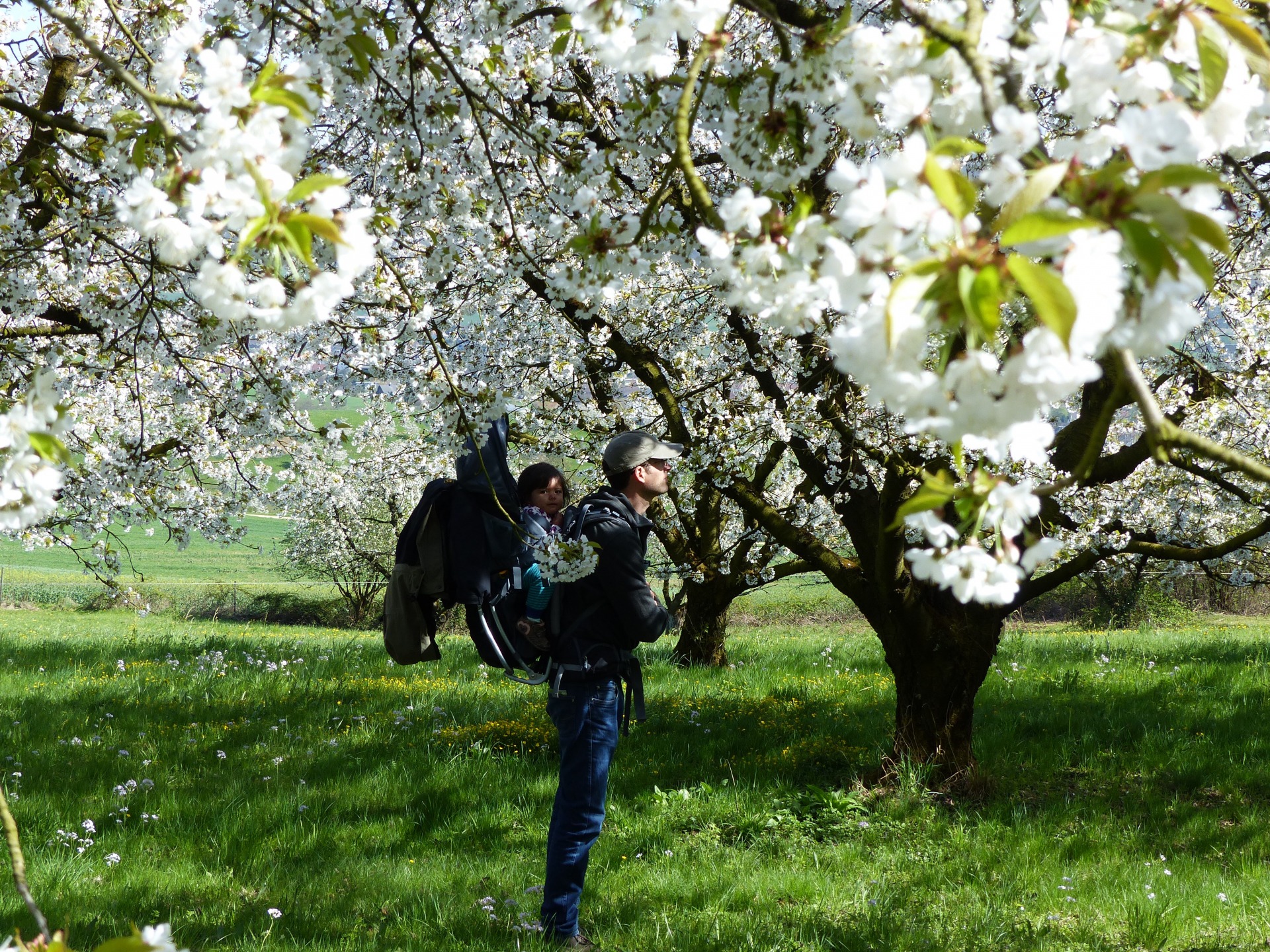 2. Nuglar and St. Pantaleon, canton of Solothurn

Unfortunately, we came a few days too late for the full cherry blossoms in Nuglar and St.Pantaleon. But it wasn't a complete waste of time because it was still very beautiful! The walk on the paved road is easy and you will have a beautiful view all the way!
When to go: Between April-May depend of the weather. You can call to make sure that the cherry trees are in full bloom here. The contact information is at the end of the page. The page is only in German.

For further details about our day at the cherry orchard ⇒ Cherry blossoms trail in Nuglar and St.Pantaleon, Switzerland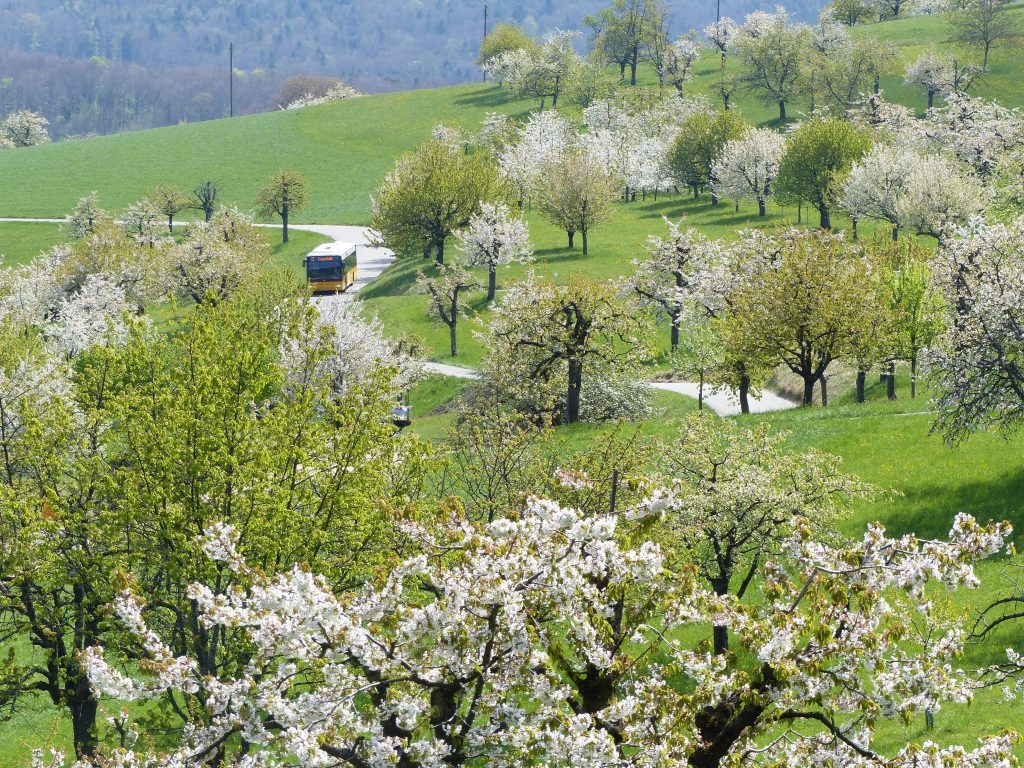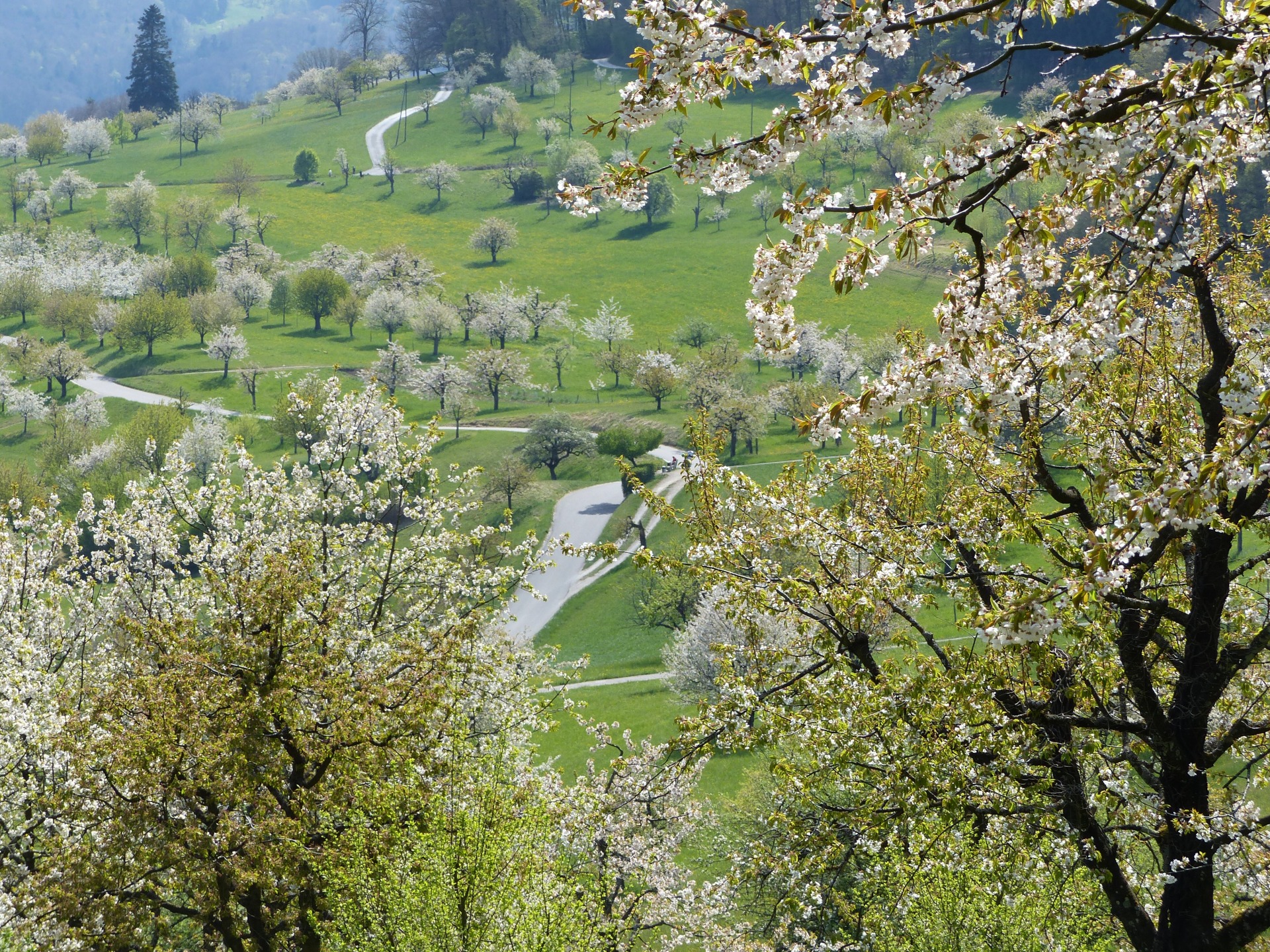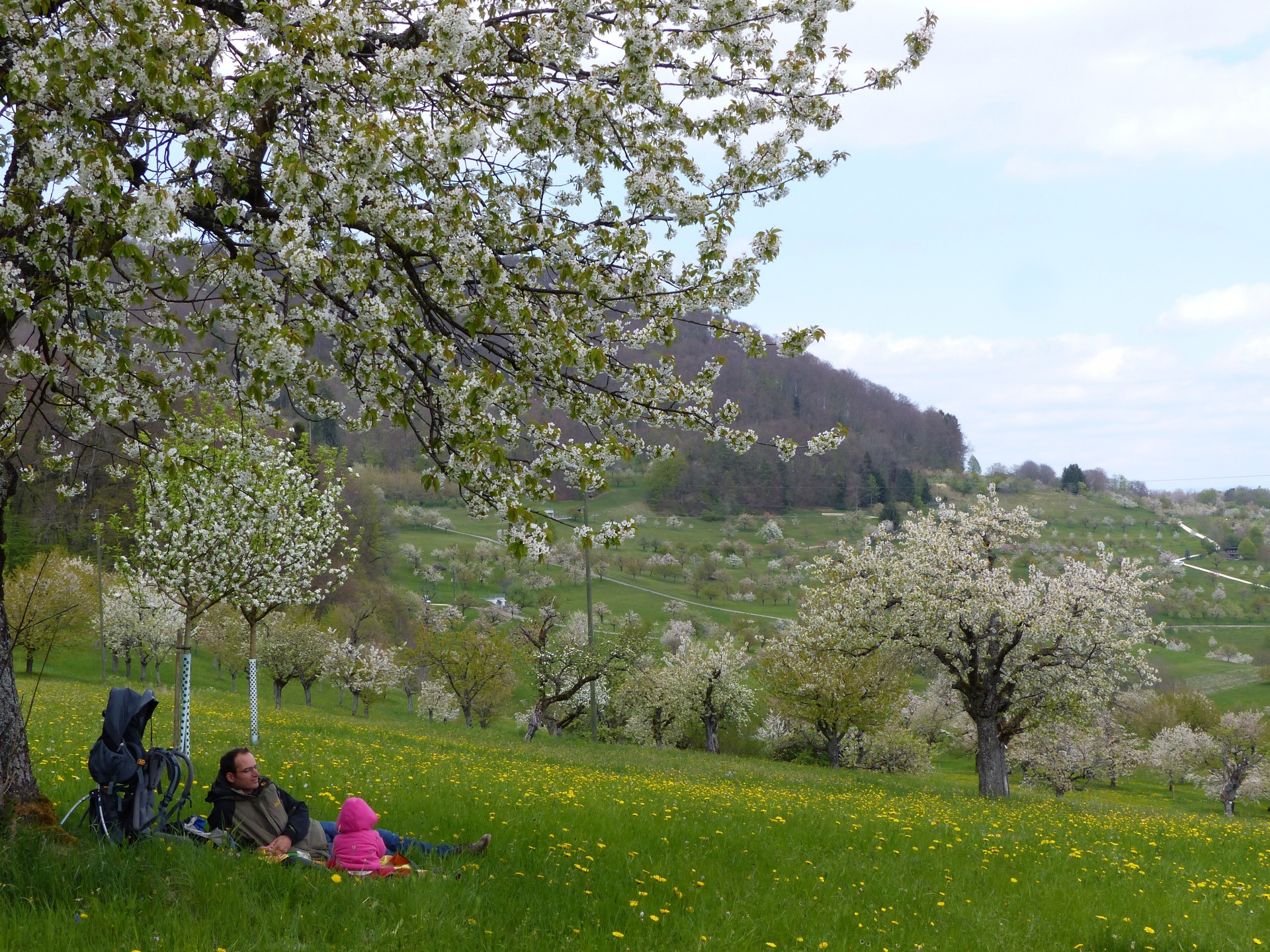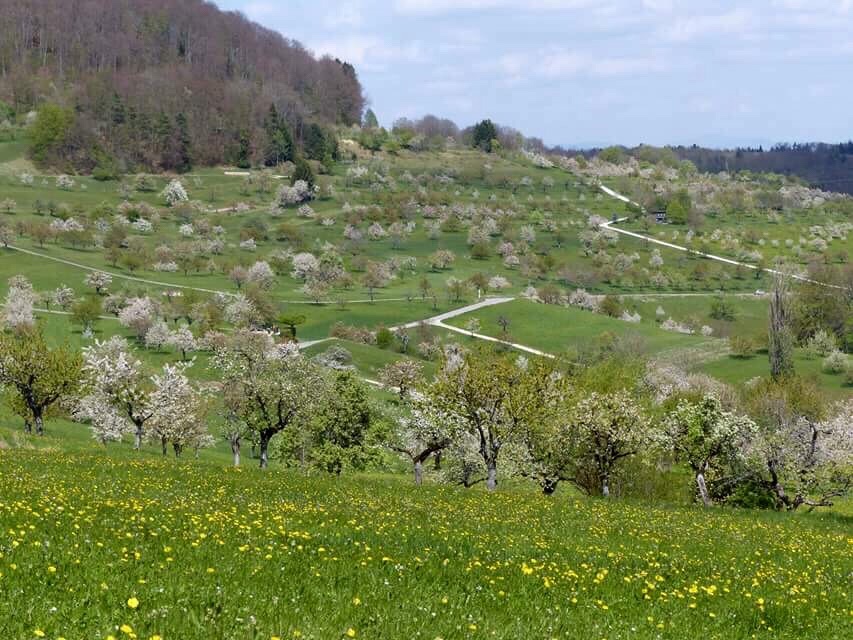 3. Lausanne, canton of Vaud

If you have never been to Lausanne before, spring is the best time to come because only then you will be able to have a picnic under cherry blossoms trees…almost like in Japan!
When to go: Between end of Mars and mid April, depend of the weather. You can call or write to the restaurant of Mon-Repos swimming hall here.
Where: The cherry trees can be found behind the Mon-Repos swimming hall next to the Mon-Repos park (also worth a visit with kids!!). The swimming hall is only a short walk from the Cathedral of Lausanne on the other side of Pond Bessière.
By car: Av. du Tribunal-Fédéral 4
1005 Lausanne
021 311 94 24
By public transportation: M2 or bus nr 6-7. Jump off at the station Bessière or Ours
TIPS! There is a good and affordable sushi bar near the park. Have a look here!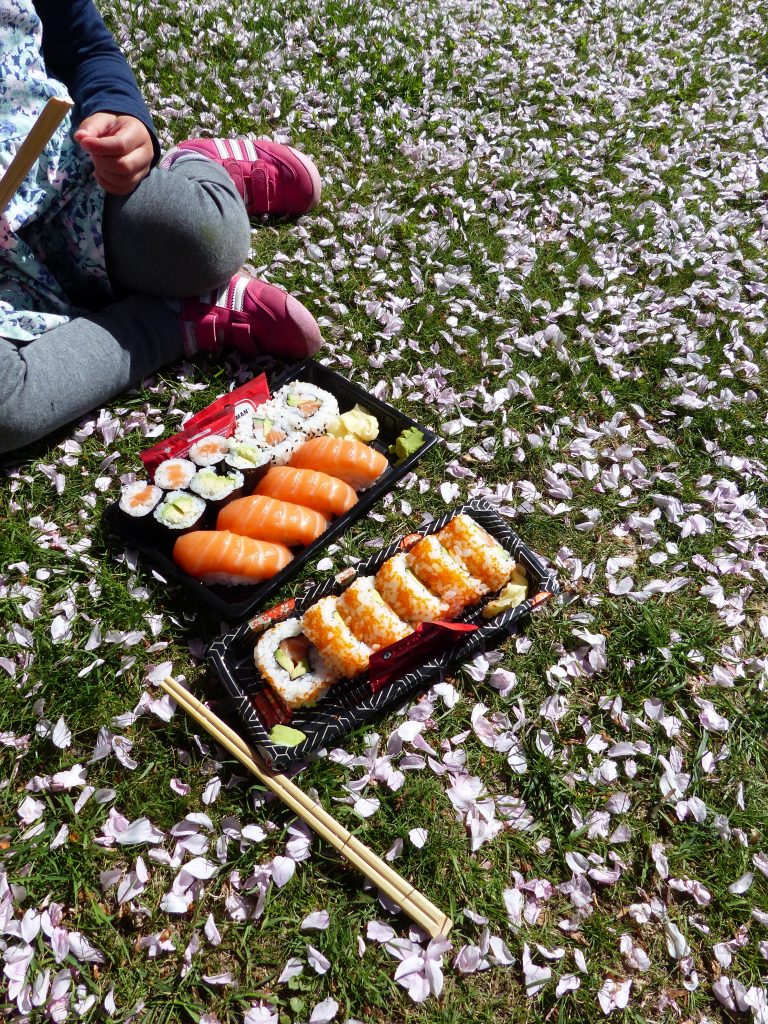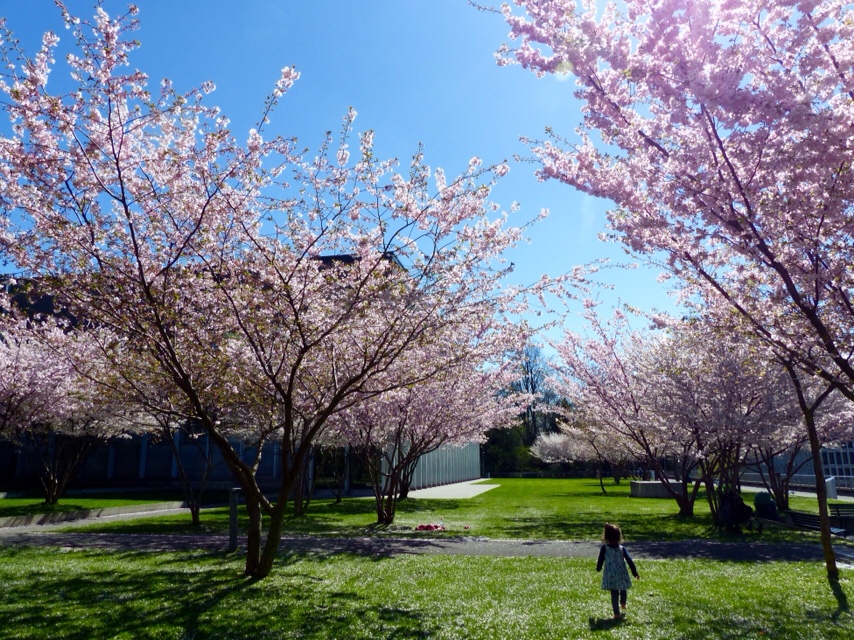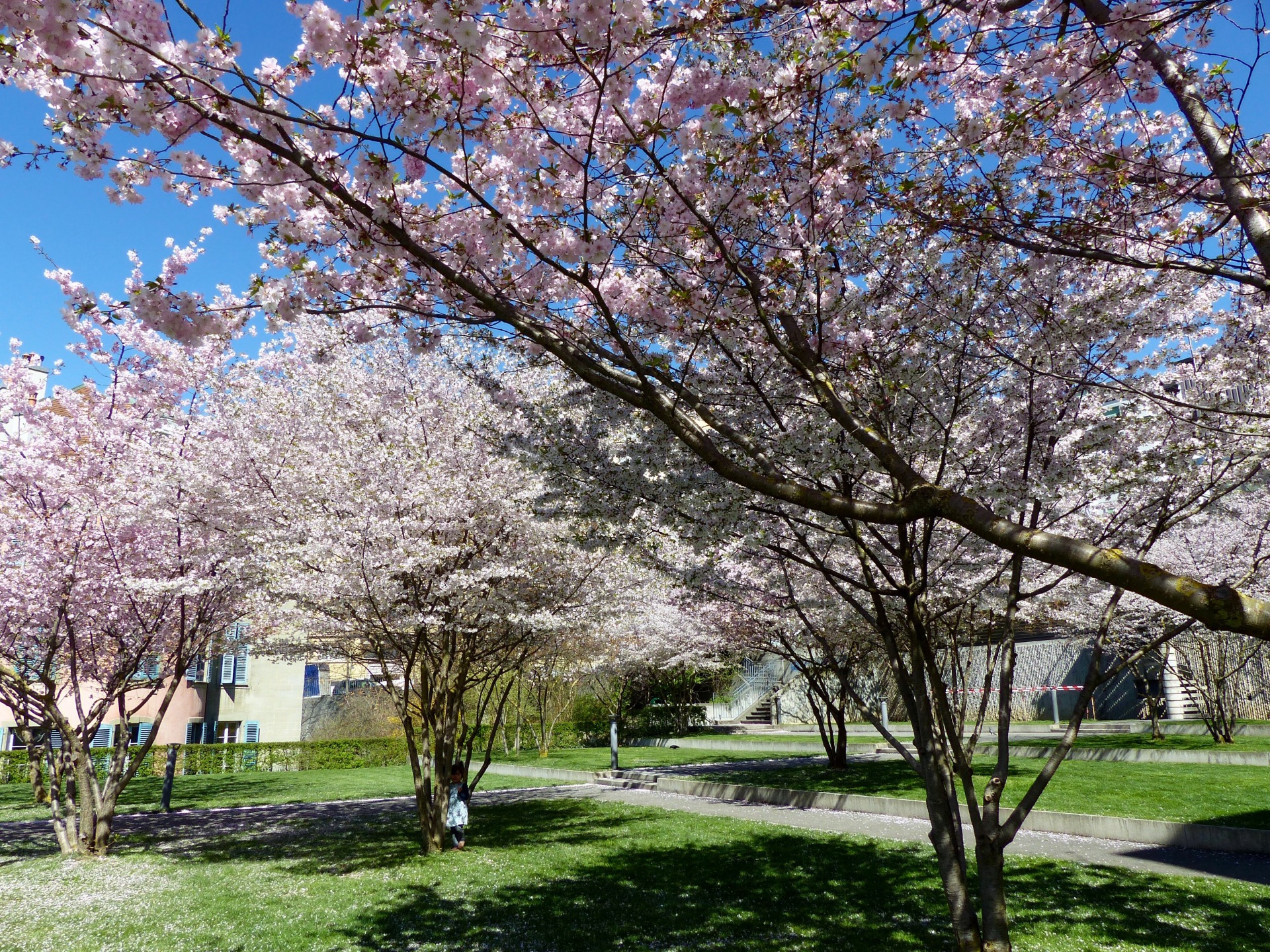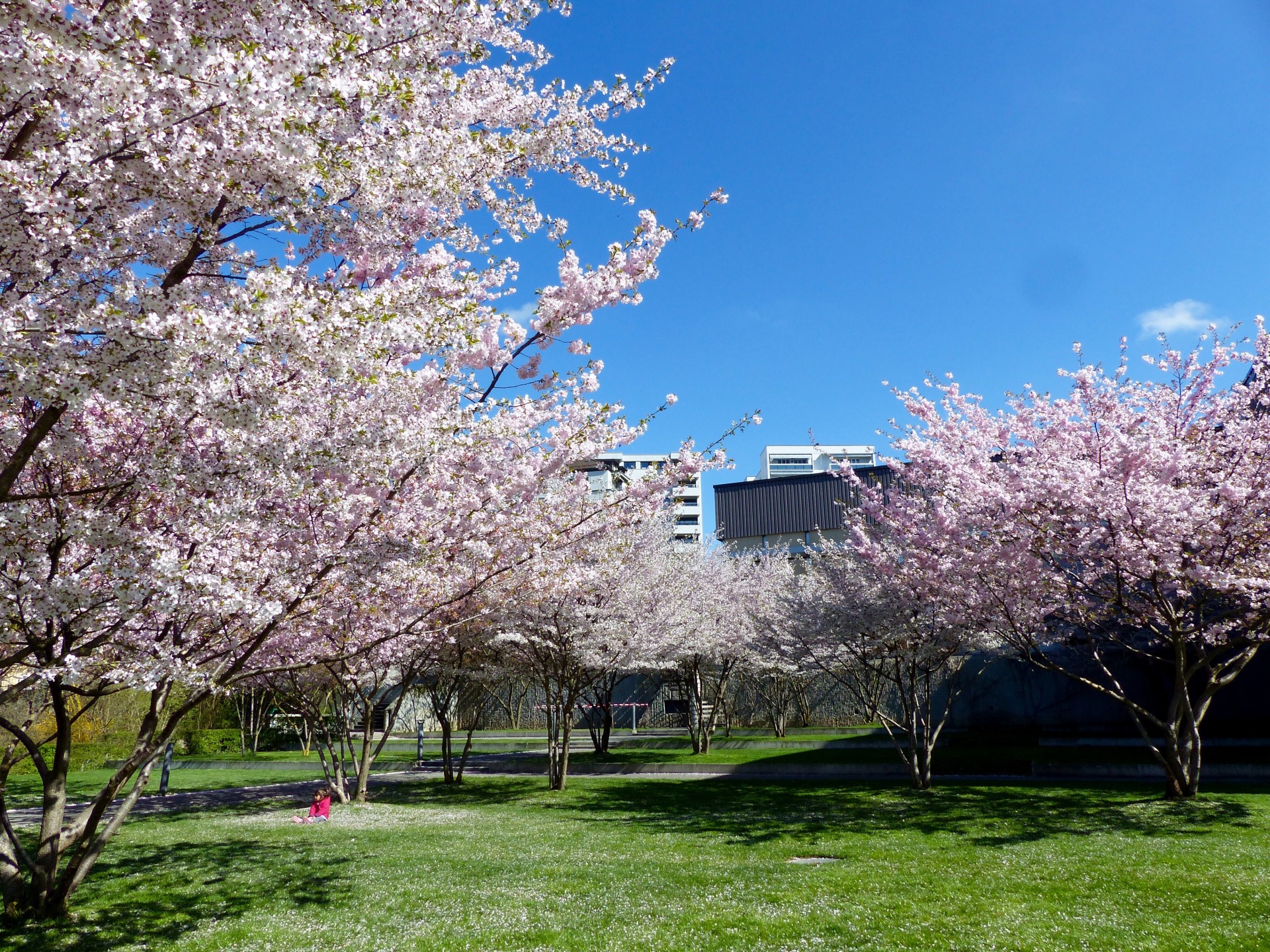 The beautiful hanami season right by our neighborhood park in Mon-Repos park in Lausanne.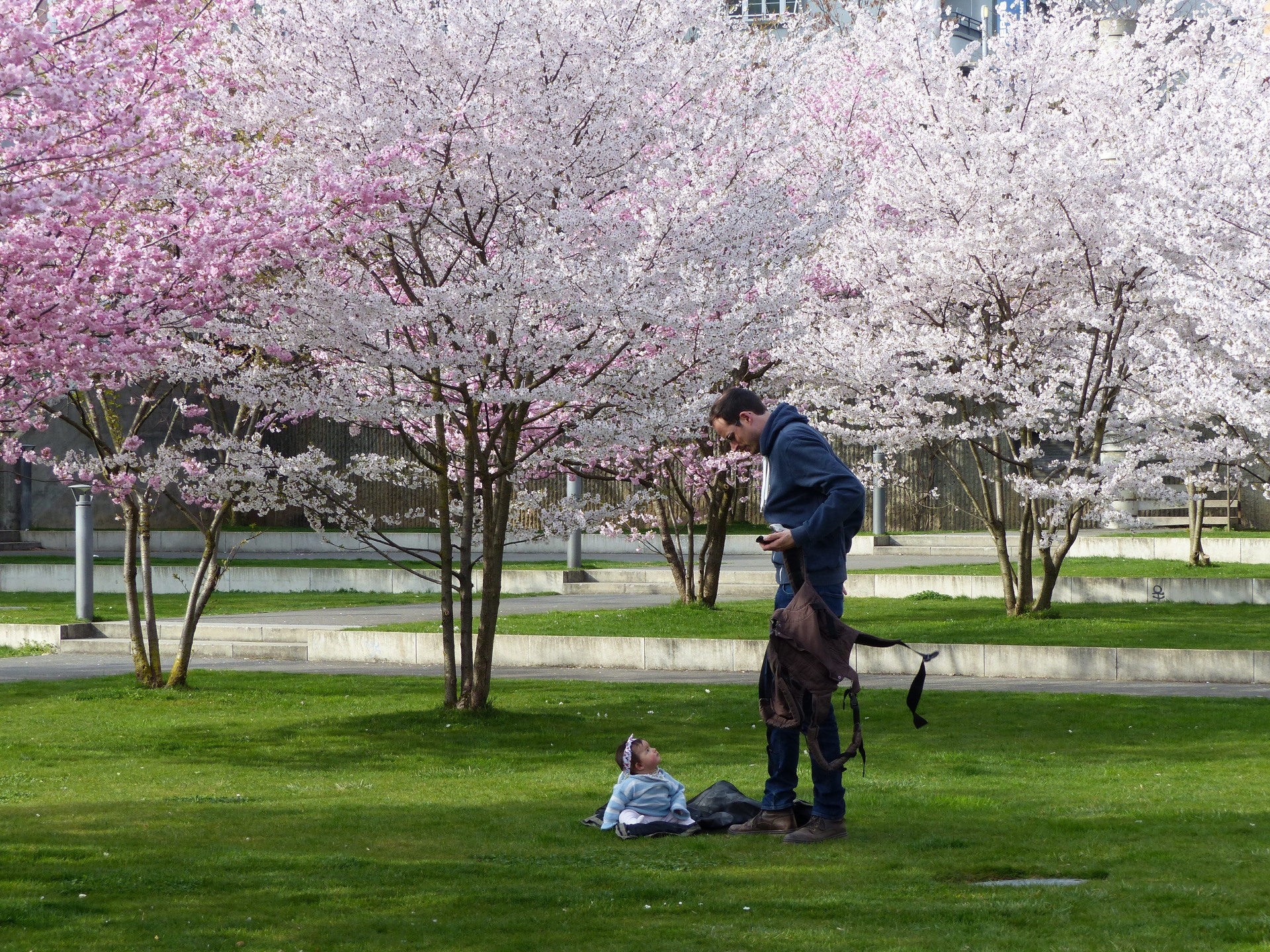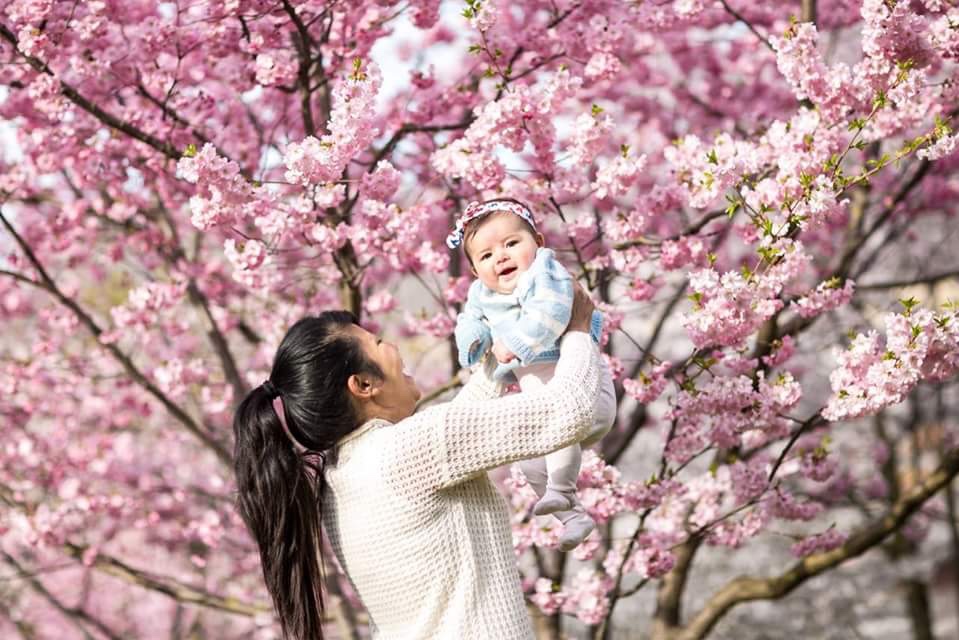 Narcissus
4. Les pléiades, canton of Vaud
The narcissus round hike in the Pléiades is a wonderful and easy family walk and we were really impressed of how the hill after hill are completely covered with the white spring flowers! Truly beautiful!
When to go: Between May and June, depend of the weather. Please have a visit to this page to see the blooming situation of the narcissus in the Pléaides before you go!

For further details about our day at the Pléaides ⇒ A sea of Narcissus in Les Pléiades, Switzerland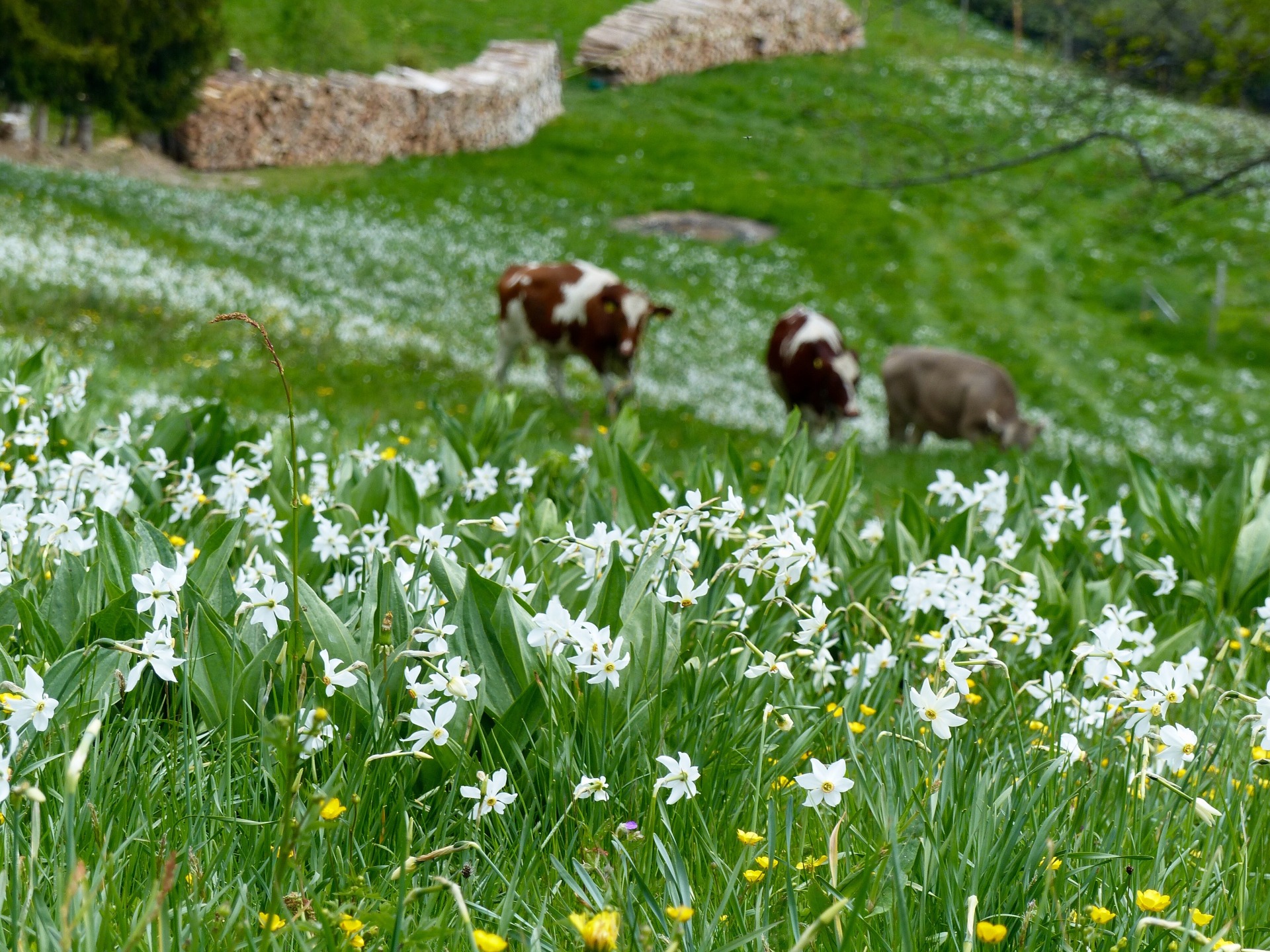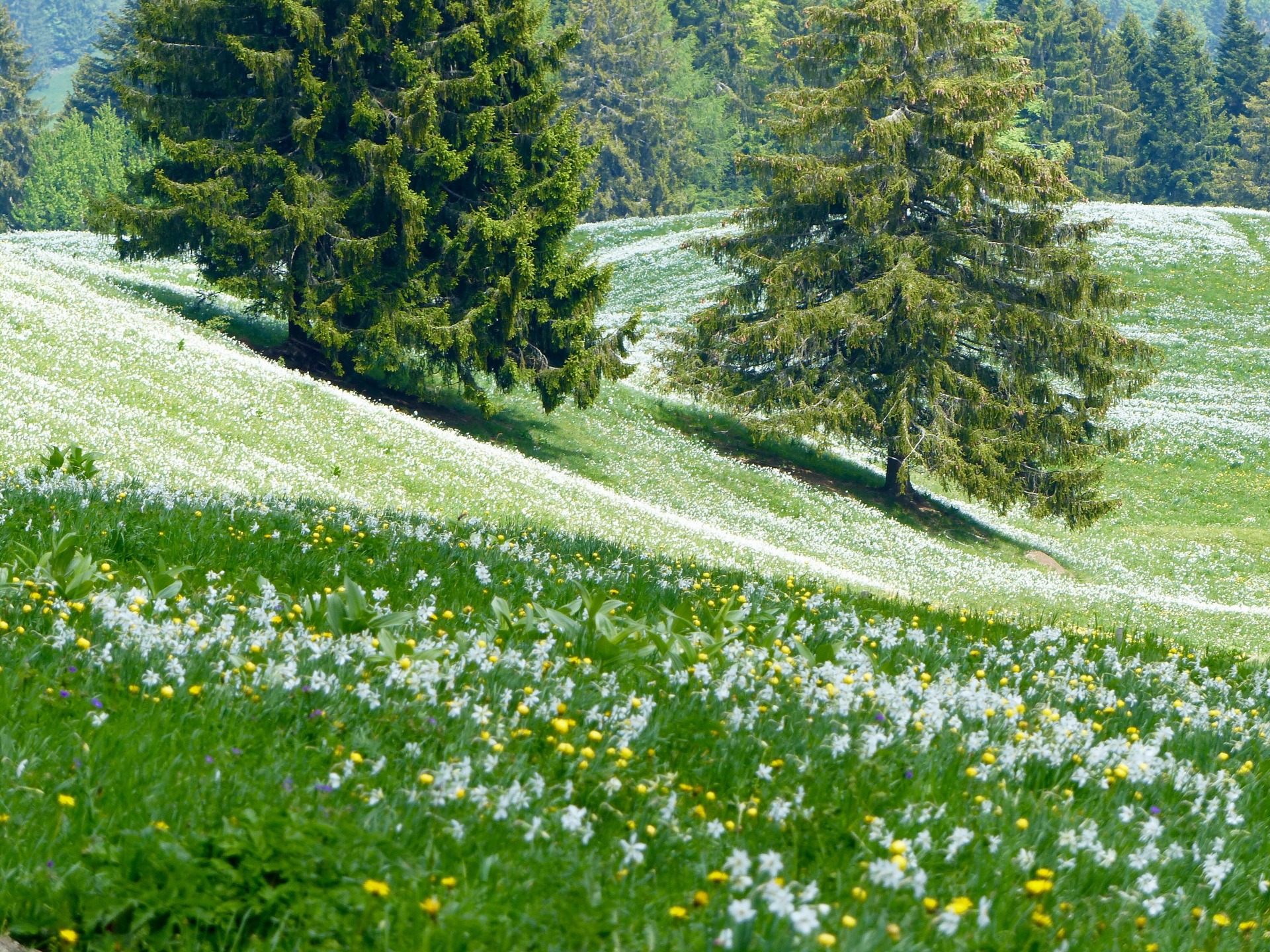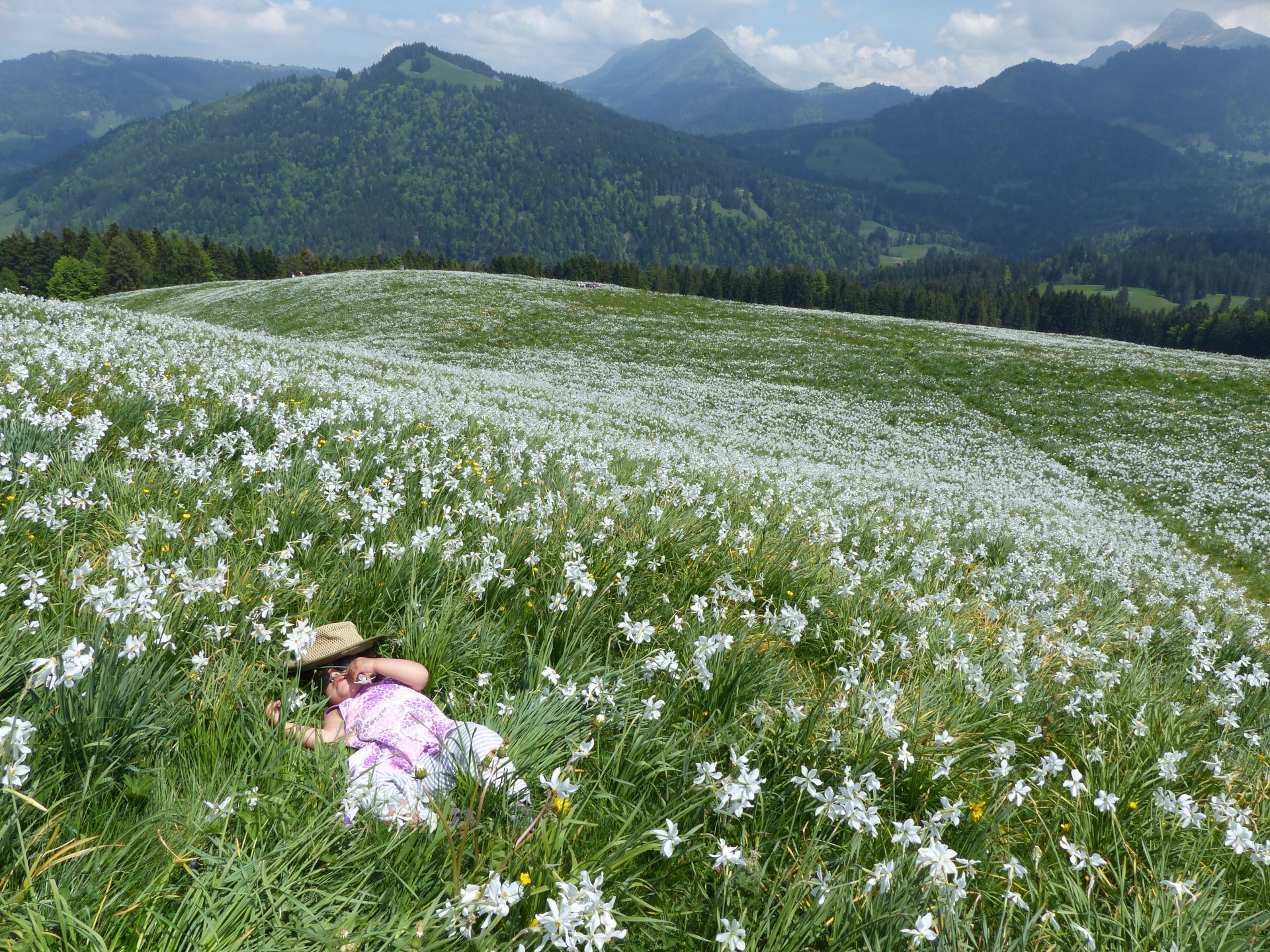 Lying down on a bed of Narcissus in the Pléaides, something to put on your bucket-list!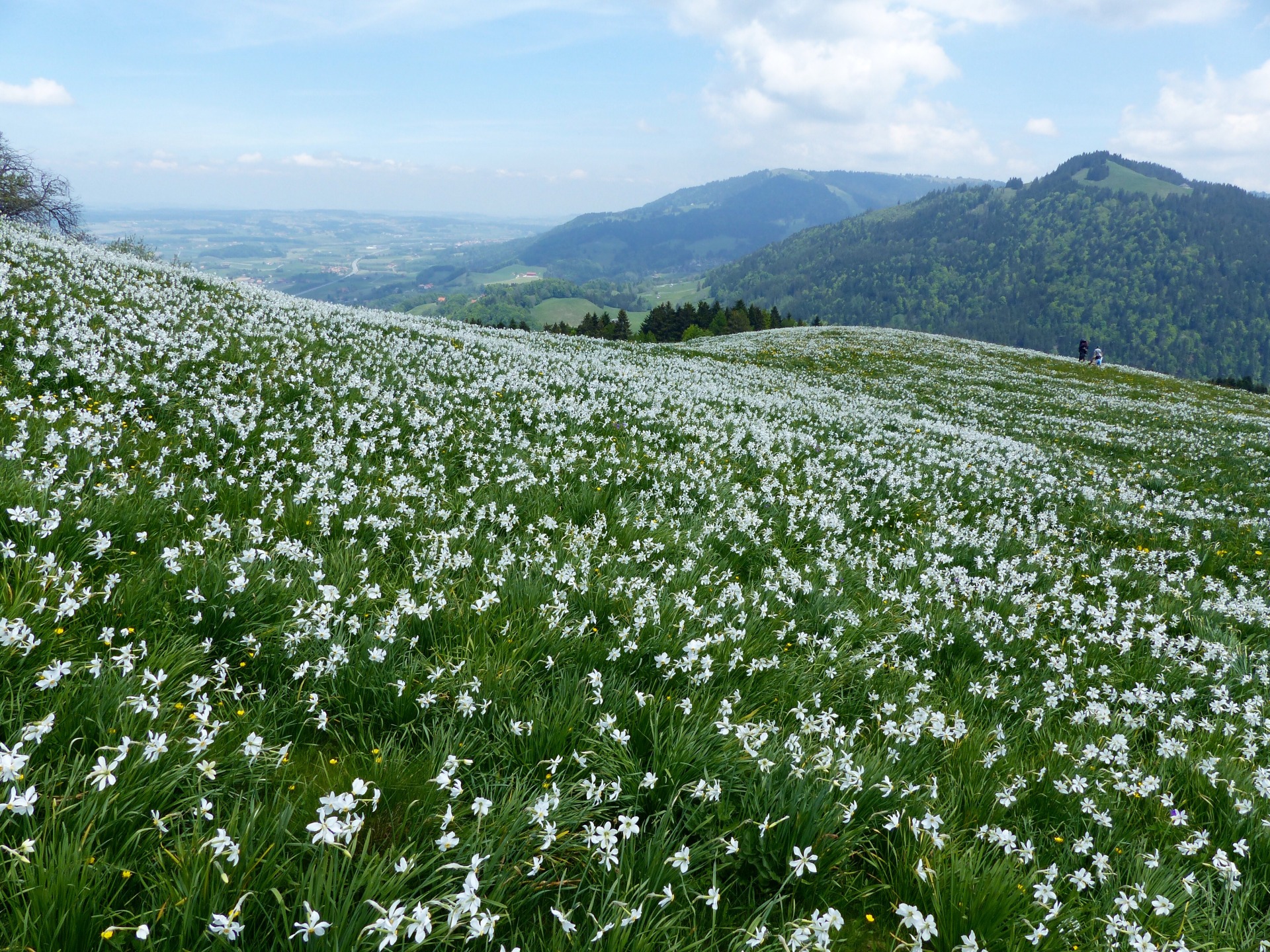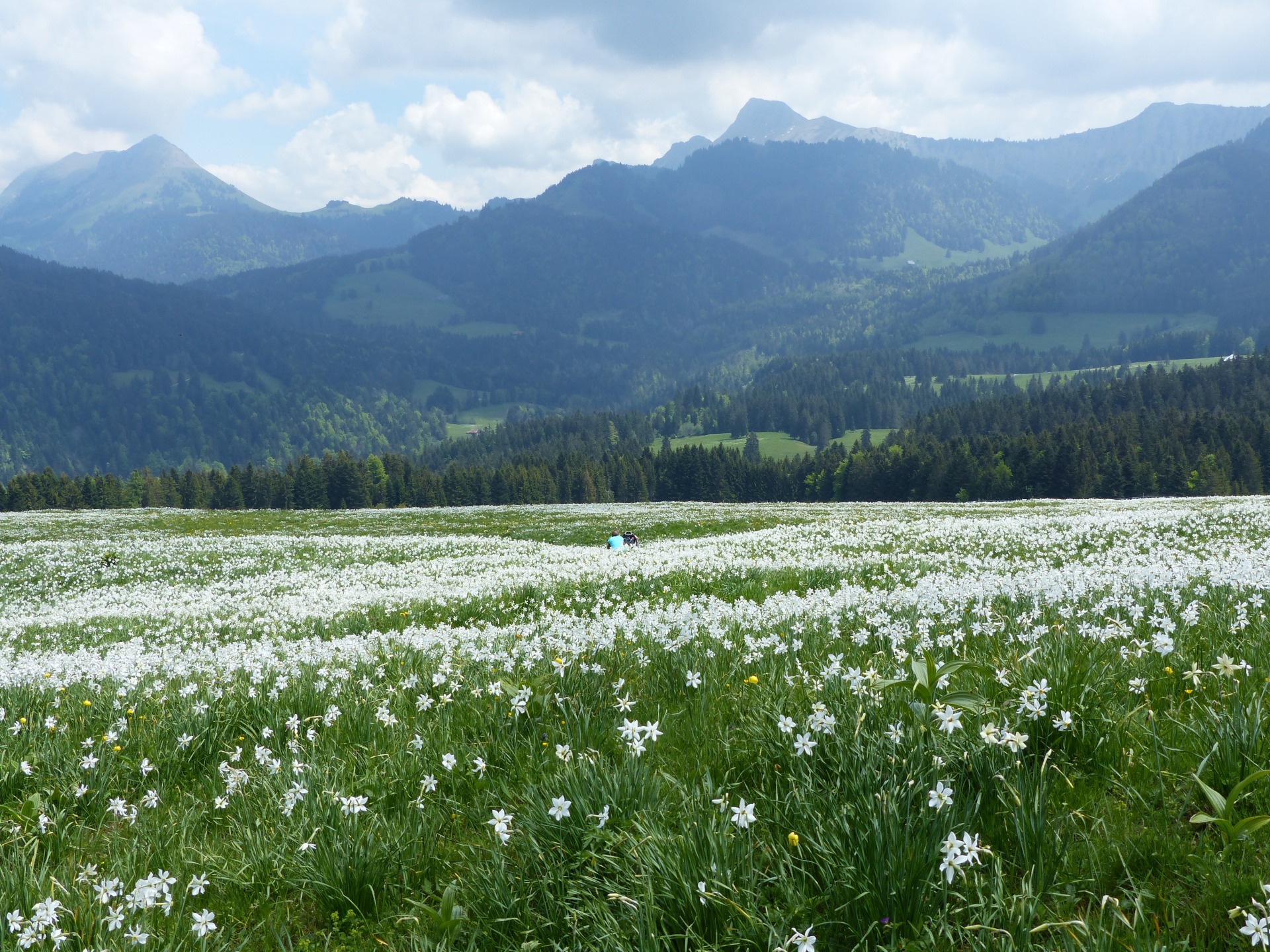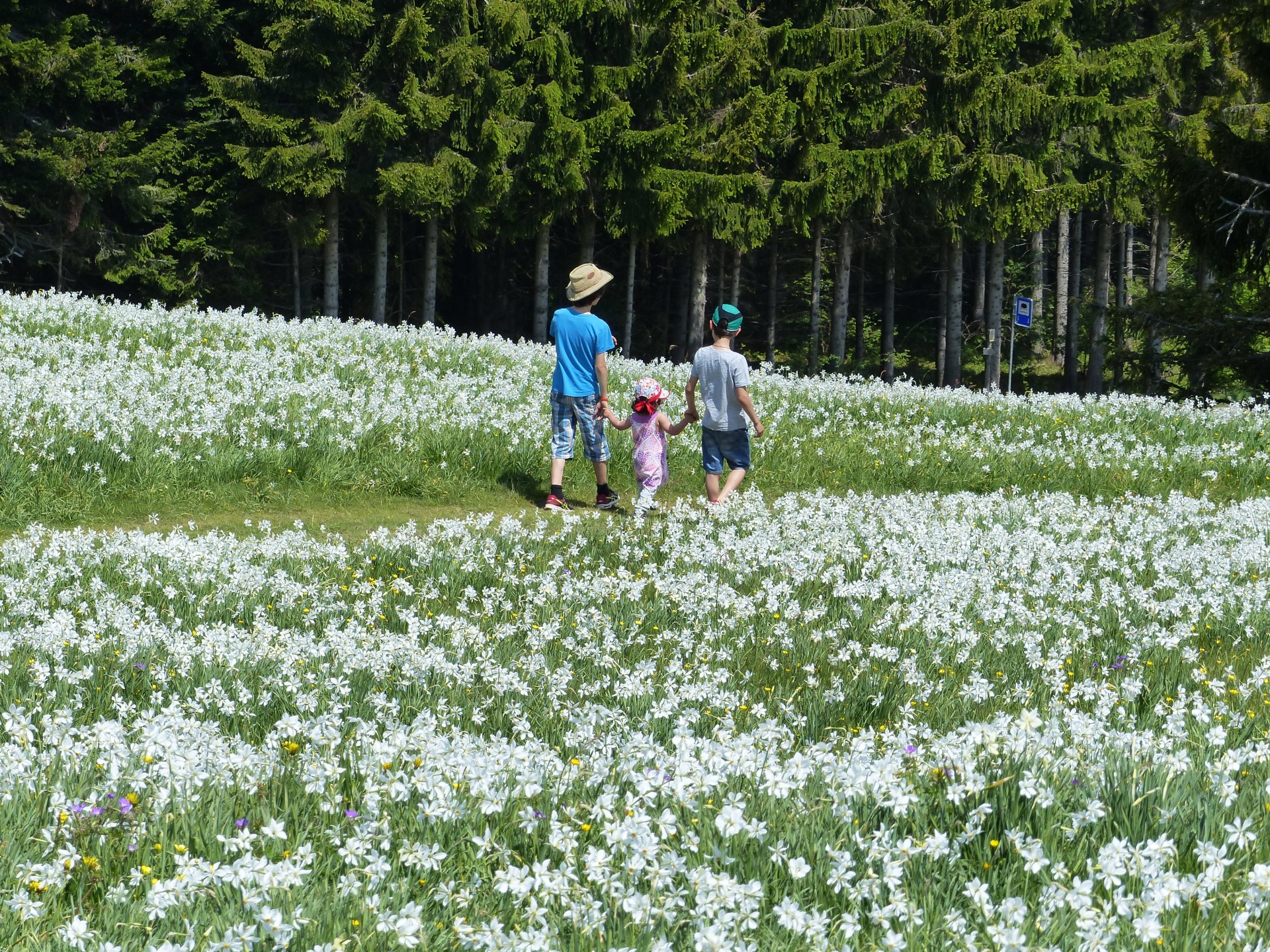 5. Vue sur des alps, canton of Neuchâtel

Another beautiful and easy round hike to do with your family this spring! Fields and hills covered with yellow daffodils! A sea of yellow that brings a sprinkle of color and joy to your day!
When to go: Late April to mid May, depend on the weather. Please contact the Neuchâtel tourism office if you want to make sure that the spring flowers are in full bloom.
For further details about our day among the beautiful field of daffodils ⇒ Hiking to A sea of Daffodils in Tête de Ran, Switzerland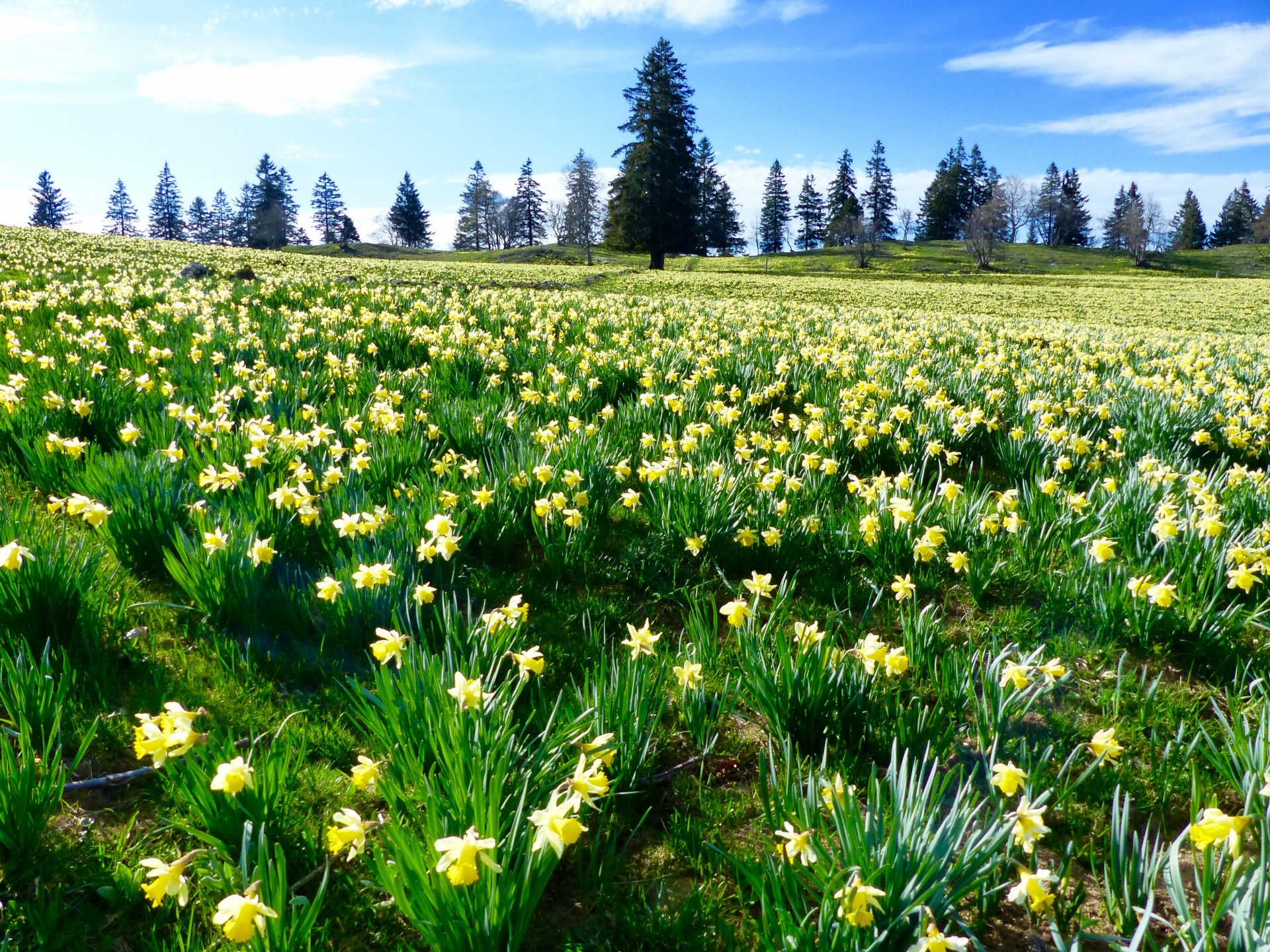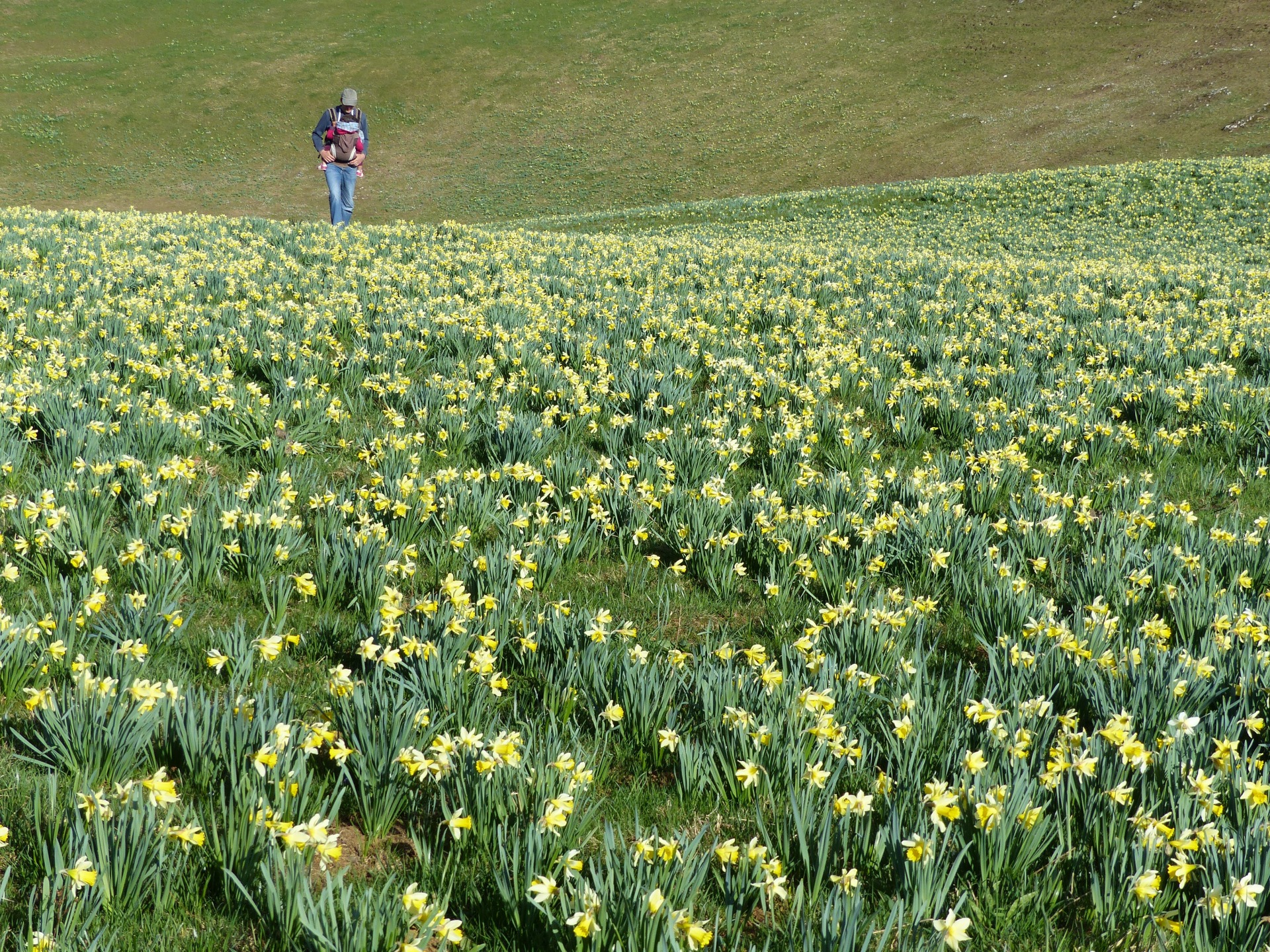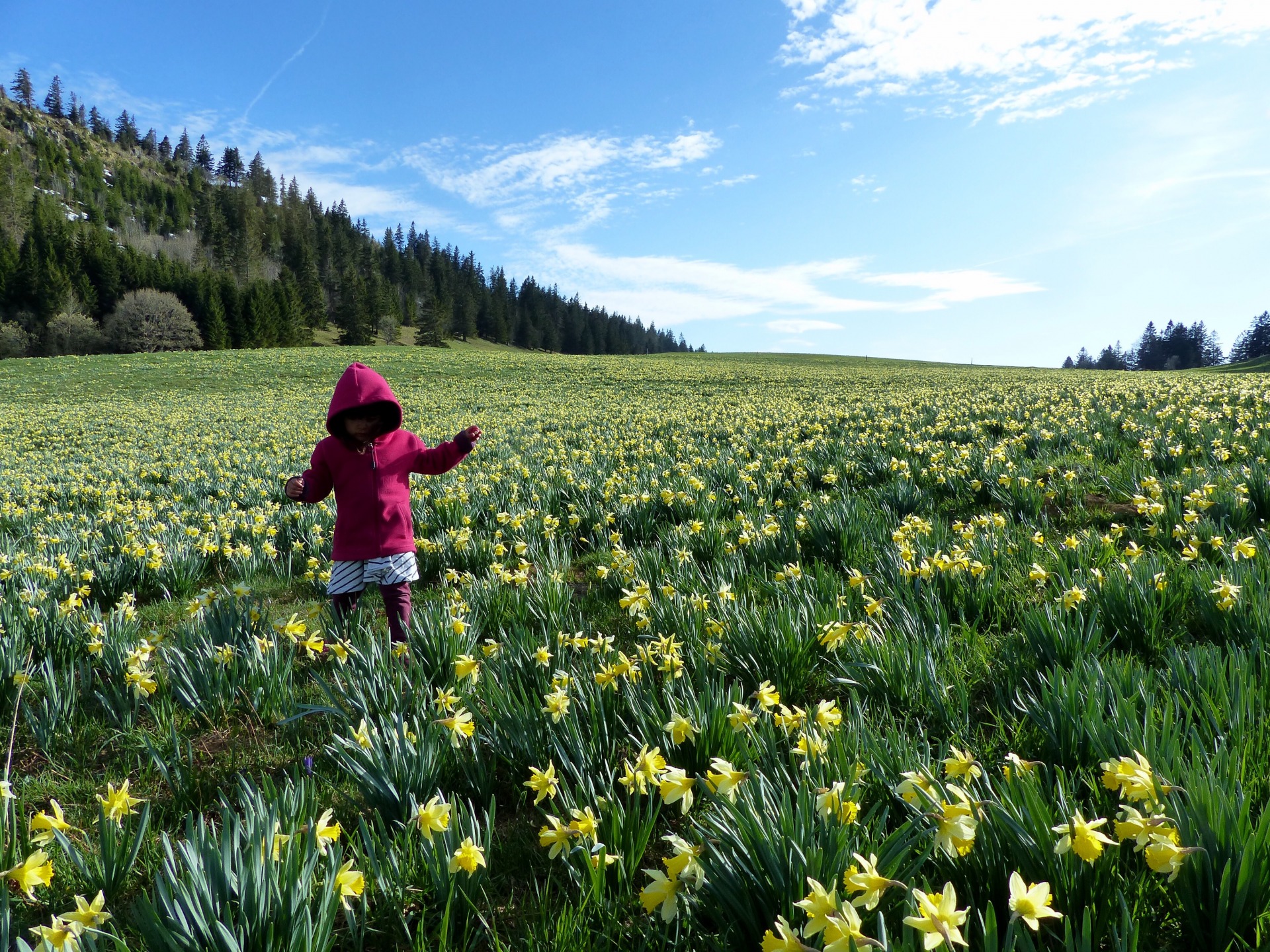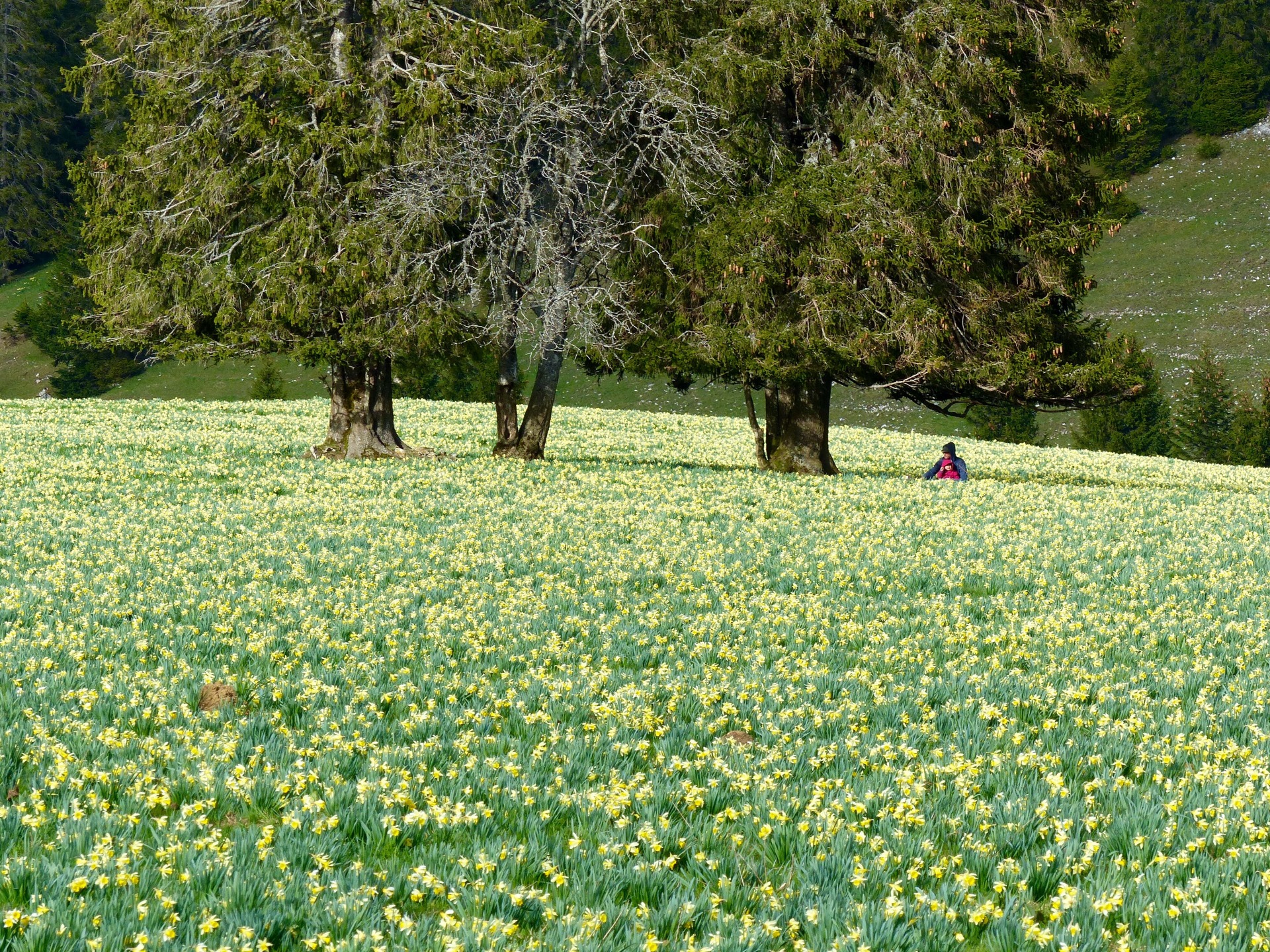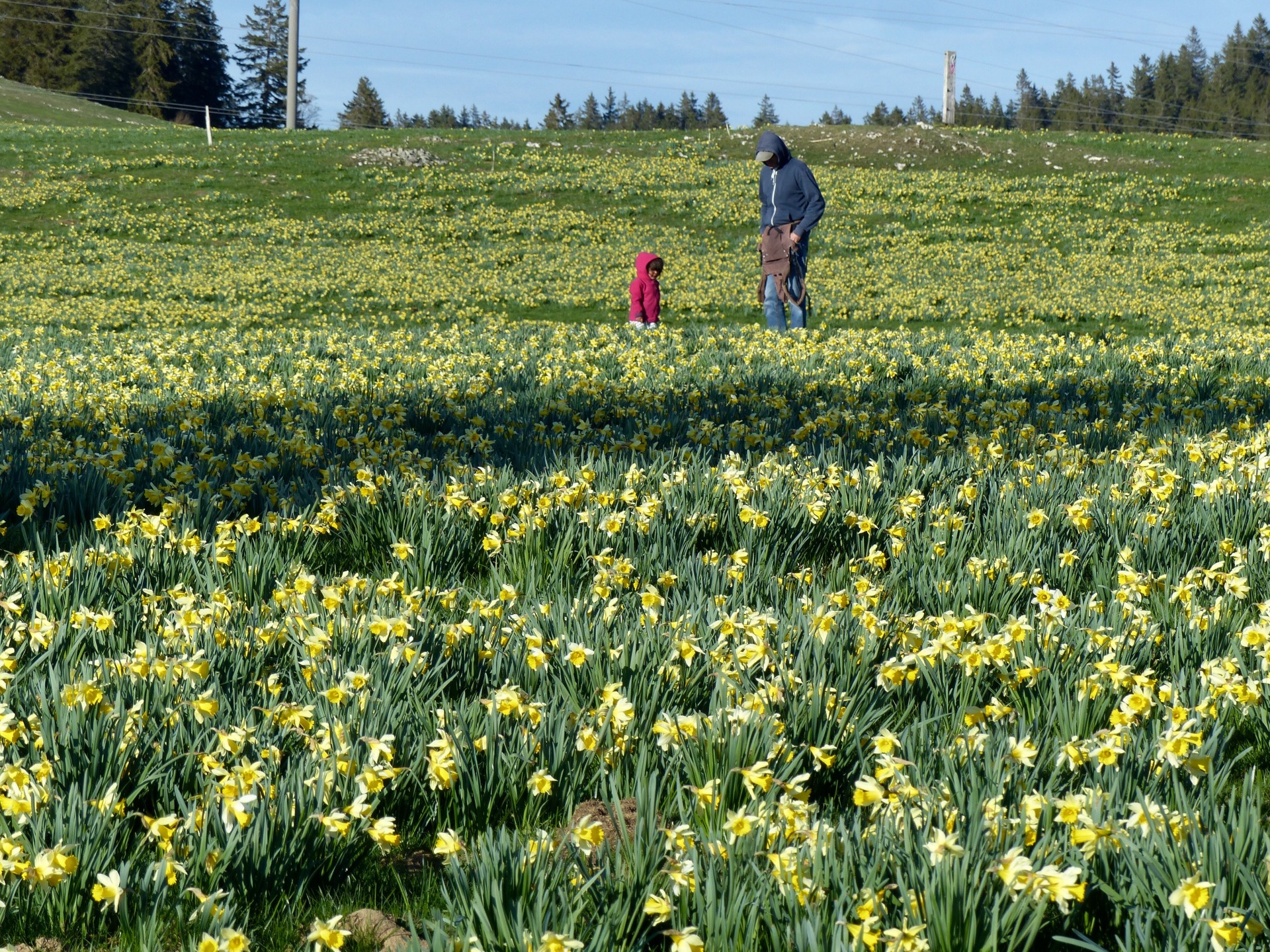 Find your path through the thousands of yellow daffodils in Tête de ran in Switzerland.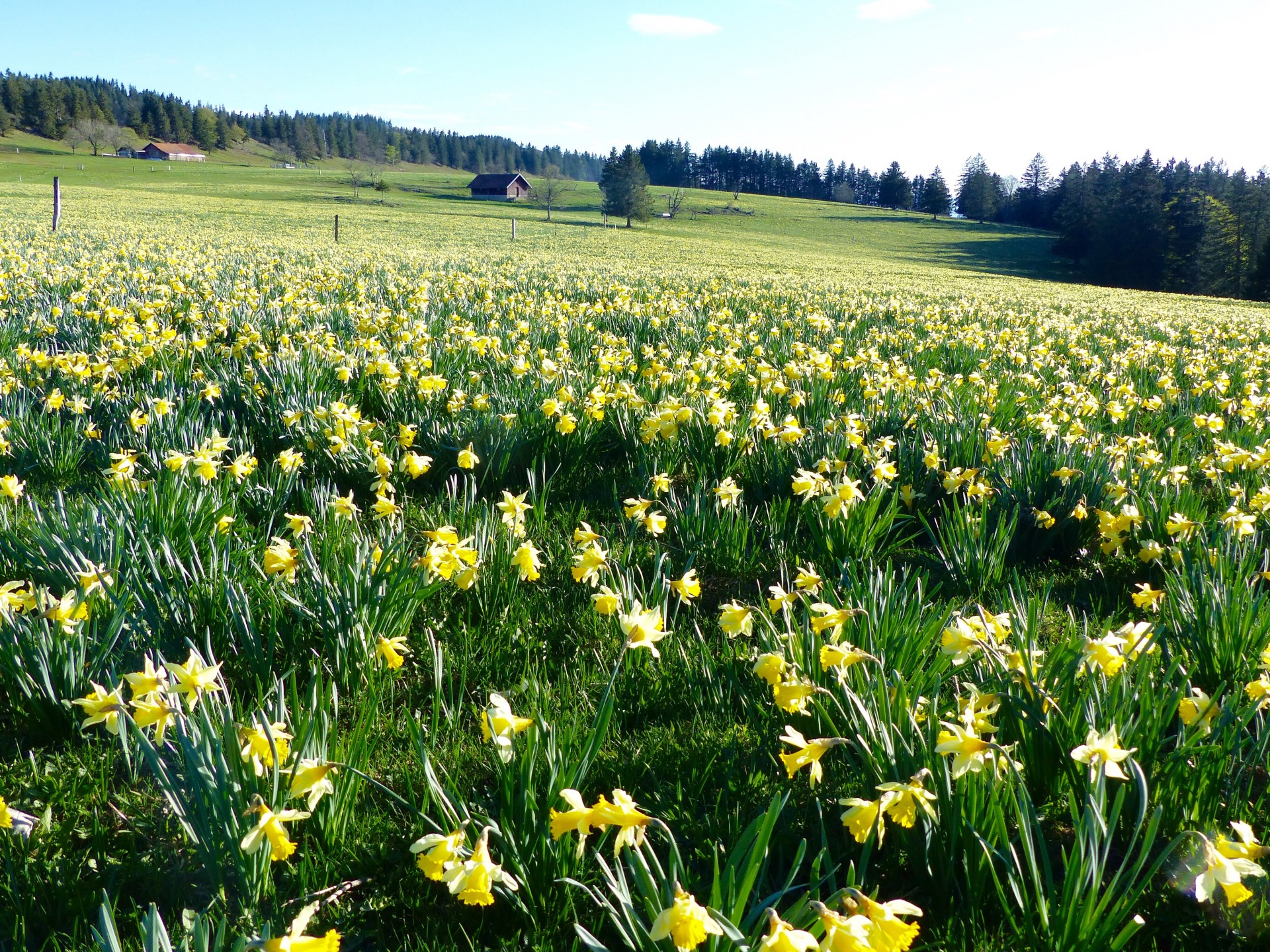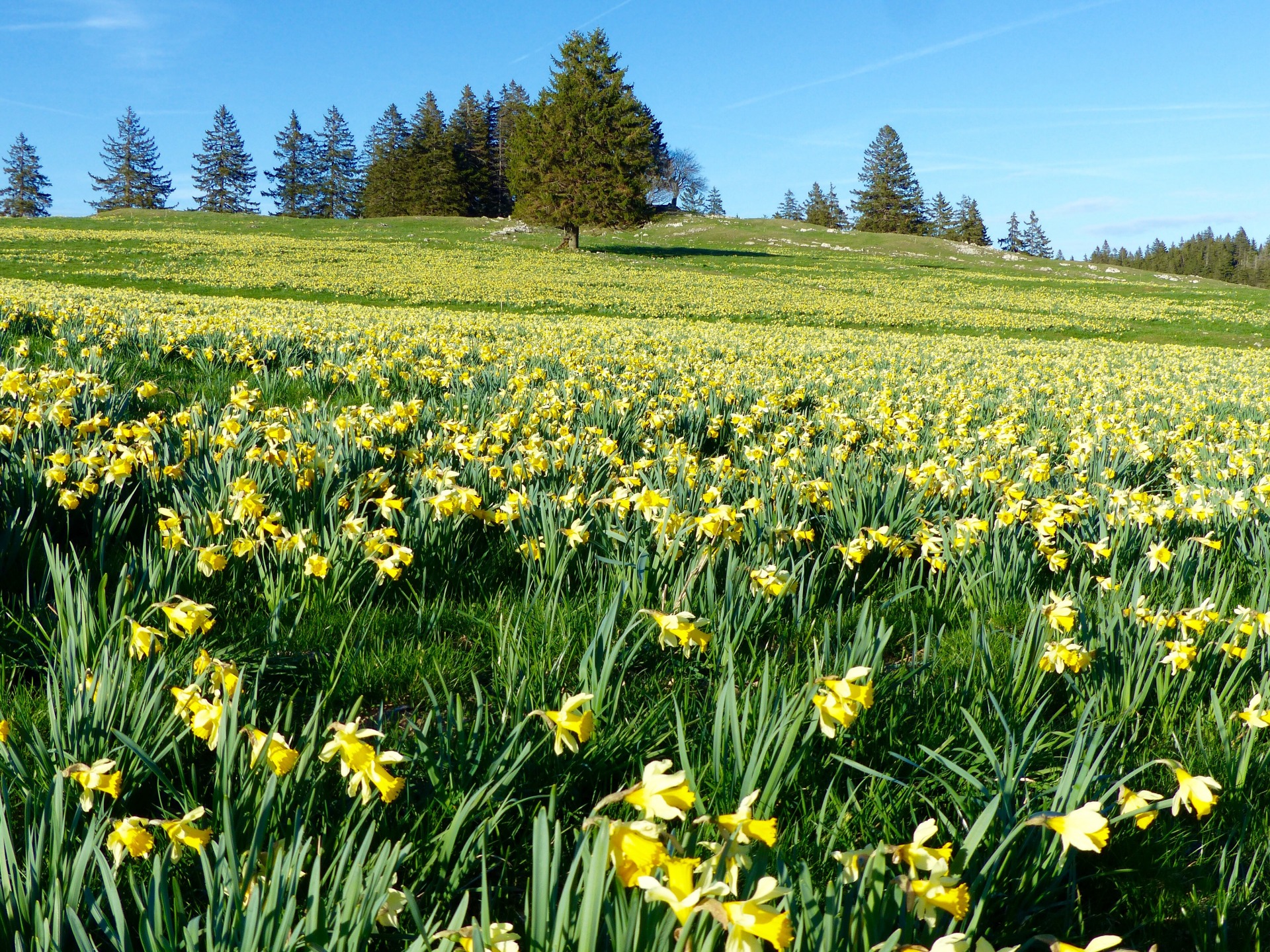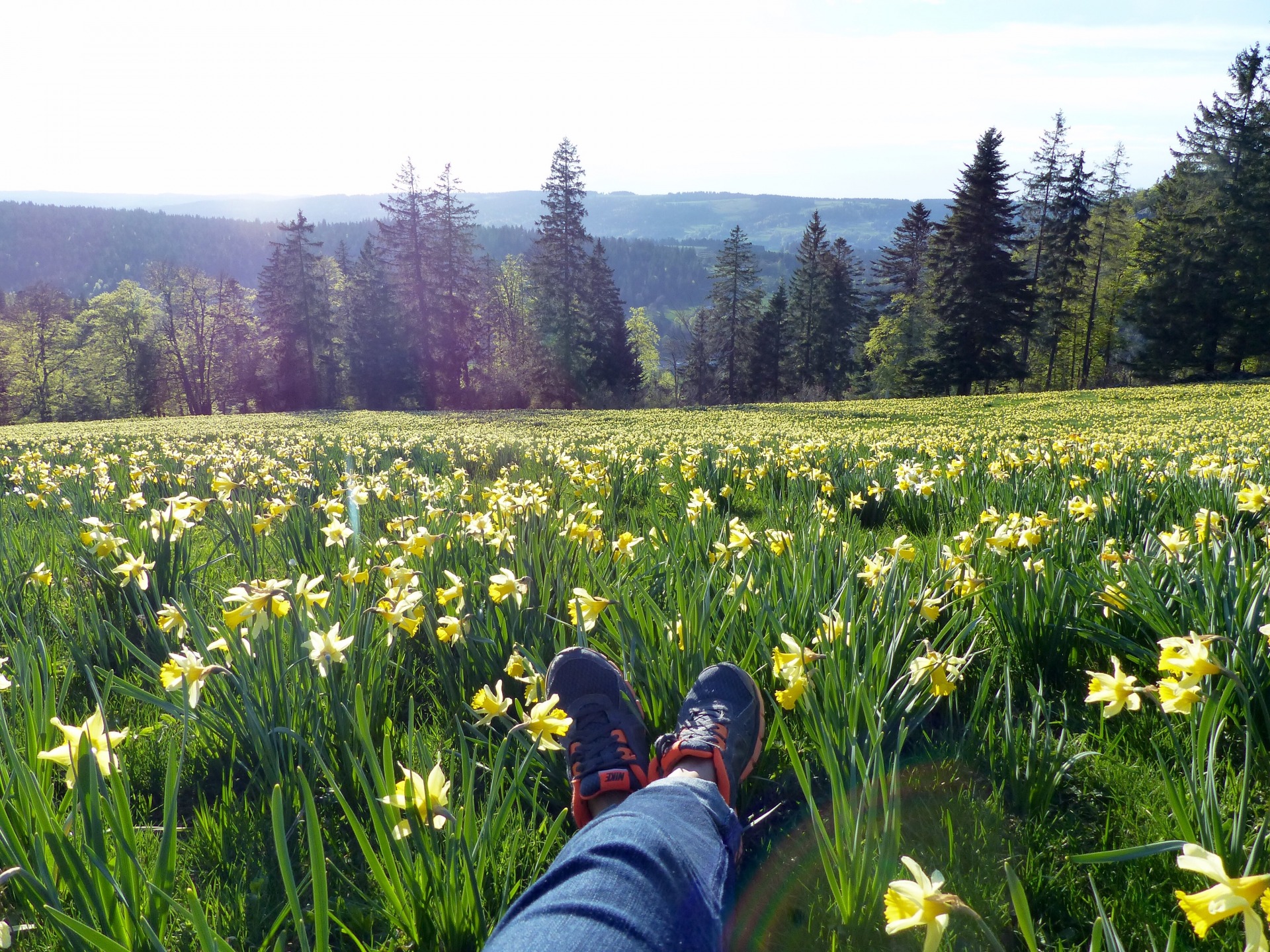 6. Eclepens, canton of Vaud
We have never done this short daffodil hike in the woods of Eclepens before, but it's on our bucket-list when we are back in Switzerland! I found out about this spring hike here, but unfortunately it's only in french. The is information of the trail in the article so I suggest you to google translate the text?:)

When to go: Mid Mars-April depend on the weather.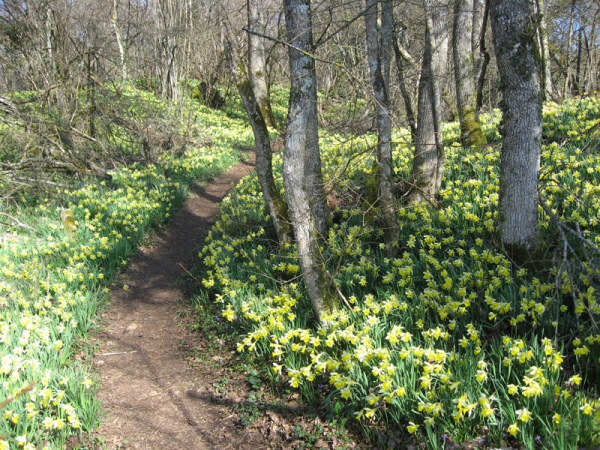 Photo credit: Here
Apricot blossom
7. Saxon, canton of Valais
I did this apricot trail on a mother-daughter hike with my friend and her daughter. Not only is the apricot flowering beautiful, the view of the valley from the trail is also breathtaking! It's not a completely easy walk as you will need to hike at least 8km with at least 300 m of elevation gain but if I can do it with my 13 kg daughter on my back I am sure anyone can do it!:) There are two trails you can choose among and we did the shortest one.

When to go: mid Mars-April depend on the weather. Please contact the office before to be sure that the apricot trees are in full bloom here.
For further details about our day at the apricot trail ⇒ Hiking the apricot blossoms trail in Saxon, Switzerland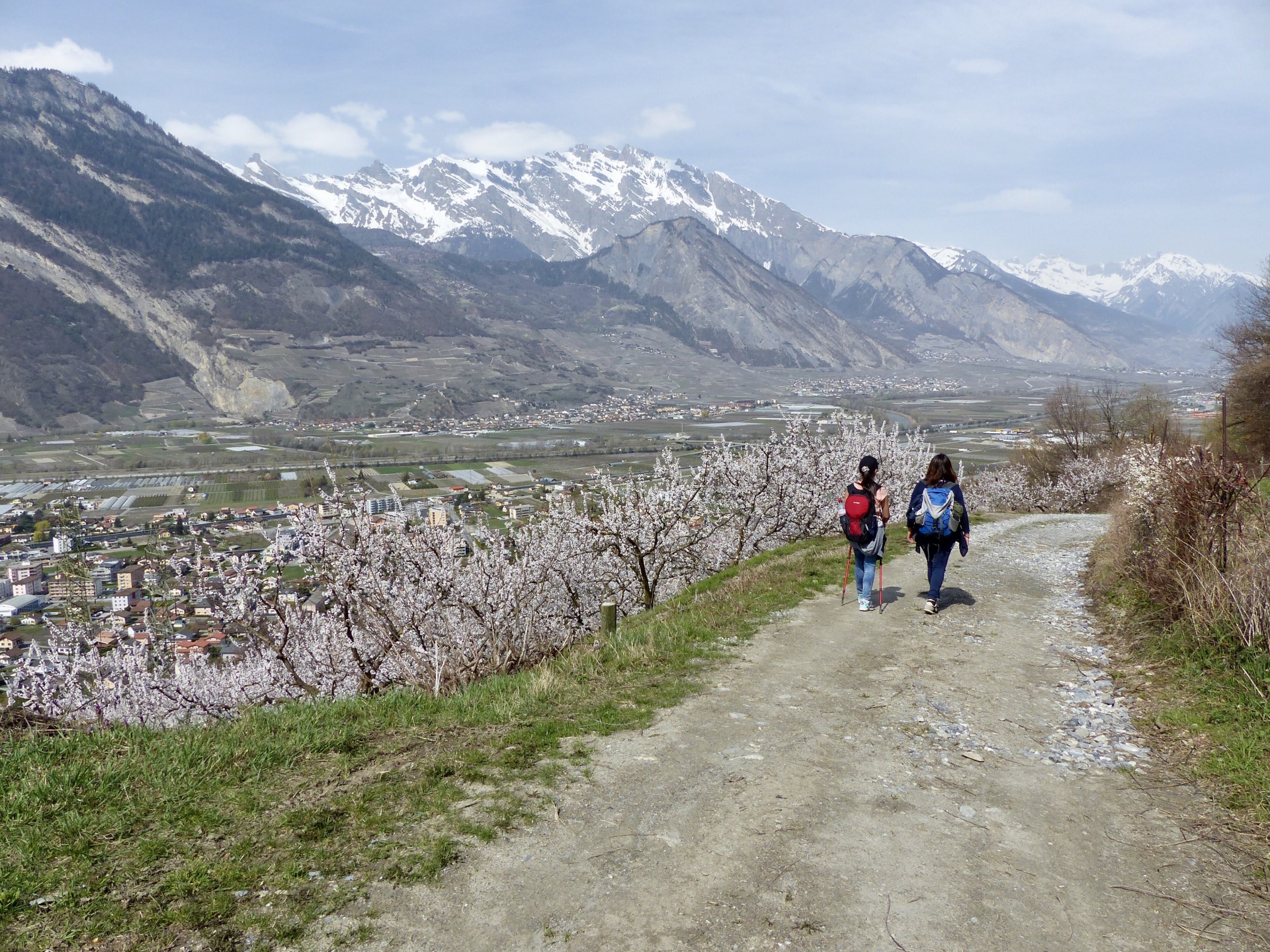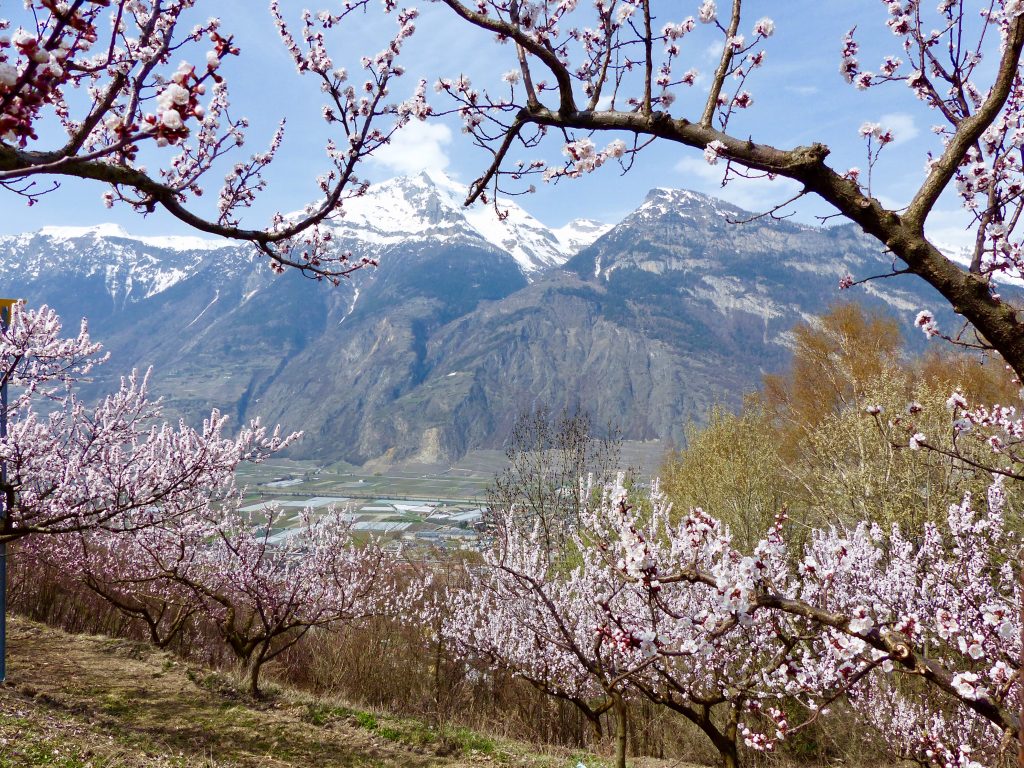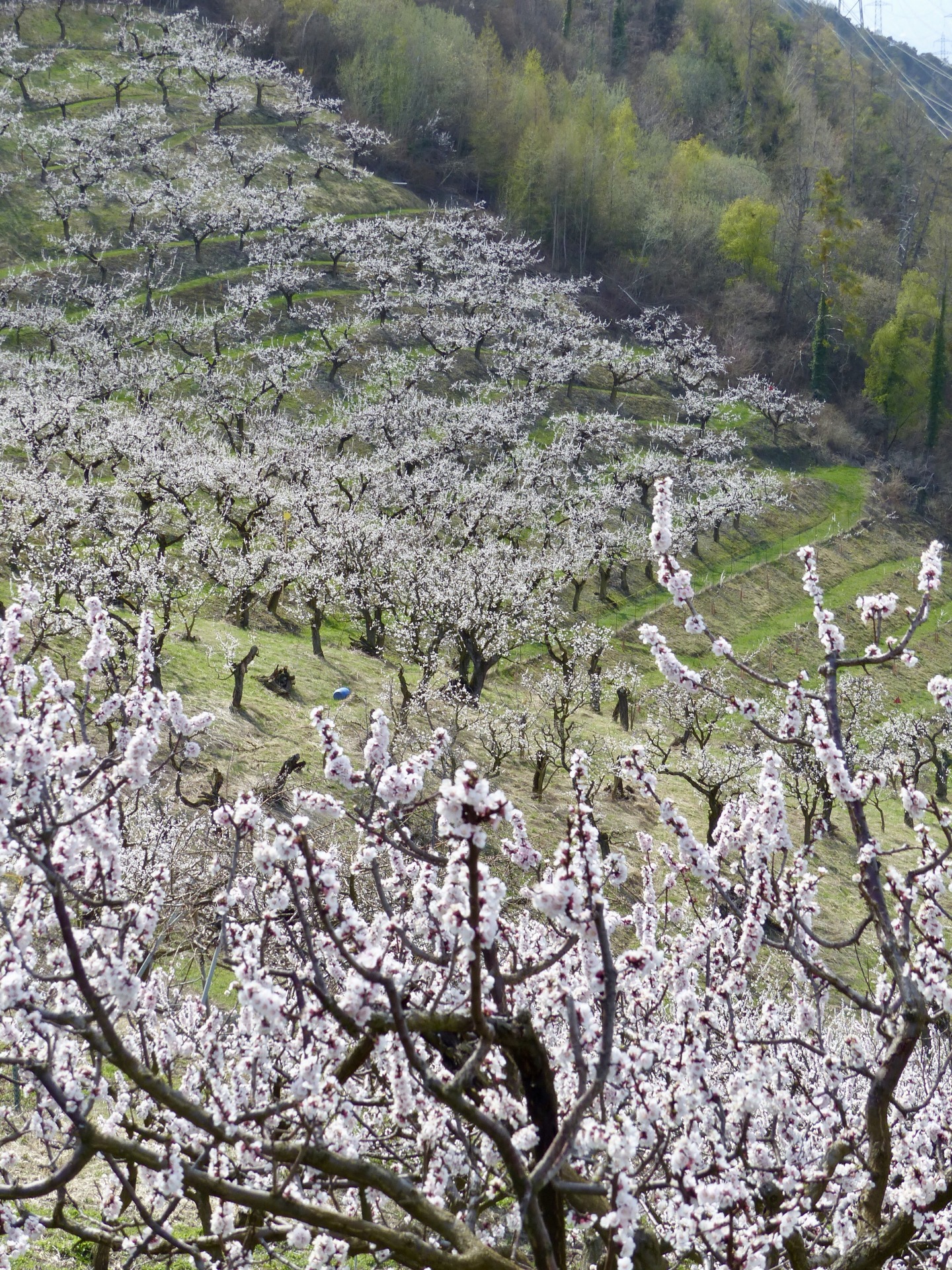 A beautiful walk among the apricot blooming in the Swiss valley.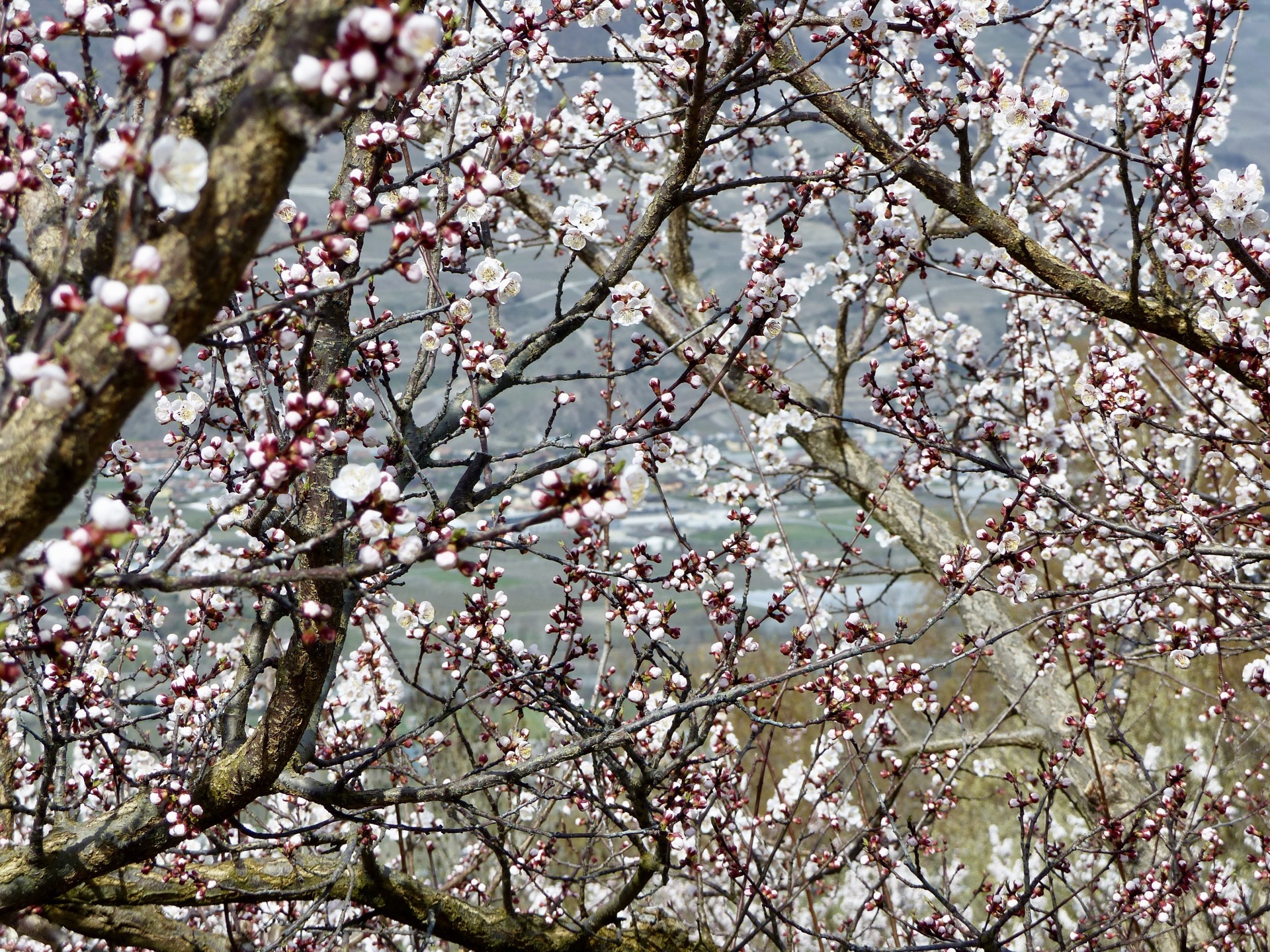 Apple Blossom
8. Altnau, canton of Thurgau

Before we left Switzerland I wanted so much to do this apple trail by bike but unfortunately we never got the time! It seems really to be a lot of fun for families!
From Myswitzerland's website (please click for more information):
" Excursions are especially pleasant in May (to see the apple blossom) or late summer during the Altnau Apple Weeks which climax with the autumn market on the last day.
"Apfelweg Lisi": At the 14 stations along the red route, Lisi describes the fruit growers' work.
"Apfelweg Emma": At the green route's 10 stations, Emma reveals details about fruit and fruit-growing, the Apple Village and the cider region.
"Apfelweg Fredi": Fredi's yellow route passes through the village centre, showcasing apples and pears with plenty of puzzles, recipes and jokes. (Information panels in German only).
Altnau's farm shops, village stores and cuisine focus (almost) entirely on apples. People say that the apple fritters (Öpfelchüechli) here taste better than anywhere else in Thurgau. "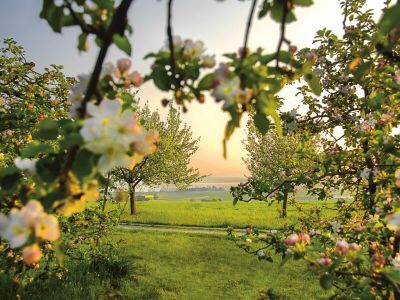 Photo credit: Here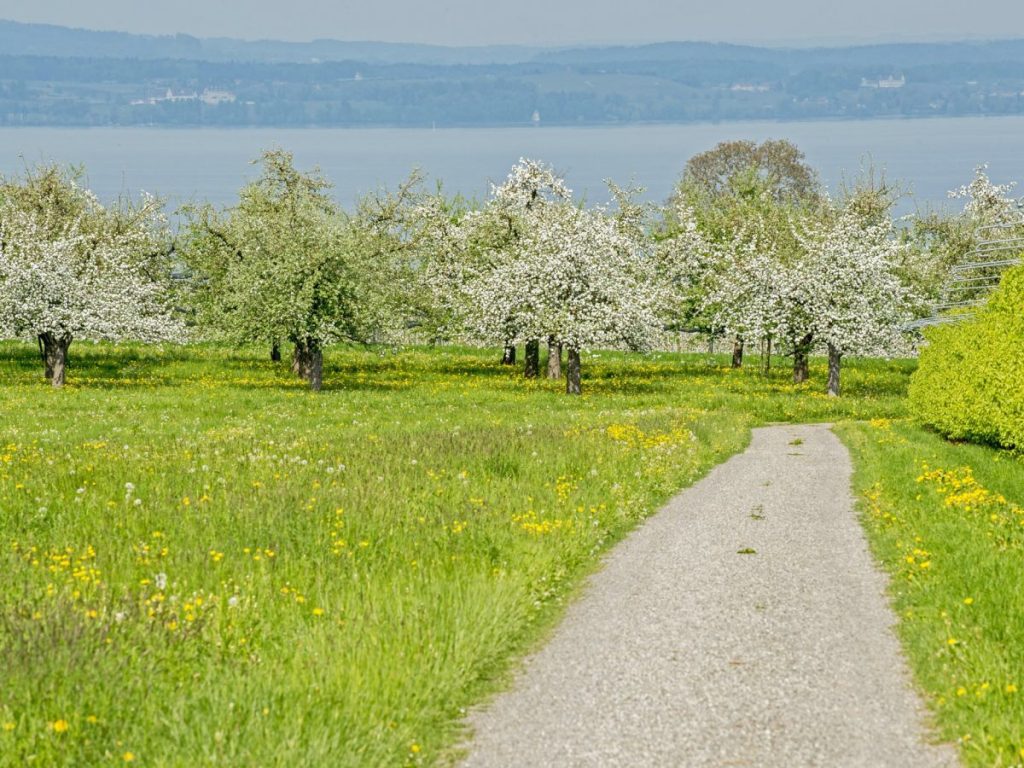 Photo credit: Here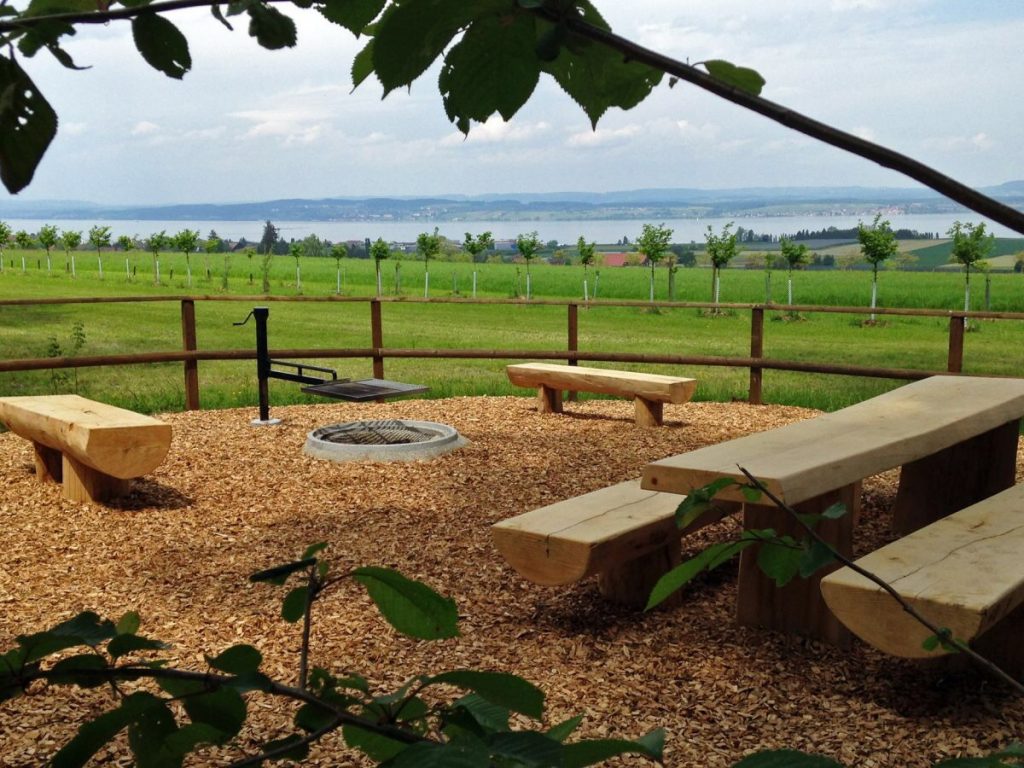 Photo credit: Here
Tulips
9. Morges, canton of Vaud

Every spring starting in April, Morges hosts the 6 weeks Tulips Festival at Parc de l'Indépendance on the shore of Lake Geneva, and believe me, after been living for more than 10 years in Lausanne we visited the Tulips festival in Morges only once and only after that we have moved to Bern! I don't understand why we didn't visited the festival earlier as it is really beautiful!
When to go: April-May
For more details of the festival please visit the official site here.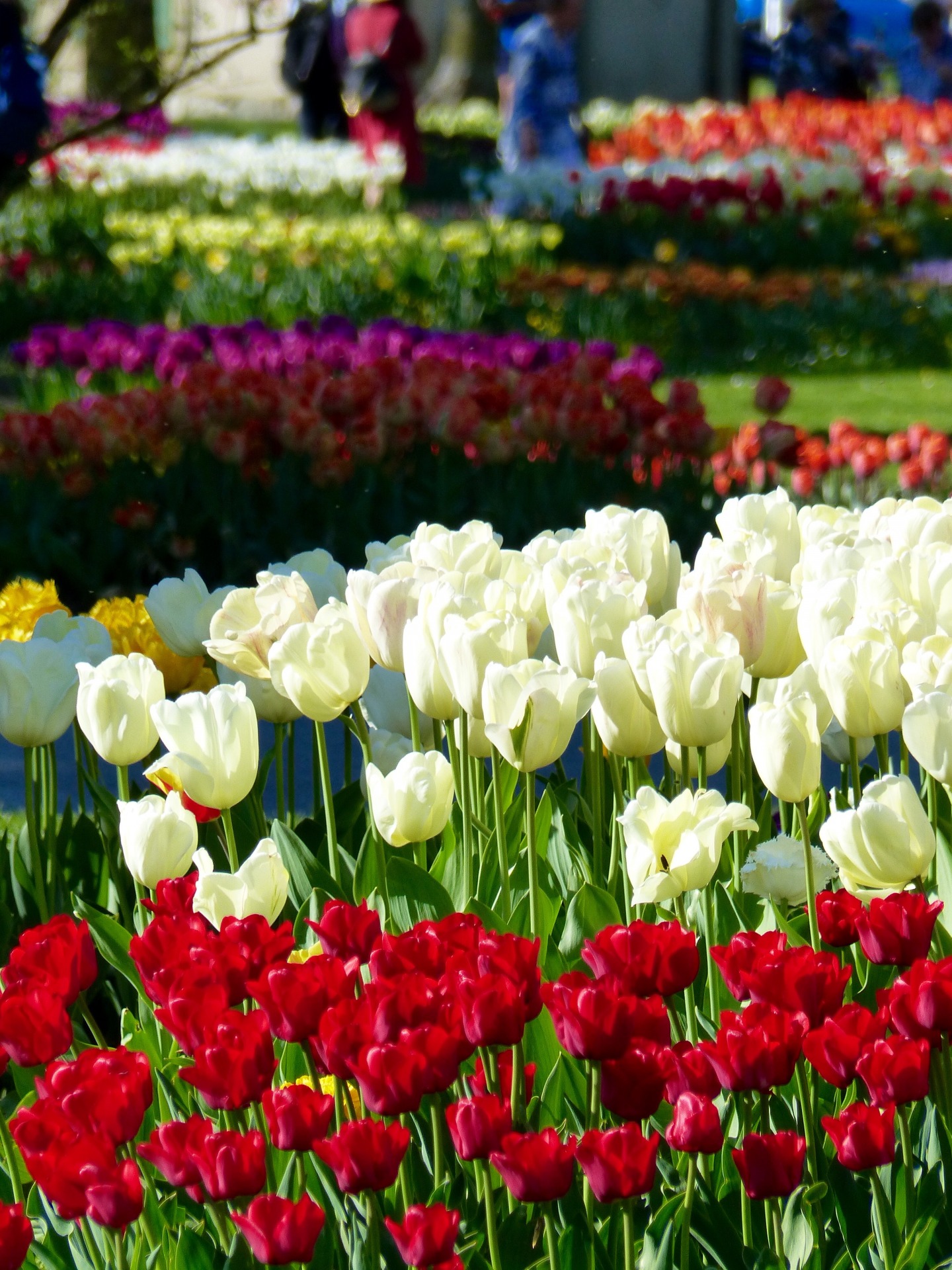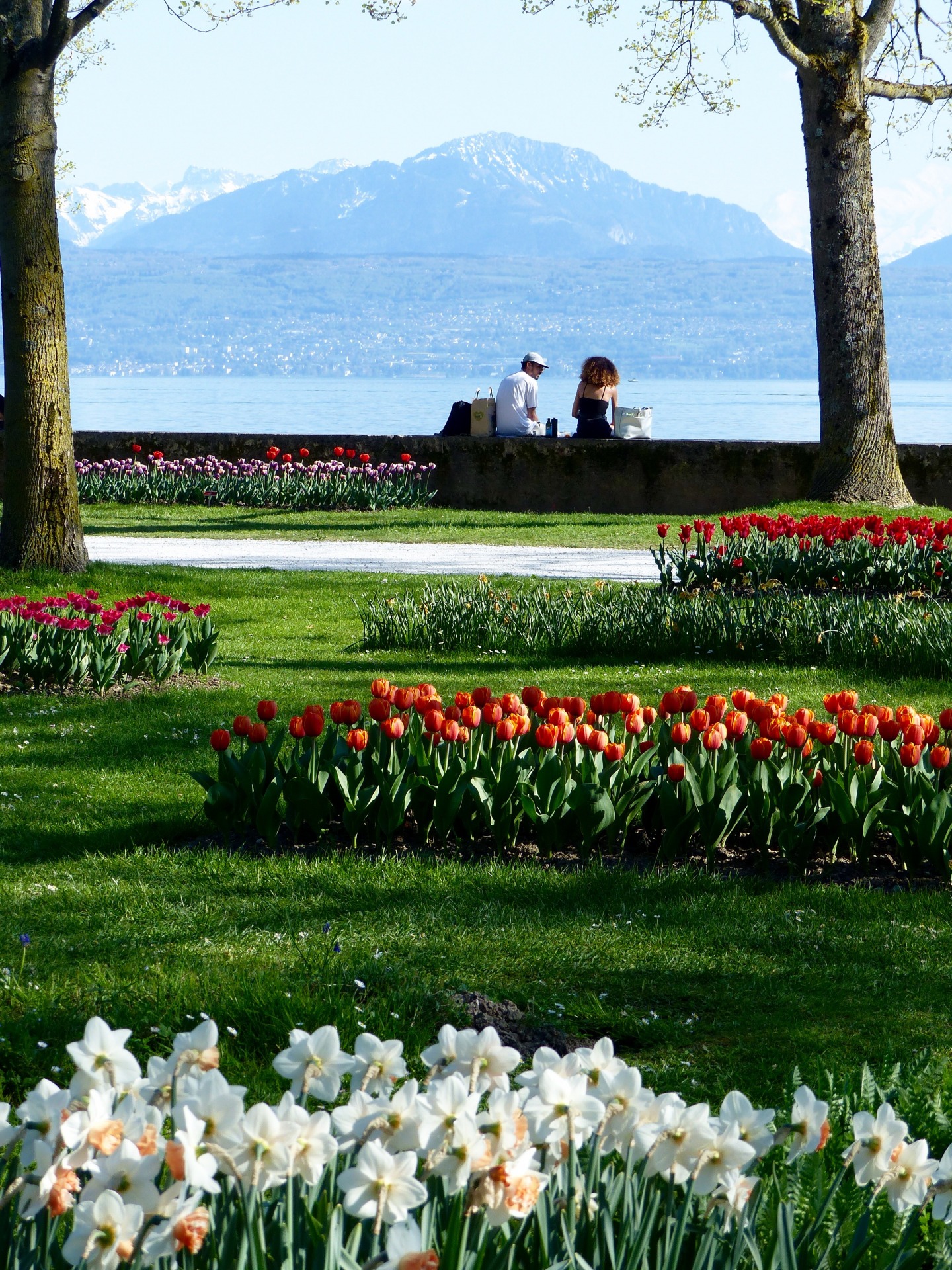 Have a chitchat with friends by the lake Geneva surrounded by hundreds of colorful tulips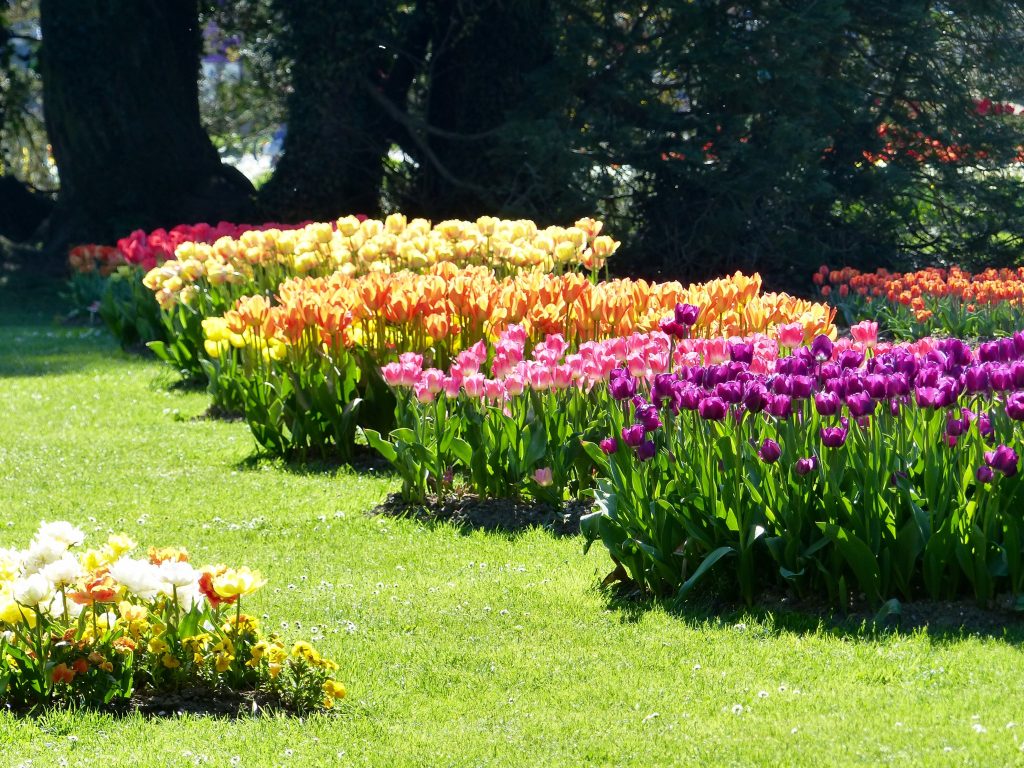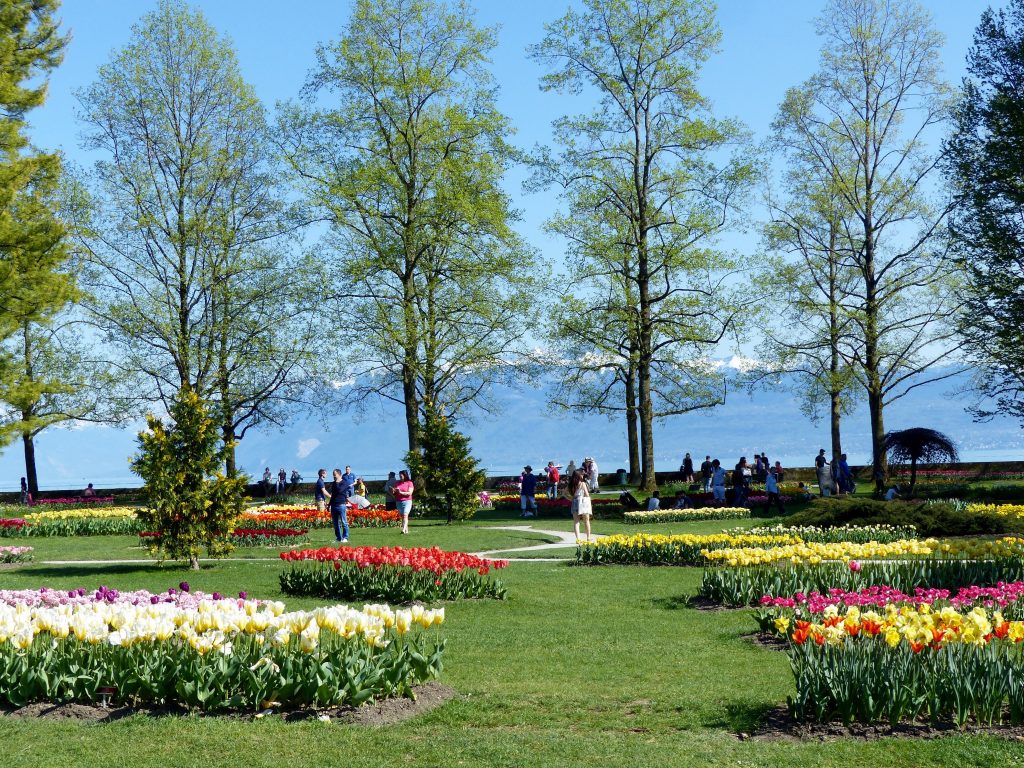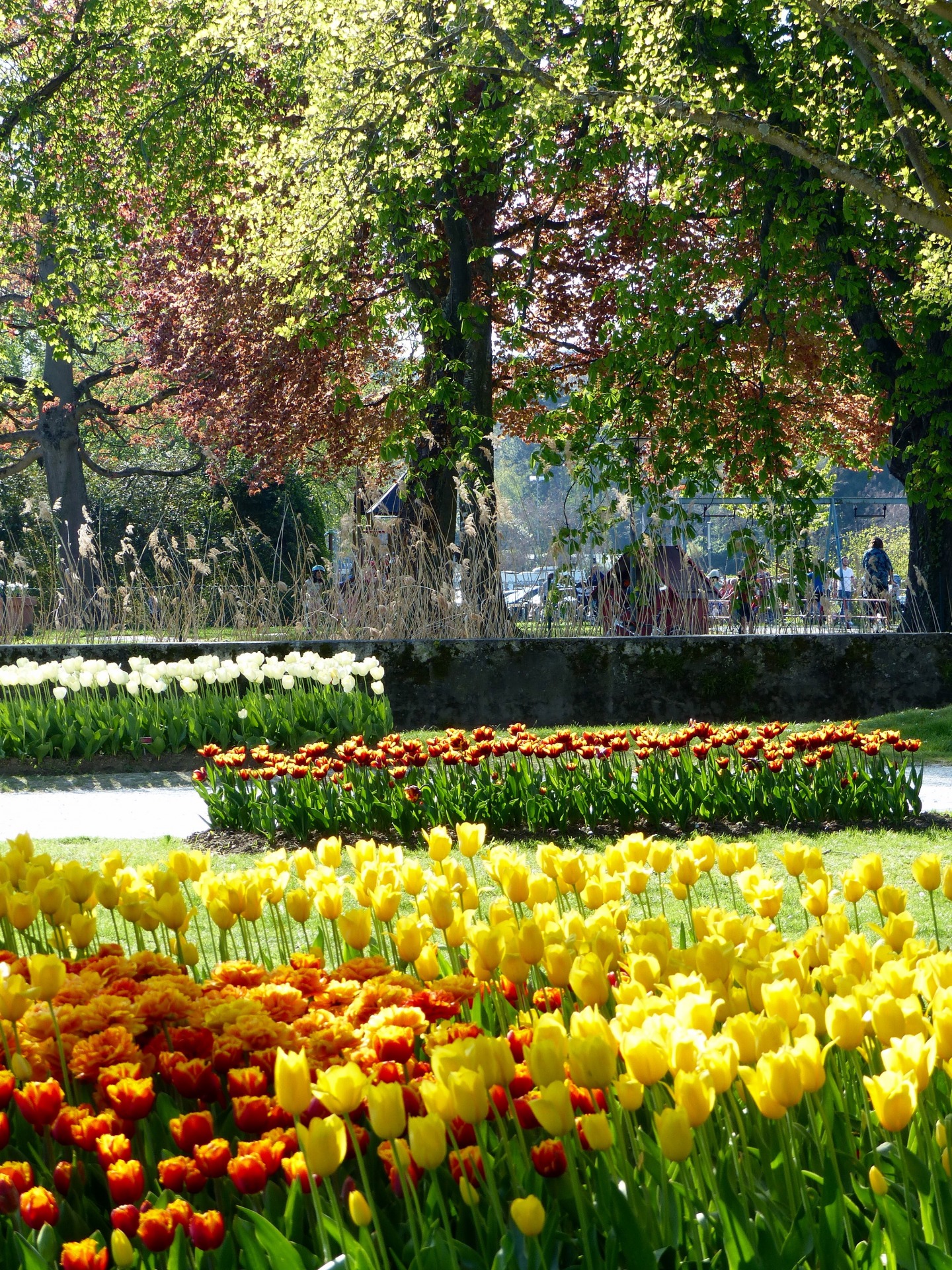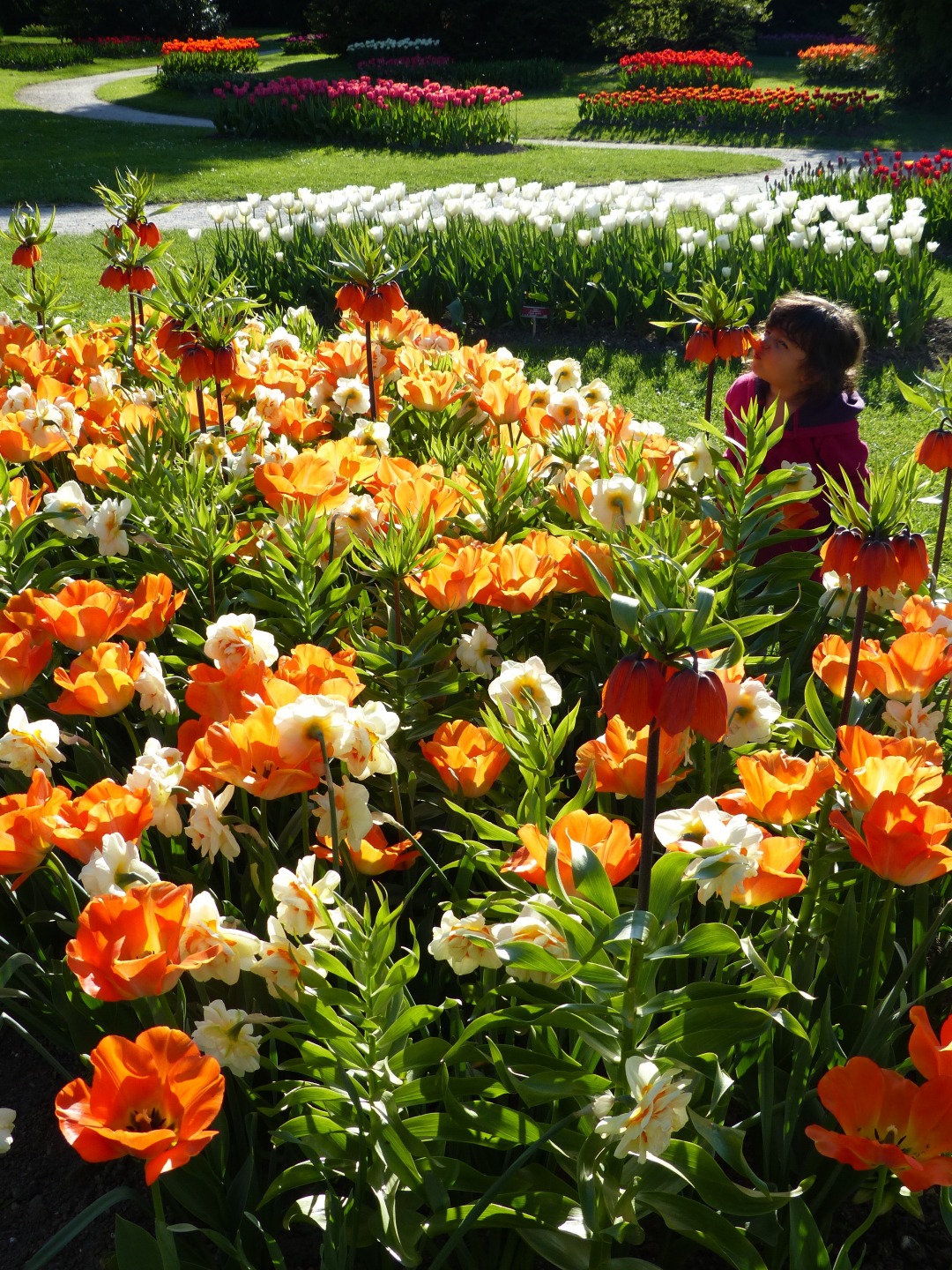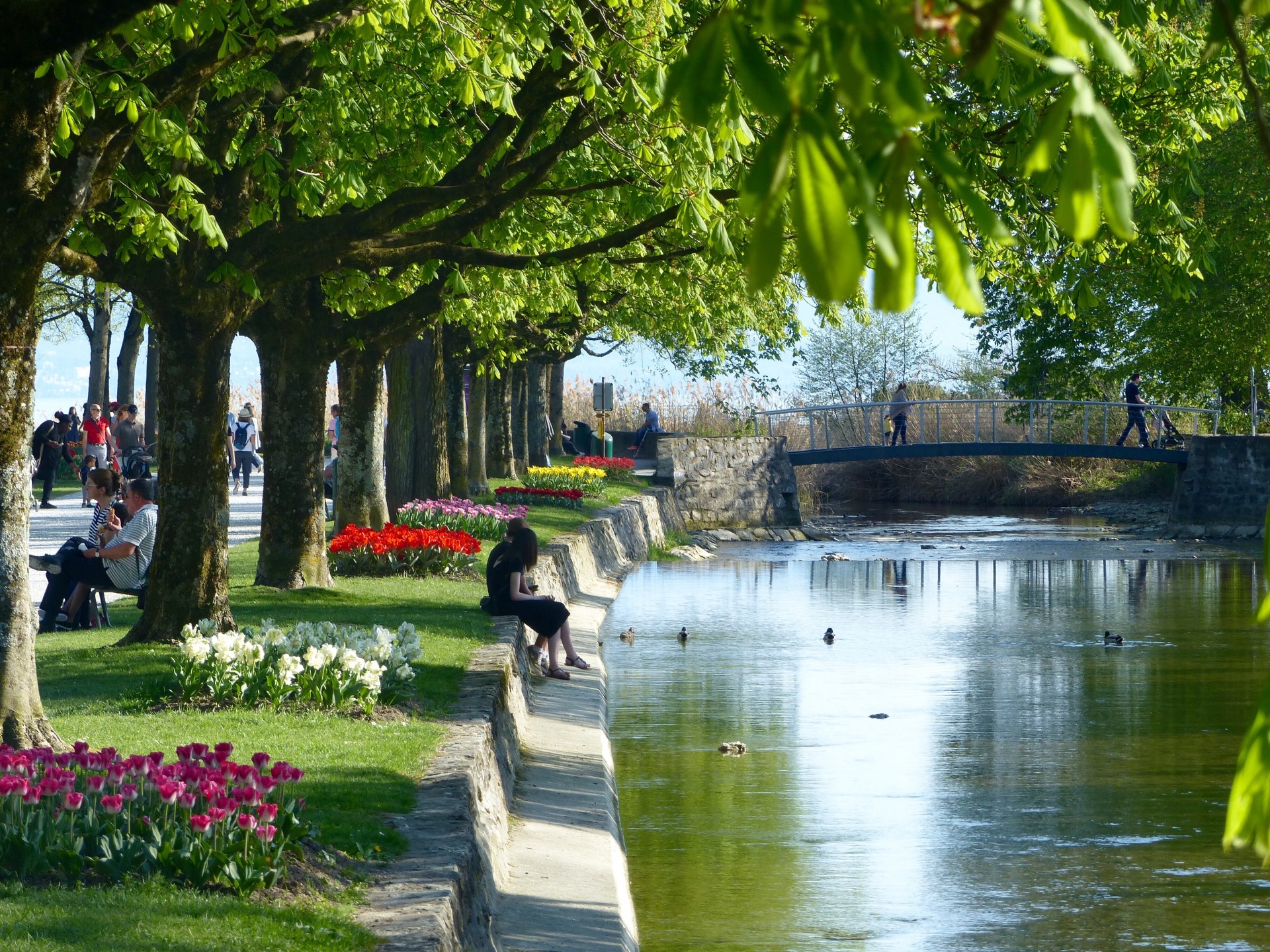 Crocuses
9. Rämisgummen, canton of Bern

The crocuses fields in Rämmisgummen is truly a rare sight and it is easy to reach by car (but you need to drive on a winding road) and one doesn't really need to walk that far to reach the hills covered in these spring flowers!

Find our further about our day with the wild the crocuses⇒ Hiking to a sea of wild crocuses, Switzerland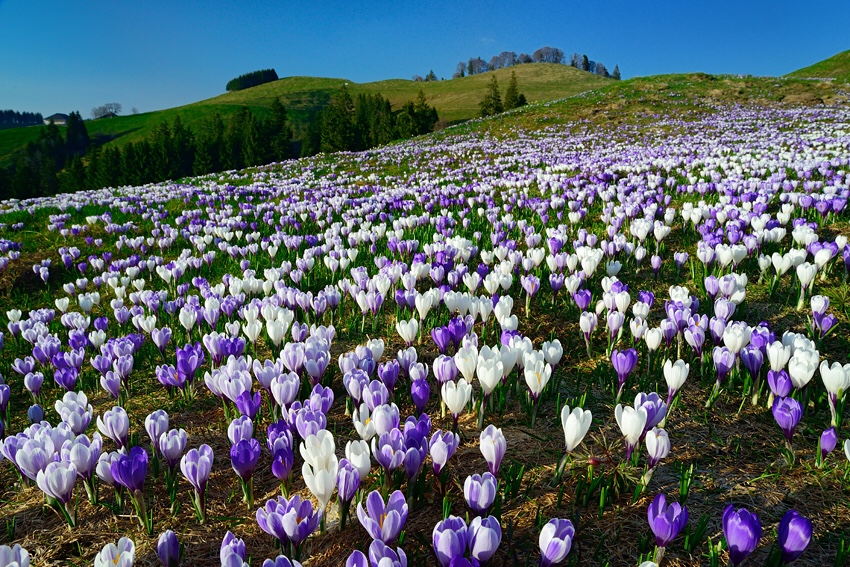 A simple hike to hills covered of crocuse, a real hidden gem of Switzerland.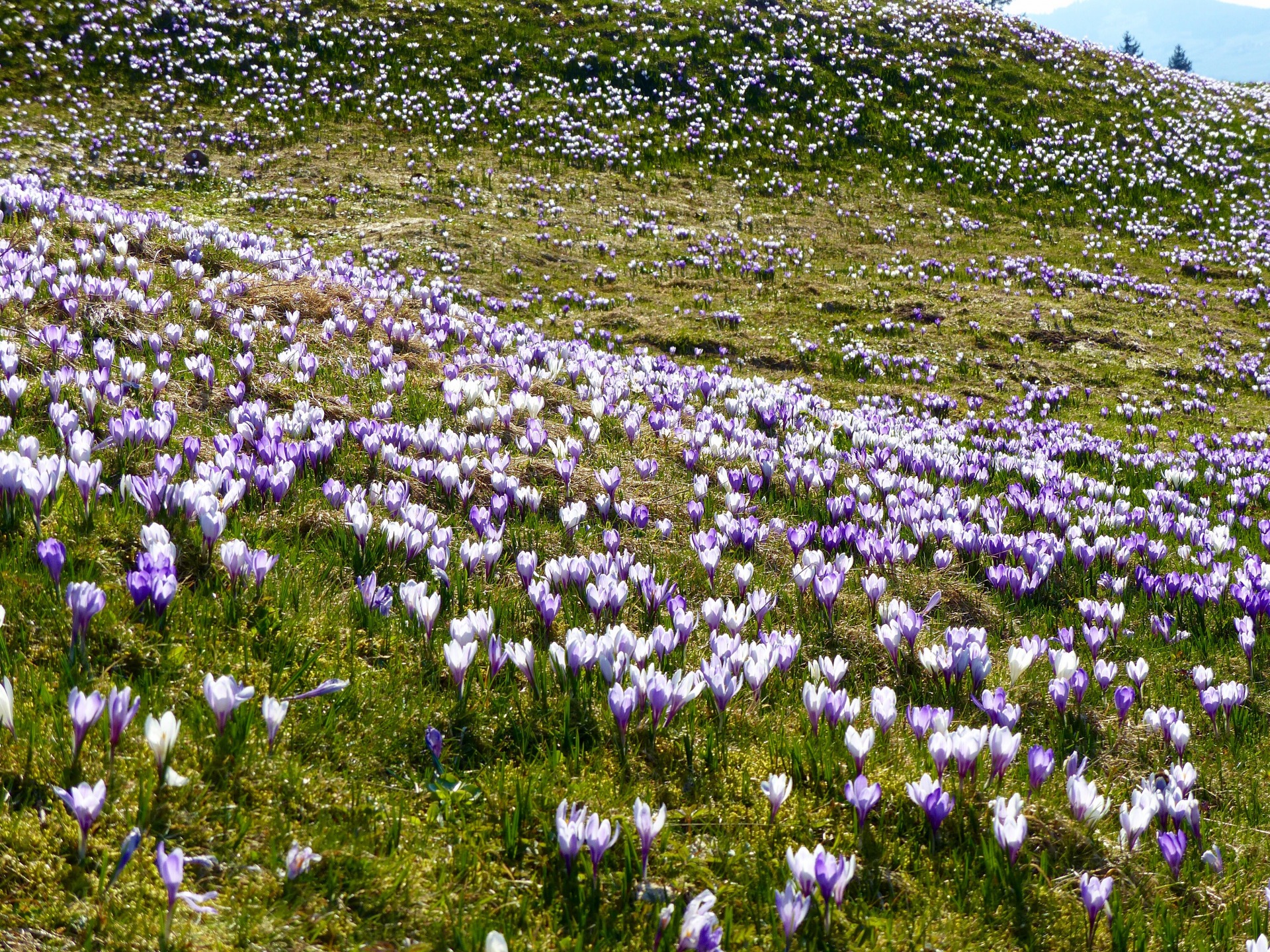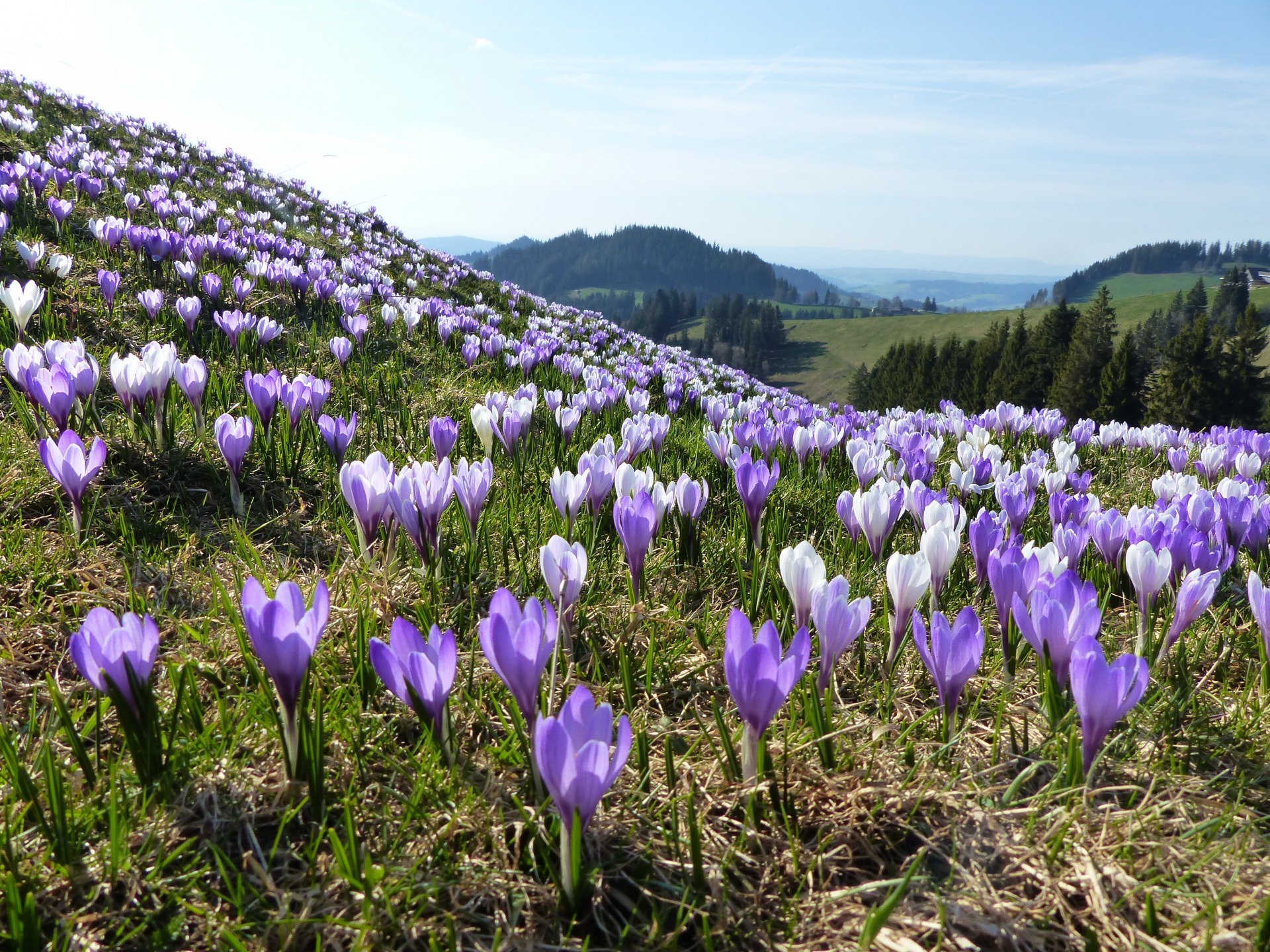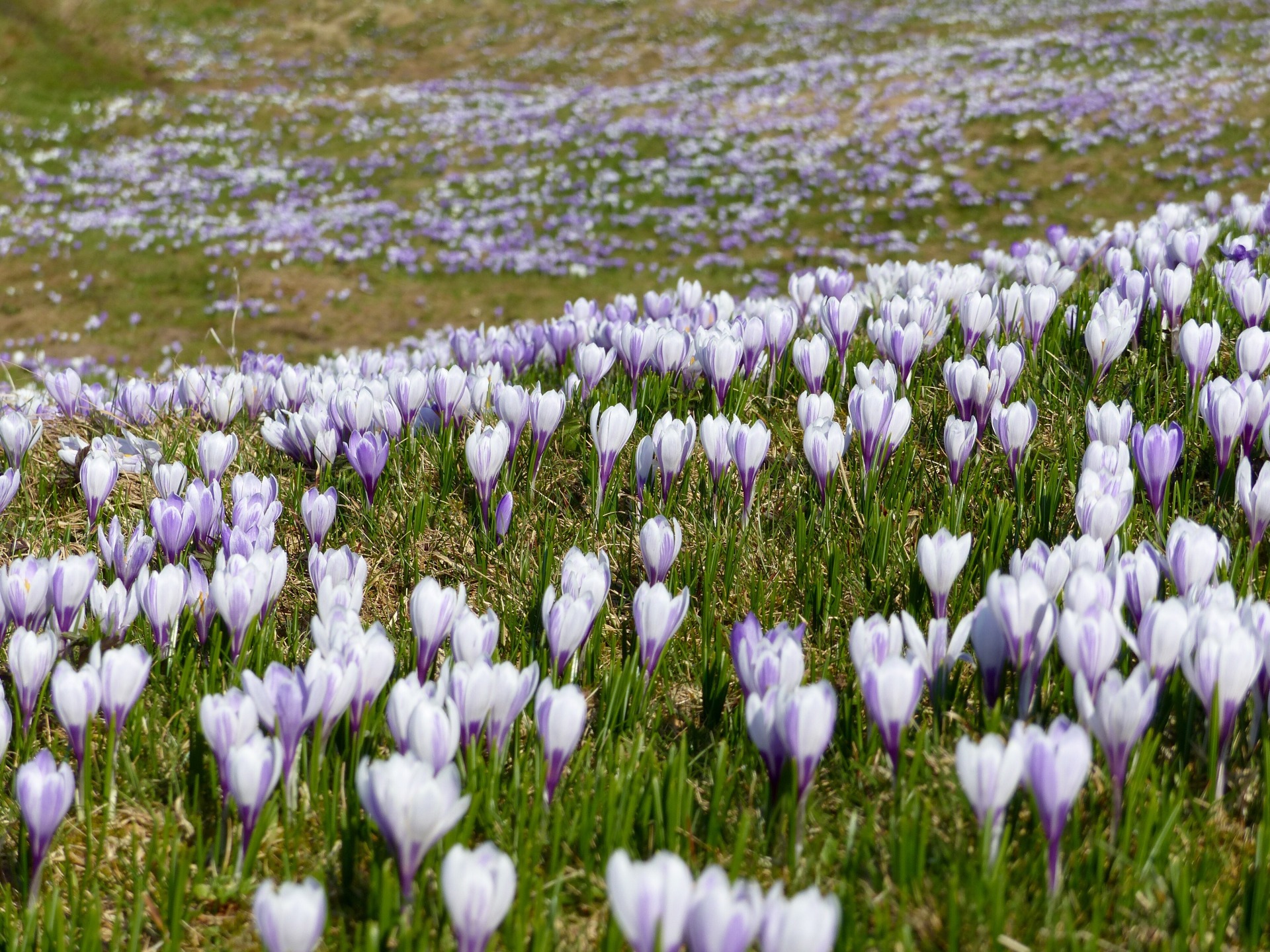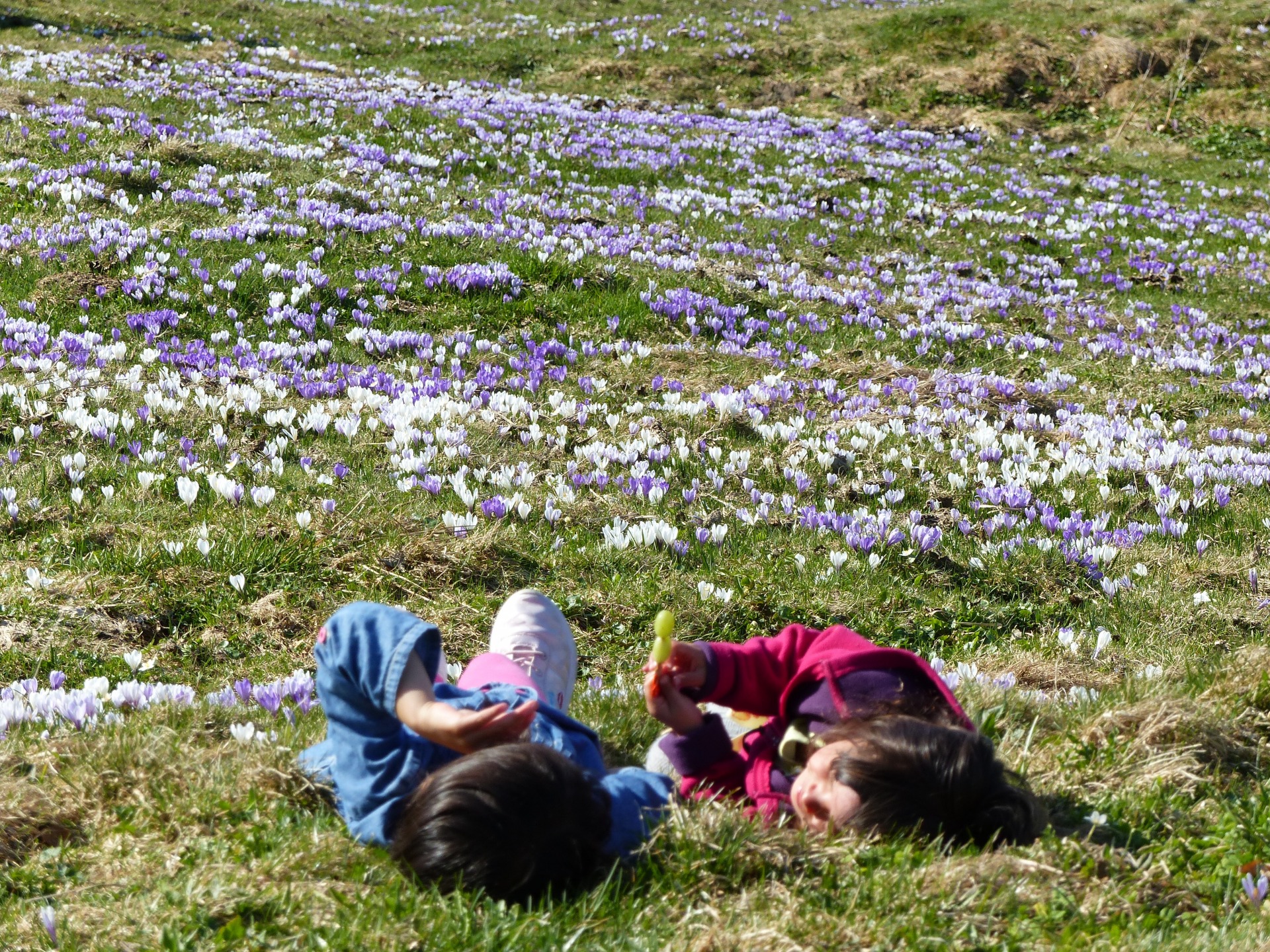 Wild flowers
11. Engstligenalp waterfall, canton of Bern

There are so many beautiful wild flower spots on the Swiss mountains if you go there on the right moment of the year, but our favorite is by Engstligenalp waterfall in Adelboden. We were there the same year in late April and it wasn't as beautiful as when we were there later in June as there were full of wild spring flowers growing all around the Engstligenalp waterfall!
To my disbelieve, we can't find many photos taken that day in June!:( I know I took a lot of pictures, but we can't just find them. But here is at least one!
When to go: Late May-June depend on the weather. I don't think there is a way to find out when the wild flowers are in bloom. Keep in mind that the cable cars are still closed during this period of the year so you will need to hike up and down! It takes about 1 hour up by foot. But trust me again, it is really worth it!
For further information of our hike to the waterfalls ⇒ Engstligenalp waterfalls, coolest waterfalls in Switzerland?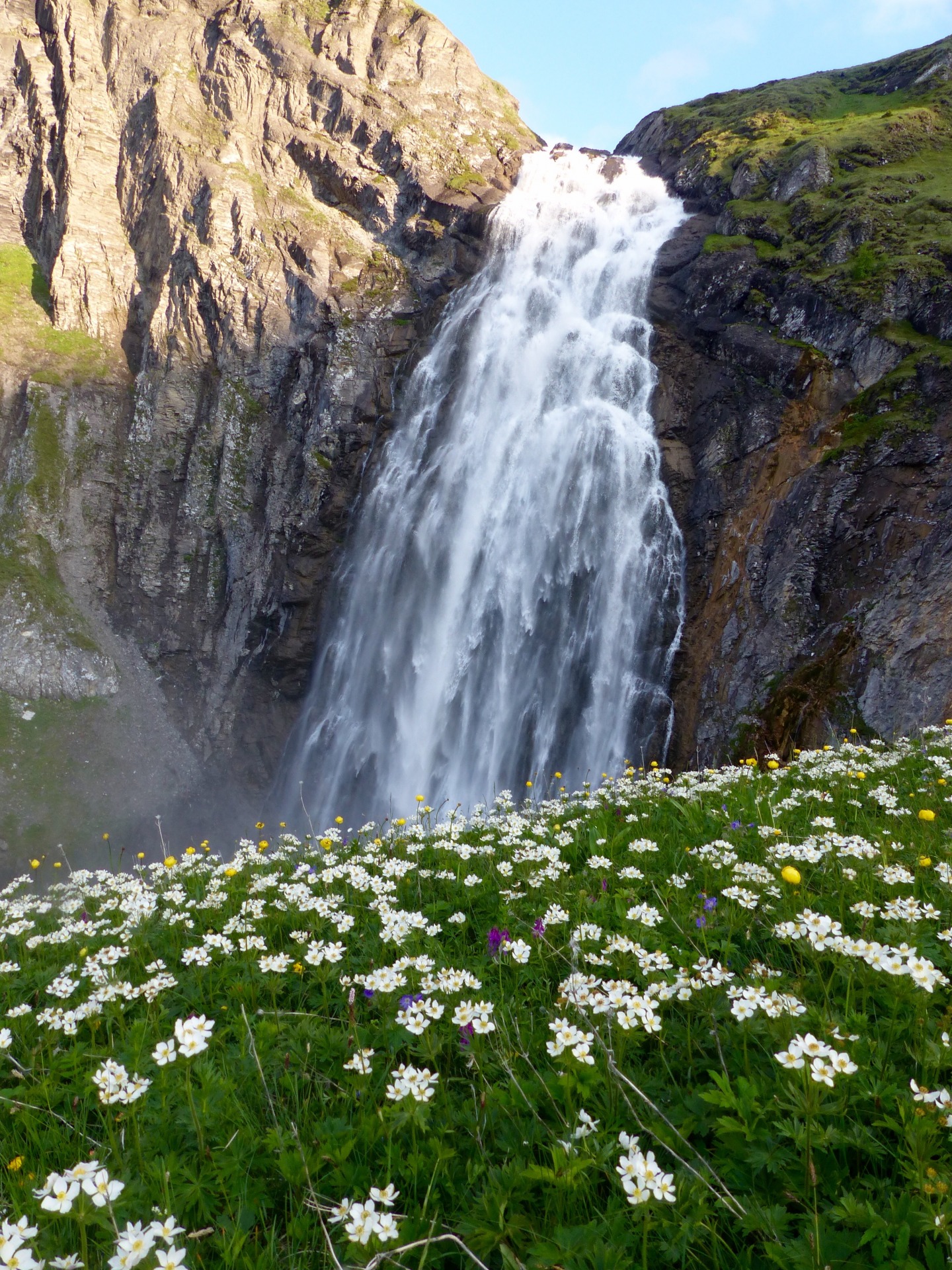 So which one of these spring flower blossoms are your favorite?
PIN