Did you know that in Western Australia you can find some of the most beautiful and unique beaches in the world?
With over 12,000 kilometres of coastline, it's no wonder that Western Australia has amazing beaches! Some of these beaches has snow-a-like white sand so fine that it squek when you walk, while a pod of dolphins swim in the sea just a few meters away, or a family of cozy kangaroo decide to join you for a sunbath. Many who has already set foot on this part of Australia would agree that Western Australia beaches are more beautiful and unique than in any other state or territory in the country and arqueably even in the world! Don't you belive me? Have a look at this list of some of the most 30 breathtakingly beautiful  and unique beaches of Western Australia !
PLEASE NOTE! The beaches mentioned below can look different depending of the amount of seaweeds, wind and weather! And those beaches we have spend the night on can be found on Wikicamp Australia, but wildcamp on your own risk! We can't not quarantee you any safety or that you might not get a hefty fine by a ranger.
1. Lucky bay, Esperance
Lucky bay lies in the beautiful Cape le grand national park about 60 km away from Esperance. This beach is truly unique not only because it has the whitest sand in the world (scientifically proven), but also thank to the human friendly kangaroos that dwell around the beach searching for some human contact. We had two kangaroos coming up to our car and hang around with us for half an hour or so. It was surreal to have this beautiful Western Australia beach infront of us while cuddling with cute kangaroos!
TIPS! There is a campground at Lucky bay, click here for more information and booking.

Coral bay, beautiful white sand beach of Western Australia.
Mirabelle is having a playdate with Kangaroos at Lucky bay, Western Australia beaches
2. The Dunn rocks, Esperance
About 17 km north of Lucky bay you can find an equally beautiful beach but absolutely emty on people! We spend two nights here and saw only 6 people in total! What's so special with Dunn rocks beach are these beautiful white sand dunes! We had a very windy day and it was almost impossible to be near the dunes but on a windless day it is a beautiful place to be! Especially for a romantic sunset picnic on the top of the dunes!
TIPS! Bring a sandboard!
Another amazing white beach in Western Australia.
It was amazing waking up to this view every morning!
The white sand dunes at Dunn rocks in Western Australia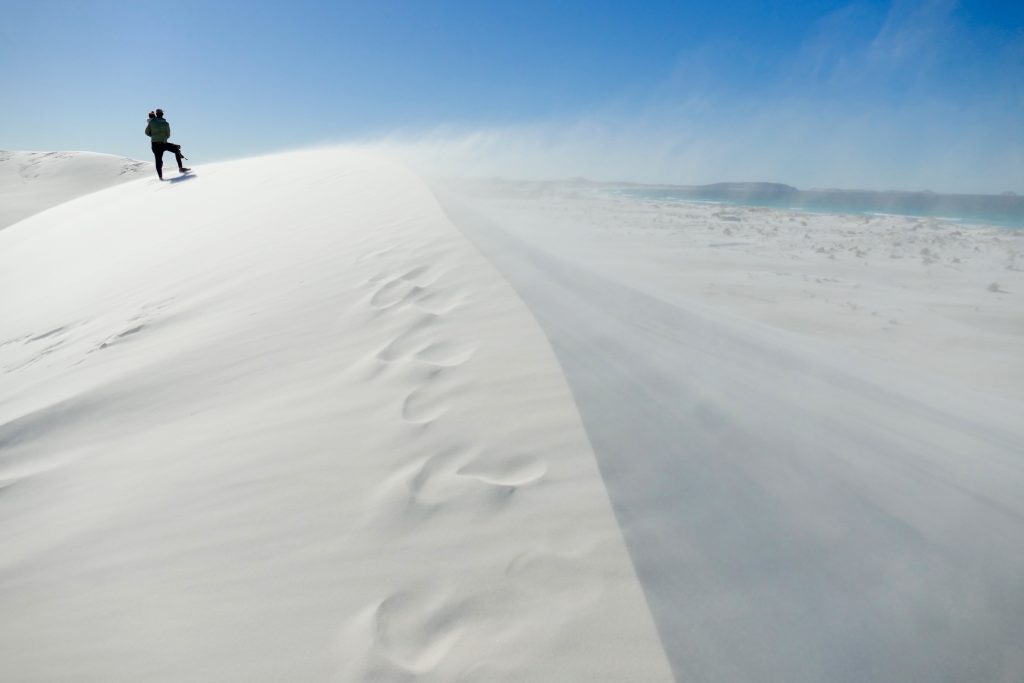 The sand dunes like snow at Dunn Rock beach, Western Australia beaches.

3. Little beach, Albany
Little Beach is a beautiful white beach in the Two Peoples Bay Nature Reserve, only 35 kilometres east of Albany. When you walk towards the beach from the car park you will immediately be drawn by the color of the water.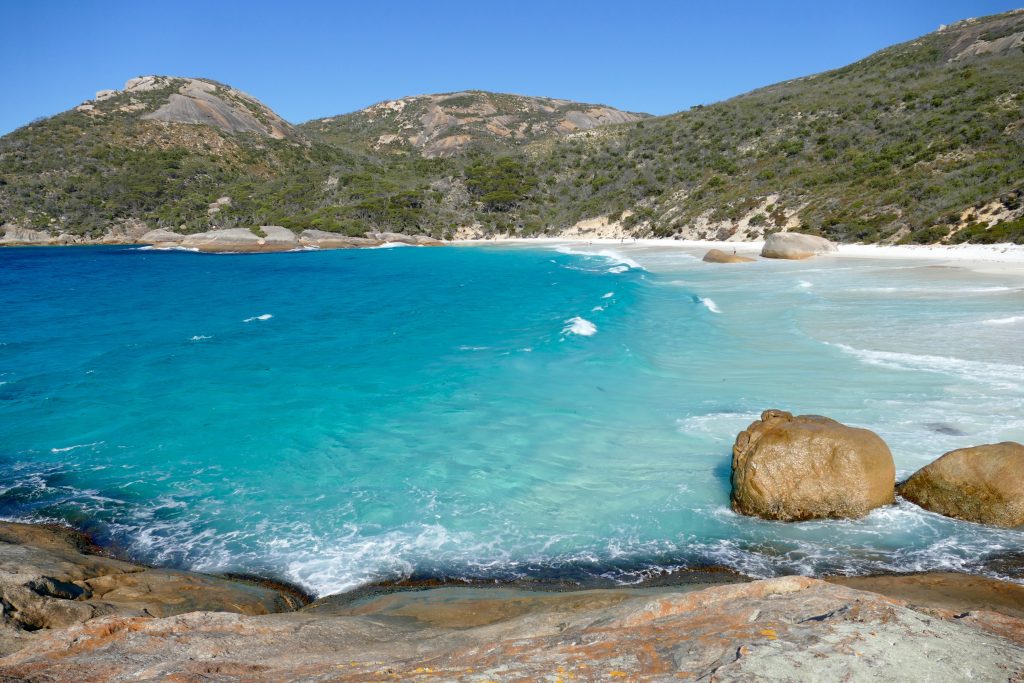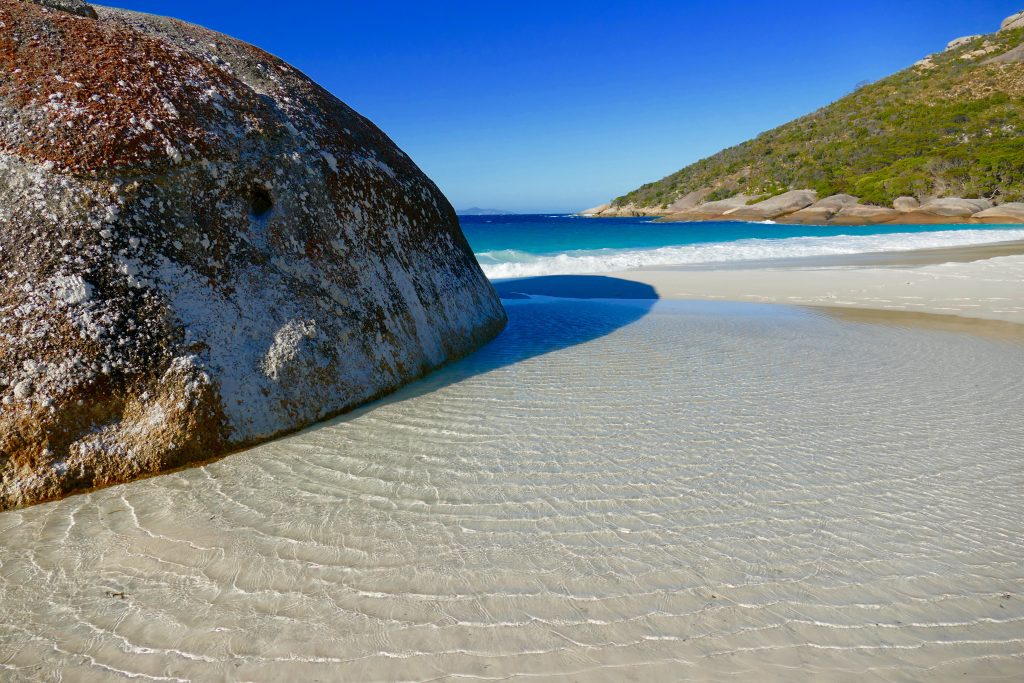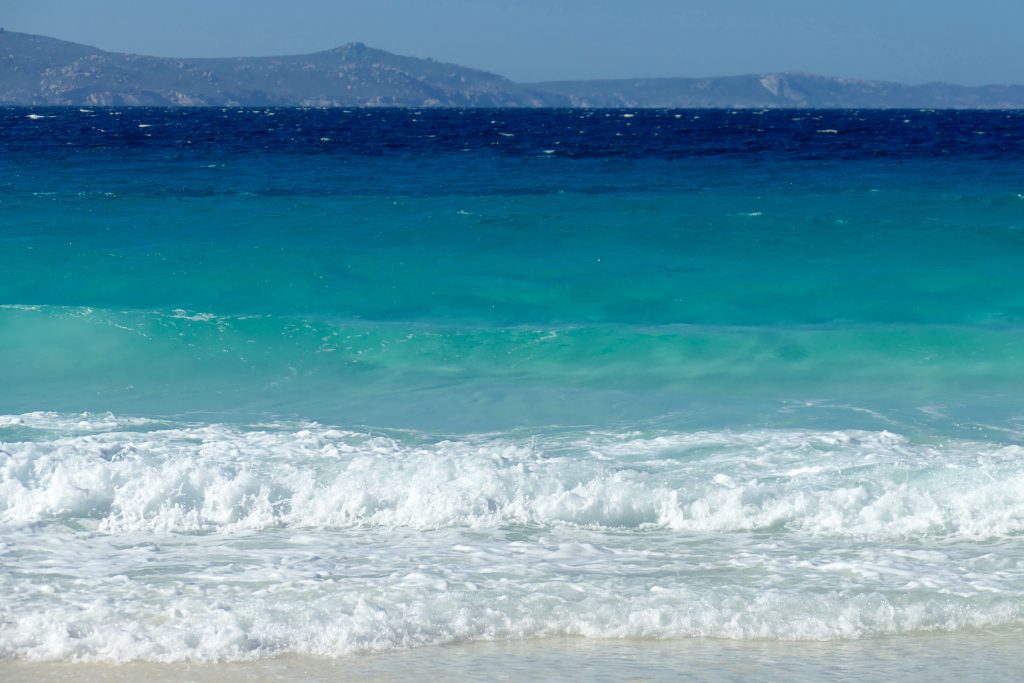 The beautiful shade of blue at the Little beach in Albany, Western Australia.
4. The waterfall beach, Albany
There is a little hidden treasure on the other side of  the Little beach ( the beach mention above). If you walk across the Little beach you will find a path leading through the bush and onto this pristine little piece of paradise. The easy walk takes less than 10 minutes so don't miss it! When not dry, there is a small waterfall connecting to the beach !
Watch out for the Blue bottle jellyfish (Portugese man' o war), they sting!
5. Redgate beach, Margaret river
Redgate beach is a stunning beach with clear blue water and mezmarizing ocean waves crashing onto big boulders. We spent a night here at the car park but I must warn you that the ranger came by around 6 am, luckily we are a bunch of early riser and were about to leave when the ranger car drove in.

This Western Australia beach seems to be popular with surfers! As we are not surfers, all we could do is watching the surfer having fun on the waves. It made me daydreaming of becoming a surfer myself!  Late that afternoon we took a stroll to the farest end of the beach and climbed on the boulders to have a better view of the sea.
Behind the car park is a path leading to an amazing sunset view point! Just watch out for the huge mozzies! We have never encountered so many and mozzie in our life!
6. Warnbro beach, south of Fremantle
This beautiful Western Australia beach is one of our first beach after we finally found our 4wd and left Perth. There were absolutely nobody but seagulls and us three.
Are you planning for a Western Australian 4WD adventure on the Gibb river road? Have a look at our blog post " 13 Beautiful Waterfalls and Gorges on your Gibb river road adventure! " ⇒ Here
7. Bill's bay, Coral bay
For being one of the most popular beahes of Western Australia, we only have one single photo of Bill's bay! I think we were having a free-photo day…
Bill's bay is very good beach to be snorkeling just a few meters of shore a experince the world famous Ninhaloo reef. Or perhaps even better, you can walk further up the beachh and let the drift bring you back to the bay.
Unfortunately, we only spend about 5 minutes in the water because we had windy and cold days. But we were impressed by the little we saw underwater.
8. Turquoise bay, Cape range NP

Quess the color of the water here! Turquoise of course!
Turquoise bay must be the most well known, the most popular and of course the busiest beach in the Exmouth area. But don't get the crowds scare you of coming here because Turquoise bay is very beautiful beach where you can have a great drift snorkel right off the shore! Come here a bit later on the afternoon when it is lowtide so you can be closer to the fishes and the corals.
TIPS! The further you swim out near the reef the better the visibility and there are more to see.
WARNING! Please read carefully the information board before enterring the water because the current can be quite strong.

The color blend of the ocean and the perfectly white sand is spectacular here at Lucky bay, Western Australia.
9. Ten mile lagoon beach, Esperance
This Western Australian beach is around 17 km away from Esperance city centre. We almost didn't made it here but when we did, we were completely blown away! The lagoon is so gorgeous and stretch far out as far as the eyes can see! Thanks to rocky reef that provide safe place to swim is perfect for small kids! We were there on a late sunday afternoon and we were suprised that the beach was completely emtpy! Although, I heard afterwards that Ten mile beach in Esperance is a nudist beach? Keep that in mind!
10. Hutt lagoon, Port Gregory
Hutt lagoon is not your ordinary beach because Hutt lagoon is actually a pink salt lake! Thanks to a special algae in the water, the lake turns pink!
You wouldn't want to swim in it but if you happens to be there on the right day when the lake is completely bubble gum pink you just might want to jump right in!
11. The Basin, Rottnest island
People say that Rottnest island has some of the most beautiful beaches in Western Australia. And I do belive them! The basin is a good example of how beautiful a Western Australian beach can be! The basin suppose to have great underwater life so bring your snorkeling gears!
Unfortunately because of bad weather we never got the opportunity to visit Rottnest island and all the island's beautiful beaches like the Basin!
Photo credit: via tripadvisor here
12. Elephant rock, Denmark

After four continuous rainy days in April the sun was at last shining and we finally had a real look at this beach that I so often have seen on Instagram!As suspected,  Elephant rock didn't disappoint us! While there were a lot of people on the neighboring beach I think the Elephant rock had a lot less people due to the hike down to the water but it is absolutely nothing to worry about!
Can you spot the family of elephant that this Western Australian beach is name after?
TIP! Climb and walk over the boulders as far as you can and you will come to a secluded private beach!
13. Green pools, Denmark

Green pool in Esperance is the beach next to Elephant cove that we mentionned above. It is an easy 500 m walk between these two beaches so if you go to one you should visit the other. Green pools is noticeable more crowded and popular with families and you will see why because it is simply beautiful!
TIPS! The further the beach you go the less people you will see and at the end there is another empty beach.
14. Hamelin bay, Margaret river
People don't really come to Hamelin bay for the beach itself. They come here to pet the wild stingrays! Yes, stingrays! You will normally need to dive or snorkel to see these beautiful and gracious sea creature but here at Hameling bay in Western Australia they would come up right by your feet if you just stick your toes into the sea.

Unfortunately the sea was rough and full of seaweeds so the image I had in my mind didn't even came close to the reality. If you come in summer it should be amazing! Please google the pictures and you will see why this beach is one of the most special beaches in Western Australia!
This is the nearest Mirabelle has come to touch a wild stingray at a Western Australian beach.
15. Kangaroo point, Cervantes
Kangaroo point lies in Nambung NP and only a few km south of Cervantes. To be completly honest, the beach itself is not among the prettiest but this was the only beach where we had kangaroos only a few meters away on one side while on the other side we had a pod of dolphins! It was also here we had the best encounter and the most memorable moments with dolphins! Unfortunately I don't have any beautiful photos of the dolhipns but here is the story that I will carry along for very long time.
David went jogging by the beach and I told him to keep his eyes open for dolphins because people have been spotting them often here at Kangaroo point. He came back and didn't see any. Now it was my turn and the sun was setting and the sky was gently turning red. I remember exactly the euphoria feeling I had of being so happy and everything felt so perfect…when I suddently saw something in the water some meters ahead. A small family of DOLPHINS! They were basically swimming only 3-4 meters from the shore with the most incredible sunset as backdrop! I couldn't just belive it because it was so quiche! Have you seen these quiche drawings of dolphins jumping out of water with a beautiful sunset? But it was true all of this. And of course I didn't have my phone with me to record all this! I entered the water and they were right there so close I almost could have touch them. I decided to run back to get my family but of course it was getting dark so at the end we decide to make dinner.
But guess what, the next morning the dolphins came right by the spot we were parking our car (rather where our car was bogged). This time they were more wild and were swimming  and playing around making and incredible show for us. Unfortunately we only have short videos so I took some screenshots from it hence the bad quality.
One of the many kangaroos on the Kangaroo point in Western Australia.
16. Nanarup beach, Albany
When you enter Nanarup beach, turn left to the end of the beach and you will have a small beautiful lagoon with shallow crystal clear water and protected from high waves, so really good for swimming and kids!
17. Skeleton bay ( reef shark nursery) , Coral bay
Skeleton bay is only a short walk from Bill's bay and we heard that the snorkeling suppose to be good along the two beaches so instead of walking why not try to snorkel? But if you do walk ask about the tides!
This is one of our favorite beach in Western Australia. It is so beautiful and very special because between September and February a large numbers of Black Tip Reef Sharks can be found inhabiting the shallows. White Tip and Grey Reef Sharks can also be sighted within this area. We weren't there on the right season which was a pitty but nevertheless the beach is wonderful with shallow crystal clear water!
Photo credit: @nicolegrimshaw via Instagram
Snorkeling along the beach between Bill's bay and Skeleton bay, two beautiful Western Australia beaches!
18. Big lagoon, Shark Bay
Shark bay has so many amazing and unique beaches and Big Lagoon is one of them. What made this beach lagoon so special is the size and the shape of it! The best way to explore Big lagoon is by a kayak but as we didn't have a kayak or boat we just did some walking. It was a bit tricky to find a path but it was fun place to explore.
19. Albrohol islands
The Islands lie about 60 km west of Geralton on the Western Australian coast, and consist of 122 islands clustered into three main groups: the Wallabi Group, Easter Group and Pelsaert Group, which extend from north to south across 100 km of ocean.
The most popular way to have a walk on these beaches is to take a scenic fligh tour flying over the islands. These tours often includes lunch and some snorkeling stops.
And yet again, because of the weather we never got the chance to see it!
Photo credit: via Viator here
20. Osprey bay, Cape range NP
All beaches in Cape range NP are beautiful and apart from the popular Turquoise bay, Osprey bay is definitely our favorite! There are less people and you can camp only a few meters away from the sea!
If you didn't get the chance to see turtles on other snorkel site at the park, we strongly recommend you to have a try here! Within an half of hour I saw about 10! For each time I went snorkeling I keep bumping onto them and you can really get close to them because the water is quite shallow on low tides on the afternoon. If you are one of the unlucky one and can't find them while snorkeling, you will surely see their heads on the surface searching for air.
TIP!
Don't stay just by the beach by the camping and the parking. If you walk south the beach you will arrive to the beautiful Sandy beach (really wonderful for sunsets). And if you walk north of the beach you can have a dip in cute natural pools. And beyond that, the beach keeps getting better!
21. Oyster bridge, Shark bay
Another beautiful beach at Shark bay! This small secluded lagoon is not far from Coral bay but you need high clearance 4WD to get here because you will be driving on very soft sand and if you dare you could drive up on a steep sand dune where you can park the car just above the beach. We didn't, so we just parked our car just before arriving at the hill by the Turtle santuary.

22. Busselton Beach, Busselton

Even if you don't fancy swimming, Busselton beach is a good stop especially for families! They have an awesome playground, restaurant and indoor showers (for those in need😉) and BBQ pits. It is also very popular to take the electric jetty train ride on a 1.7 kilometre journey across the calm sea.

23. Cottesloe beach, Perth
Cottesloe beach is one of Perth's most popular beach where you can do it all, from great surfing, snorkeling, swimming, or just have a good glass of wine and eat fish and chips while watching the beautiful sunset!
Beware of snakes at Cottesloe beach in Perth, Western Australia beaches.
24. Cable beach, Broome
Can you belive it, we stayed about a week in Broome but we have never set foot on Cable beach. So many people say Cable beach in Broome is a wonderful Australian beach and we do belive them! If you have never taking a ride on a back of a camel before and happens to be in Broome, Cable beach is a good place to do so.
Photo credit: @visitbroome via here
Picture credit: @thekimberlyaustralia via here
25. Shell beach, Shark bay
Western Australia has so many rare beaches and natural wonders such as Shell beach south of Denham in Shark bay. Instead of walking on white sand you will be walking on millions of small white shells!
The water is crystal clear and shallow with no waves, however the water is very salty so the swimming here is not for everybody.
26. Monkey Mia, Shark bay
You shouldn't come to Monkey Mia and expect to be greeted by a white beach and transparent water. In fact, the beach is not very pretty at all!
Since more than forty years visitor come to Monkey Mia to feed the wild bottlernose dolphins under the supervision of the park rangers. As the dolphins are wild, you can't really know exact time and how many time they come.
But normally, the feedings are three times with the first one being held around 7.45 am and the last one at 11 am. But there are no guarantees that you will the one who feed the dolphins! During each feed, rangers will randomly chose 3 people to help them feed the animals. My daughter and I were lucky that got chosen out of so many visitors!
Come early in the morning and if you decide to stay at the camping at Monkey Mia you could have more encounters with the dolphins during the day and the next morning before checking out.
My daugher and I went for an ice-cream by the beach when we saw a couple on SUP while the dolphins were playfully swimming around them for a good 15 minutes! I got of course very jelous and decided to hire a SUP. We spent an hour on the sea but they didn't show up…only when we were on shore and already brought the board back!
You can read more about the dolphins experience at Monkey Mia at their official website here.
27. Goulet bluff, Shark bay
Some km north of Shell beach lies this inlet beach and was really a nice stop before reaching Denham. It seems as this is also a great place to park for the night! Like Shell beach, Goulet bluff is also full of white shells.
Walking on million of small shells has a completely different feeling to walking on sand, Western Australian beaches.
28. James Price point, Broome
When in Broome, people usually drive all the way up to Cape Leveque at the northernmost tip of the Dampier Peninsula. Unfortunately we never got there but if you are short on time and still want to see something similar to Cape Leveque we suggest you to park your car for the night on red cliffs at James Price point. You will have an incredible view of the sea and you have only a short walk down to the beautiful beach with dramatic red cliffs on one side and the blue sea on the other side. James price point beach is also very interesting and fun for the kids because of the funny and spooky boulder shapes by the beach.

Photo credit: @KevinS via tripadvisor Here
29. Pot Alley, Kalbarri
Pot Alley has a small and secluded rocky beach nestle between incredibly beautiful limestone and sandstone cliffs over 100 metres high! It is for sure a really unique Western Australia beach and Pot Alley is also one of our favorite although we didn't have a swim due to cold and strong winds. Instead we just had a seat on the roack and watch the giant waves crashing onto the cliff. And if you are there between June and November, you can have a few glimpses of jumping humpback whales! They pass the Kalbarri coast line around June through to November on their migration every year. 
Pot Alley from above in Kalbarri, Western Australia beaches.
Watching jumping humpback whale from the shore at Pot Valley in Kalbarri, unique and beautiful Western Australia beaches.
30. Hamelin Pool, Shark bay
Like many beaches in Western Australia, Hamelin Pool is no like other beaches in the world. Here, stromatolites are the number one attraction and a visit to the boardwalk to view them is a must. Hamelin Pool Marine Nature Reserve is one of only two places in the world with living marine stromatolites, or living fossils.
As it is a protected area fishing, swimming or snorkelling are NOT permitted in this site.
So what do you think about all these unique and beautiful beaches in Western Australia? Have you pick any favorite?
Do you plan to visit Western Australia? Pin it for later!